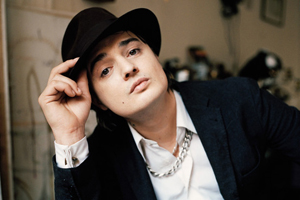 Pete Doherty
Category : Singer - Popular
Type : MGE
Profile : 5/1 - Heretical / Investigator
Definition : Single
Incarnation Cross : LAX Informing 1
Biography
Peter Doherty (born March 12, 1979) is an English musician and poet. He is currently the singer and songwriter of the band Babyshambles.
He has briefly re-united with Carl Barât who was co-frontman and songwriter (along with Doherty) of The Libertines, with whom he first shot to fame. Since 2005, he has become well known to the public at large as a result of his relationship with supermodel Kate Moss, his status amongst fans and his infamous rock and roll lifestyle. His drug problems, arrests, and court appearances are frequently reported in the tabloid press.

Early life
Peter Doherty was born in Hexham, Northumberland, England. He grew up at a number of army garrisons, as a result of his father Peter's work as an officer in the British Army, living at various times at garrisons in Catterick, Belfast, Germany, Bedworth, Dorset and Larnaca, along with his mother Jacqueline, a nurse of part Russian descent, and two sisters, Amy Jo and Emily. Doherty was the second of the three children. He was academically successful, achieving 5 grade A* and 6 grade A GCSEs, at Nicholas Chamberlaine Comprehensive School in Bedworth (although this has erroneously been reported as 11 grade A*s) and four passes at A Level, two at grade A. At the age of 16, he won a poetry competition and embarked on a tour of Russia organised by the British Council.

After his A-levels, he moved to his grandmother's flat in London, where he said he felt 'destined' to be, and got a job filling graves in Willesden Cemetery, although most of his time was spent reading and writing while sitting on gravestones.

He attended Queen Mary, part of the University of London, to study English literature, but left the course after his first year.

After leaving university, he moved into a London flat with his friend and fellow musician Carl Barât, who had been a classmate of Doherty's older sister at Brunel University.

Doherty was voted to be joint #1 in alternative music magazine NME's 2004 Cool List, along with fellow Libertine Carl Barât. It is a common misconception that only Doherty topped the list. The following year he was placed at #6, and on May 10, 2006 was voted #2 in their poll depicting 50 of rock's greatest heroes.

Career

The Libertines

The Libertines
Doherty and Barât formed a band called The Libertines in the late 90s, although it was not until 2002, with the release of their debut album Up the Bracket, that they began to achieve widespread mainstream success.

The group achieved a great deal of critical and commercial success and gained a dedicated, cult following, with Doherty in particular being praised by fans and critics alike as one of the most promising songwriters to emerge on the British music scene for some time. However, Doherty's increasing drug problems led to his estrangement from the band. In 2003, he was jailed for burgling Barât's flat.

The two initially fell out over the affair, but made amends whilst Doherty was in prison. He was originally sentenced to 6 months, which was cut to 2 months on appeal with the judge commenting "We feel that a custodial sentence was justified in this case but sufficient credit was not given for his timely plea of guilty which it should have been. We have reduced his sentence to two months which will allow for his almost immediate release." Upon his release, Doherty immediately reunited with Carl and the rest of the band to play a gig in the Tap 'n' Tin pub in Chatham, Kent.

Following his rejoining of the band, Doherty sought treatment for his drug addiction. He attended the award winning alternative detox centre Wat Tham Krabok, a temple in Thailand, famous for its rehabilitation program for crack and heroin users, where he was beaten with a bamboo cane and forced to drink foul herbal concoctions to induce vomiting. He left after three days and returned to England. As a consequence of this, The Libertines cancelled appearances that they were due to make at the Isle Of Wight and Glastonbury festivals.

However, while post-production work was taking place on the second Libertines album (also called The Libertines) in June 2004, he was again asked to leave the band. The band cited Doherty's continuing drug addiction as the reason for his dismissal, but emphasised their willingness to take him back once he had addressed his addiction. Although Barât had previously stated that the Libertines were merely on hiatus, pending Doherty's recovery, the group effectively disbanded with this event at the end of 2004. All members are now involved in other projects (see Yeti and Dirty Pretty Things).

On April 12, 2007, Pete Doherty and Carl Barât played 13 songs together at the second of Doherty's "An Evening with Pete Doherty" gigs at the Hackney Empire, London. The reunited Libertines played 'What A Waster', 'Death On The Stairs', 'The Good Old Days', 'What Katie Did', 'Dilly Boys', 'Seven Deadly Sins', 'France', 'Tell The King', 'Don't Look Back Into The Sun', 'Dream A Little Dream Of Me', 'Time For Heroes', 'Albion' and 'The Delaney'.

Collaborations
Prior to the disbanding of The Libertines, Doherty collaborated with local poet Wolfman. Together the pair recorded the single "For Lovers", which entered the top 10, charting at number 7, in April of the same year. Despite the success of the single, which was nominated for a prestigious Ivor Novello Award for songwriting, the pair received relatively little money, having already sold the publishing rights for a small amount in a pub.

Later in 2004 Doherty provided guest vocals to the song "Down to the Underground" by the British group Client. The song was released in June 2004 as a B-side to the groups single "In It for the Money" and appears on their second album City.

In 2005 Doherty collaborated with the British rock band Littl'ans on the single "Their Way".

In 2006, Doherty was featured on the charity single "Janie Jones", which was released to raise funds for Strummerville. A number of artists and bands, such as Dirty Pretty Things, We Are Scientists, The Kooks and The Holloways also featured on the track.

In August 2006 it was announced that Doherty was recording with The Streets frontman Mike Skinner on a new version of "Prangin' Out", from Skinner's latest album.

Babyshambles

Main article: Babyshambles
Doherty founded Babyshambles towards the end of his time with the Libertines. The group has released one album, Down in Albion, in November 2005, and their second single, "Fuck Forever", reached #4 on the UK singles chart. The band's touring schedule and releases have occasionally been disrupted by Doherty's ongoing legal problems. During this time, he began a relationship with supermodel Kate Moss. On Down in Albion, Kate Moss sings backing vocals on "La Belle et la Bête". The line-up of the band has changed several times: drummer Gemma Clarke left the band due to Doherty's drug problems and was replaced by Adam Ficek, and guitarist and co-songwriter Patrick Walden has also left the band on at least one occasion before returning intermittently. Fellow British rock group Oasis had booked Babyshambles to support them on their UK tour in 2005. However, Doherty was attending the birthday celebration of fashion designer Hedi Slimane with Kate Moss and the band's spokesman claimed that he was unable to arrange transport back to the UK in time for the band's first appearance. As a consequence Oasis cancelled Babyshambles' support for the rest of the tour. In August 2006, Babyshambles signed up with major record label Parlophone, on which they released The Blinding EP on 9th December 2006 to good critical acclaim. In January 2007, they have signed a long term record deal with Parlophone.

Guerrilla gigs, writing and solo work
Doherty has recently been rumoured to be working on new acoustic material, similar to the wealth of his unreleased songs that can already be downloaded on the internet. On his own, and often with his band, he has continued the Libertines' tradition of performing short notice guerrilla gigs in small venues. On New Year's Eve 2005, Doherty held a guerrilla gig in his North London flat where he showcased some of his solo works, many of which later leaked onto the internet. 31 March and 1 April 2006 Doherty was performing two surprising solo gigs, his first in Mainland Europe, at the NonStop Kino pornographic cinema and venue in Graz, Austria, after he failed to turn up for an earlier arrangement in January. For this occasion, he produced, at the suggestion of Bettina Aichbauer, friend of Doherty and owner of the NonStop Kino, a film with the title Spew It Out Your Soul.

Doherty has announced that he has signed a deal to publish his journals, in which he has recorded poetry, drawings, and photos over the course of his career, with Orion books. Most of Doherty's journals are freely available on the internet. The book is due out in June 2007.

Controversies and legal troubles
Main article: Pete Doherty's controversies
Doherty is frequently in the news for his problematic lifestyle and drug habits. The influence of drugs on his life had already reached such an intensity at times, that in his younger days, Doherty worked as a male prostitute to pay for his drugs habit.

He has been arrested many times, usually for drug possession, and sometimes for other offenses arising from drug misuse, such as driving under the influence and driving with suspended driving licence.

Influences
In interviews, Doherty has listed his favourite books as George Orwell's 1984, Brighton Rock by Graham Greene, Our Lady of the Flowers by Jean Genet, Flowers of Evil by Charles Baudelaire and the complete works of Oscar Wilde. He has also mentioned Emily Dickinson and Tony Hancock as influences; Doherty and his father were once members of the Tony Hancock Appreciation Society. Doherty mentions Hancock, and makes an allusion to his famous phrase 'Stone me!', in an early song entitled "You're My Waterloo". However numerous literary and musical allusions occur throughout Doherty's ongoing Books of Albion. He places particular importance on the Romantic poets and on existential philosophers such as Albert Camus and Miguel de Unamuno. Doherty has also alluded to work by the Marquis de Sade and Thomas De Quincey. On the Babyshambles album Down in Albion, there is a track entitled "A Rebours", which is significantly influenced by the novel of the same name by Joris-Karl Huysmans. His favourite films include British films of the 1960s and seventies such as Billy Liar, Poor Cow, O Lucky Man! and the film versions of Steptoe and Son. He cites Lee Mavers of The La's as a musical influence, as well as The Only Ones, New York Dolls, The Stooges, and Buzzcocks. He is particularly fond of The Smiths and The Clash.

Doherty and Carl Barât are fond of Cockney musicians Chas & Dave. Doherty has also supported up-and-coming British bands, such as indie band The Paddingtons.

Doherty is also known to be a devoted follower of Queen's Park Rangers football club. As a youth he wrote a fanzine, entitled "All Quiet On The Western Avenue." He sold copies of the fanzine on the club's grounds, however its mixture of literary references, quotes, poetry and football stories proved unsuccessful with the other fans.

A frequent lyrical theme for Doherty is Albion, the ancient name for Great Britain. Doherty also uses 'Albion' as the name of a ship sailing to a utopia called Arcadia, a place without rules or authority. Doherty and Barât shared a flat in London, at 112a Teesdale Street, Bethnal Green, affectionately known as 'The Albion Rooms', despite being rather run down. Doherty named his diaries, in which he writes poems and other thoughts, the Books of Albion.

Family and personal life
Doherty has an older sister and a younger sister, named Amy-Jo and Emily, respectively. His mother Jacqueline Doherty is a nurse, who recently published a book about family life with Doherty and his drug problems, called Pete Doherty: My Prodigal Son. Doherty's father, Peter Doherty, is an Army officer.

After numerous attempts to convince him to start a serious rehab, in early 2005, his father decided that he was tired of broken promises and vowed never to see his son until he is clean of drugs. The sensitivity surrounding the issue became apparent in the BBC Two Arena documentary about Doherty, on 12 November 2006, which included footage of him talking about this aspect of his personal life. He was visibly upset and had to politely ask the interviewer at one point to stop filming.

Doherty has had a tumultuous relationship with Kate Moss, frequently covered by the press. They met in January 2005 at Moss' 31st birthday party and have had an on-off relationship since. Moss has also taken to singing at some of Doherty's shows. On 11 April 2007 he announced Moss as his fiancée during the first of his solo gigs at the Hackney Empire, London, at which Moss also performed. Doherty plans to marry Moss during the summer 2007.

Doherty has a son named Astile with singer Lisa Moorish.
Please register for a free Genetic Matrix account to access more information about this and all other celebrity pages