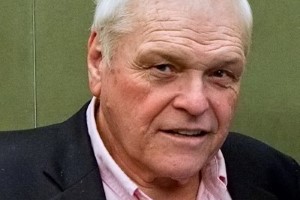 Brian Dennehy
Category : Actor
Type : GP
Profile : 4/6 - Opportunistic / Role Model
Definition : Split - Small (1)
Incarnation Cross : RAX Consciousness 3
Biography
Brian Manion Dennehy (born July 9, 1938) is a two-time Tony Award-winning American actor who has appeared in movies, on television, and performed in live theater.

Early life
Dennehy was born in Bridgeport, Connecticut, the son of Hannah and Edward Dennehy, who was a wire service correspondent; he has two brothers, Michael and Edward. The family relocated to Long Island, New York, where Dennehy attended Chaminade High School in the town of Mineola. He went on to attend Columbia on a football scholarship to major in history, where he also became a member of the Sigma Chi fraternity, before moving on to Yale to study dramatic arts. Played rugby for Old Blue RFC.

Film
Dennehy is primarily known as a dramatic actor. His breakthrough role was as the overzealous Sheriff Will Teasle in First Blood (1982) opposite Sylvester Stallone as Rambo. His other roles include a corrupt sheriff in the western Silverado, and an alien in Cocoon, both released in 1985. He later played memorable supporting parts in such films as Legal Eagles (1986), F/X - Murder By Illusion (1986), Presumed Innocent (1990) and F/X2 - The Deadly Art Of Illusion (1991).

During the 1980s, Dennehy gradually became a valuable character actor in films and subsequently gained leading man status in the thriller Best Seller (1987) co-starring James Woods. He gained his arthouse spurs when he starred in the Peter Greenaway film The Belly of an Architect, for which he won the Best Actor Award at the 1987 Chicago International Film Festival. Commenting upon this unusual venture, Dennehy said, "I've been in a lot of movies but this is the first film I've made."

Perhaps one of his most well known roles was in the 1995 Chris Farley-David Spade comedy Tommy Boy as Big Tom Callahan.

Two of his earliest roles were in 10 with Bo Derek and Dudley Moore and Foul Play with Chevy Chase.

He also has had a role in the recent movie Ratatouille as Django, Remy the rat's (the main protagonist voiced by Patton Oswalt) father.

Television
Dennehy began his professional acting career is small guest roles in such 1970s and 1980s series as Kojak, Lou Grant, Dallas and Dynasty. He also appeared in an episode of "Miami Vice" during the 1987-88 season. Dennehy portrayed Sergeant Ned T. "Frozen Chosen" Coleman in the television movie A Rumor of War (1980) opposite Brad Davis. He continued to appear such high profile television movies as Skokie (1981), Day One (1989), A Killing in a Small Town (1990) opposite Barbara Hershey, In Broad Daylight (1991) and Scott Turow's The Burden of Proof.

He also had a lead role as fire chief/celebrity dad Leslie "Buddy" Krebs in the short-lived 1982 series Star Of The Family. Despite his notoriety, that show was cancelled after only two seasons.

He was nominated for Emmy Awards six times for his television movies including one for his performance as John Wayne Gacy, for which he was nominated for Outstanding Lead Actor in a Miniseries or TV Movie. He was also nominated that same year in a different category, Outstanding Supporting Actor in a Miniseries or TV Movie, for The Burden of Proof (1992). He was also nominated for an Emmy Awards for his work in A Killing in a Small Town, Murder in the Heartland (1993) and, most recently, for the Showtime cable TV movie Our Fathers (2005), which was about the Roman Catholic Church sex abuse scandal.

In 2000, Dennehy was nominated for an Emmy for Outstanding Lead Actor in a Miniseries or TV Movie for a television presentation of his performance as Willy Loman in Arthur Miller's Death of a Salesman which he had performed on Broadway. Although he did not win the Emmy (he has yet to win an Emmy), he did receive a Golden Globe award for the presentation.

He has starred in the popular crime drama Jack Reed TV movies. His also guest starred as a recurring character in the NBC sitcom Just Shoot Me!

Dennehy was parodied in South Park: Bigger, Longer & Uncut (1999). He interrupts the song "What Would Brian Boitano Do?", asking if someone called his name. When he's rudely and bluntly told to leave, he says bye and leaves. In the episode "Jaws Wired Shut" of the Fox animated series The Simpsons while waiting for a film to start in a theater, the screen revealed a silhouette of an actor and the anagram "MOT HANKS". Lisa, believing it to be "obviously" Tom Hanks, is surprised when it is in fact Otm Shank, whom Apu explains is "India's answer to Brian Dennehy".

In January of 2007, he starred as a retired criminal who wants to reconnect with his daughter and admit his crimes thus eventually clearing a wrongfully imprisoned inmate on Law & Order: Special Victims Unit.

Dennehy is currently shooting footage for his upcoming mini-series on the History Channel called "Brian Dennehy's America." The show follows Dennehy as he explores the states, from his boyhood home in New England, all the way to the Pacific Northwest, interviewing the locals about why they love their state.

Theater
Dennehy has won two Tony Awards, both times for Best Lead Actor in a Play. The first win was for Death of a Salesman (for which he also won a Laurence Olivier Award for the production's London run), in 1999, and the second was for Eugene O'Neill's Long Day's Journey into Night in 2003. Both productions were directed by Robert Falls and were originally produced at the Goodman Theatre company in Chicago.

On stage, Dennehy has made frequent performances in the Chicago theatre world, and made his Broadway debut in 1995 in Brian Friel's Translations. In 1999, he was the first male performer to be voted the Sarah Siddons Award for his work in Chicago theatre. He made a return to Broadway in 2007 as Matthew Harrison Brady in Inherit the Wind opposite Christopher Plummer. In 2008, Dennehy will appear at the Stratford Shakespeare Festival in Canada, appearing in All's Well That Ends Well and a double bill of plays by Samuel Beckett and Eugene O'Neill.

Personal life
In 1989, Dennehy became a veteran with disputed status when he told the New York Times that he received shrapnel wounds in the Vietnam War. In 1993, he told Playboy that he served five years in Vietnam. However, his only overseas tour was to Okinawa. He apologized for his false claims in 1999.

At one point, Dennehy resided at West Gilgo Beach, Long Island NY and is currently a resident of Woodstock, Connecticut. He is the father of actresses Elizabeth Dennehy and Kathleen Dennehy.

Dennehy has undergone the Lap Band weight loss procedure, being an early entry on the growing list of celebrity lap band recipients.
Please register for a free Genetic Matrix account to access more information about this and all other celebrity pages