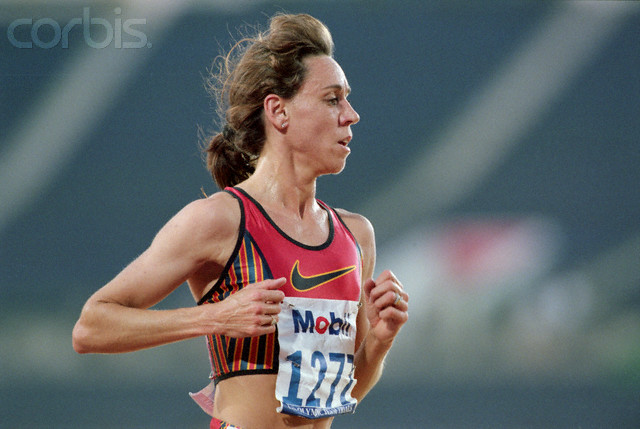 Mary Decker
Category : Athlete
Type : GP
Profile : 5/1 - Heretical / Investigator
Definition : Single
Incarnation Cross : LAX Refinement 1
Biography
American athlete, the holder of the U.S. record in every running event from the 800 m. to the 10,000 m. from the time she won her first race at 11. At 14, she won the first of her 20 world records.
Decker loved to run from the time she could walk and entered her first race at the age of 11. She caught the attention of the sports world media and was nicknamed, "Little Mary" Decker. When she was 12, her family foundation crumbled when her father divorced her mother. At 14, she won the first of her 20 world records and at 16, left home to pursue her running ambitions.
She received a track and field scholarship from the University of Colorado in Boulder. While at college, she developed "compartment syndrome" in which her calf muscles grew too big for the surrounding sheaths. After a series of operations to relieve the pressure, Decker was back on her feet and training for the next event, dreaming of winning the Gold medal in the Olympics. She was too young for the games in 1972 and an injury kept her out of the Montreal Olympics in 1976. The American boycott of the Moscow games in 1980 gave added pressure for her to perform well in the Los Angeles games in 1984.
Leading up to the Los Angeles Olympic games, Decker was steamrolling her way into the record books in the U.S. and the World Games. In the World Championship games in Helsinki, Finland, Decker set the world record in 1983. Coming to Los Angeles, the city where she grew up, she was the sentimental favorite with the home crowd and the media attention was overwhelming. She suffered a shattering defeat when she stumbled and inexplicably got her feet tangled with fellow runner Zola Budd. Decker fell and collapsed in tears with a pulled hip muscle as the runners continued the race. Her boyfriend, discus thrower, Richard Slaney ran to her aid and carried her off the field with great media sports drama. Her sports behavior was called into question when she verbally attacked her opponent, Zola Budd. She went from media darling to spoiled, vengeful running queen in a few days. Her public image was blemished and Decker would spend years rebuilding her stature in the sports world.
In 1985, she ran her best year. She broke the American record in the 800m, the world record in the mile and ran the second-fastest time ever in the 3,000m. She won over Zola Budd and Maricica Puica, the winner of the LA Olympics all four times she competed against them. In 1997, after Achilles' tendon surgery, Decker continues to race but has had trouble with officials over drug-testing.
She married her first husband, Ron Tabb, marathon runner in 1981 and divorced 21 months later. It was a difficult marriage with both athletes becoming highly competitive in their private life. After an ugly divorce Decker met British discus thrower, Richard Slaney in March 1983 at a sports dinner in New York. Both Decker and Slaney were not attracted to each other that evening, however, Decker invited Slaney and friend Daley Thompson to stay with her in Eugene, Oregon while they were training for the 1983 World Games. Slaney and Decker became friends and then lovers, marrying 1/01/1985. Their daughter, Ashley Lynn was born on 5/30/1986, a difficult nine-hour labor. The Slaney family live in a two-story, three bedroom home in an upper middle-class neighborhood in Eugene, Oregon. She went back to racing within the year after the birth of her daughter. Her husband studied jet engineering at San Diego State and buys, sells and repairs WWII planes. He is extremely supportive of his wife's running career while his own discus throwing career has declined. Decker is very happy to be home raising her daughter and taking care of her husband. She enjoys her domestic life and the time she spends sewing, knitting, and cooking. She was never one who was happy traveling and going to parties. Competition with fellow runners stood in the way of building friendships with fellow female athletes.
Decker is a fierce competitor with a tremendous drive to win. She trains herself hard, sometimes coming back to practice before she is fully recovered from medical procedures. After Achilles tendon surgery in November 1986, she began training even though she was moving on crutches three weeks earlier. After an appendix operation, she went running holding her sutures in place so they would not tear apart. She continues to work out with many running-related ailments.
Please register for a free Genetic Matrix account to access more information about this and all other celebrity pages