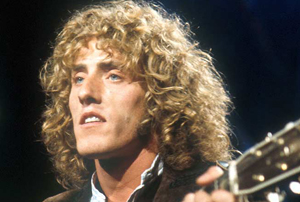 Roger Daltrey
Category : Singer - Popular
Type : MGE
Profile : 5/2 - Heretical / Hermit
Definition : Split - Small (7,10,13,34)
Incarnation Cross : LAX Migration 1
Biography
Roger Harry Daltrey, CBE (born 1 March 1944) is a rock vocalist, songwriter, and actor, best known as the founder and lead singer of English rock band The Who.
He has maintained a successful musical career as a solo artist and has also acted in a large number of film, theatre and television roles. Daltrey and his second wife, former model Heather Taylor, have two daughters, Rosie and Willow, and a son, Jamie (born 1981). He also has a son, Simon (born 1964), with his first wife, Jacqueline Rickman.
Early Years
Roger Harry Daltrey was born in the Hammersmith area of London, but was raised in Chiswick, the same working class suburban neighbourhood that produced fellow Who members Pete Townshend and John Entwistle. He was one of three children born to parents Irene and Harry Daltrey, and grew up with two sisters named Gillian and Carol. Harry Daltrey worked for a water closet manufacturer, and Irene Daltrey was told she would be unable to have children because of losing a kidney in 1937. Nevertheless, she went into labor during a World War II air raid and gave birth to her son at the nearby Hammersmith Hospital, West London. At the age of three, the young Roger swallowed a rusty nail which had to be surgically removed. The trouble didn't stop there, however. At the age of five, the rust from the nail caused an ulcer in his stomach which required him to be hospitalized.

Daltrey attended Victoria Primary School and then Acton County Grammar School for boys along with Pete Townshend and John Entwistle. He showed academic promise in the English state school system, ranking at the top of his class on the "eleven plus examinations" that led to his enrollment at the Acton County Grammar School. His parents hoped he would eventually continue on to study at university, but Daltrey turned out to be a self-described "school rebel" and developed a dedicated interest in the emerging rock and roll music scene instead.

He made his first guitar from a block of wood and formed a skiffle band called The Detours. When his father bought him an Epiphone guitar in 1959, he became the lead guitarist for the band and soon afterward was expelled from school for smoking. Describing the post-war times, Pete Townshend wrote in his autobiography, "Until he was expelled, Roger had been a good pupil. Then he heard Elvis and transmogrified into a Teddy Boy with an electric guitar and a dress-sneer. Was it simply rock 'n' roll? It was obvious to a young man as intelligent as Roger that there was no future in conforming any more."

Daltrey became a sheet metal worker during the day, while practicing and performing nights with the band at weddings, pubs and men's clubs. He invited schoolmate John Entwistle to play bass in the band, and on the advice of Entwistle, invited Pete Townshend to play guitar. At that time, the band consisted of Daltrey on lead guitar, Pete Townshend on rhythm guitar, John Entwistle on bass, Doug Sandom on drums and Colin Dawson on lead vocals. After Colin Dawson left the band, Daltrey switched to vocals and Townshend to lead guitar. In 1964 drummer Doug Sandom left the band, and Keith Moon became The Who 's drummer.

Early on, Daltrey was the band's leader, earning a reputation for using his fists to exercise control when needed, despite his small stature (his height is reportedly 5 feet 7 inches (1.70 m)). According to Townshend, Roger "ran things the way he wanted. If you argued with him, you usually got a bunch of fives." He generally selected the music they performed, including songs by The Beatles, various Motown artists, James Brown, and other rock standards.

In 1964 the group discovered another band working as The Detours and discussed changing their name. Pete Townshend suggested "The Hair" and Townshend's roommate Richard Barnes suggested "The Who." The next morning, Daltrey made the decision for the band, saying "It's The Who, innit."

The Who Years
With the band's first record deal in early 1965, Townshend began writing original material and Daltrey's dominance of the band began to decline. In the midst of the band's success, Daltrey repeatedly found himself fighting to keep the other members of The Who away from the drug and alcohol dependence that he believed would destroy them. He once flushed drummer Keith Moon's pills down the lavatory and, when Moon protested, knocked him down with one punch.

Because of such incidents and also the shifting dynamics of control within the group, the other members of The Who tossed Daltrey out of the band in late 1965, causing him to examine his methods of dealing with people. A couple of days later, Daltrey swallowed his pride and promised there would be no more violent outbursts or assaults. Daltrey recalled, "I thought if I lost the band I was dead. If I didn't stick with The Who, I would be a sheet metal worker for the rest of my life."

The band's second single, Anyway, Anyhow, Anywhere was the only song on which Daltrey and Townshend collaborated, and Daltrey only wrote two other songs for the band. As Townshend developed into one of rock's most accomplished composers, Daltrey's vocals became the vehicle through which Townshend's visions were expressed, and he gained an equally vaunted reputation as a powerful vocalist and riveting frontman. The Who's stage act was highly energetic, and Daltrey's habit of swinging the microphone around by its cord on stage became a signature move.

Daltrey's stuttering expression of youthful anger, frustration and arrogance in the band's breakthrough single, My Generation, captured the revolutionary feeling of the 1960s for many young people around the world and became the band's trademark. Later, his scream near the end of Won't Get Fooled Again became a defining moment in rock and roll.

In October 1973, Townshend was at a low point after struggling through the Lifehouse and Quadrophenia projects, and Daltrey was experiencing success with his solo projects and acting roles. Daltrey had quite a bit of free time while others of the band worked on recording the music for Quadrophenia, and he used some of this time to check The Who's books. He found they had fallen into disarray under the management of Kit Lambert and Chris Stamp. Kit Lambert was also Pete Townshend's artistic mentor and challenging him led to renewed tension within the band. During a filming session (in an incident that Daltrey claimed was overblown) Townshend and Daltrey argued over the schedule. Townshend whacked the singer over the head with his guitar and Daltrey responded by knocking Townshend unconscious, again with a single blow.

With each of The Who's milestone achievements, Tommy, Who's Next, and Quadrophenia, Daltrey was the face and voice of the band as they defined themselves as the ultimate rebels in a generation of change. When Ken Russell's adaptation of Tommy appeared as a feature film in 1975, Daltrey played the lead role and was nominated for a Golden Globe Award for "Best Acting Debut in a Motion Picture". Afterward, Daltrey worked with Russell again, starring as Franz Liszt in Lisztomania. He worked with Rick Wakeman on the soundtrack to this film, writing the lyrics to three songs and also performing these, as well as others.

The Who went on after the death of Keith Moon in 1978, but tension continued as Daltrey felt new drummer Kenney Jones was the wrong choice for The Who. In 1980 Daltrey completed a major project for The Who Films, Ltd., a dramatic film called McVicar about U.K. bank robber John McVicar. Daltrey produced and starred in the film, and completed a striking soundtrack with other members of the band. This success contributed to decay of relations with Townshend, and The Who retired from active touring in 1982 when Townshend felt he was no longer able to write for the band.

Daltrey turned to working as an actor, completing such high profile projects as The Beggar's Opera and The Comedy of Errors for the BBC. He also appeared in several film, television and stage productions during this period, including Mike Batt's The Hunting of the Snark (1987), The Little Match Girl (1987), Buddy's Song (1990), which he also produced, and Mack the Knife (1990). In 1991 he received a Grammy Award with The Chieftains for An Irish Evening: Live at the Grand Opera House, Belfast.

The Who returned in 1989 with the 20th anniverary tour of the rock opera Tommy. The tour featured a large backing band and guest appearances by Steve Winwood, Patti LaBelle, Phil Collins and Elton John. Although Daltrey experienced life-threatening health problems, he managed to complete the tour. He continued to work on stage and screen during this period, completing projects such as The Wizard of Oz in Concert: Dreams Come True (1995) appearing as the Tin Woodman alongside Nathan Lane, Joel Gray, Natalie Cole, and Jewel Kilcher as Dorothy. During this time, he also began to appear in U.S. television shows.

In 1994 Daltrey celebrated his fiftieth birthday by producing a two-night show at Carnegie Hall called A Celebration: The Music of Pete Townshend and The Who, and popularly called Daltrey Sings Townshend. The Who's music was arranged for orchestra by Michael Kamen, who directed The Juilliard Orchestra for the event. Pete Townshend, John Entwistle, Eddie Vedder, Sinéad O'Connor, Lou Reed, David Sanborn, Alice Cooper, Linda Perry, Lou Reed, The Chieftains and others performed as special guests. The event was followed by a major tour financed by Daltrey and including John Entwistle on bass, Zak Starkey on drums and Simon Townshend on guitar. Although the tour was considered an artistic success, it failed make a profit and was concluded early. However, it did serve the purpose of attracting attention to songs from The Who's Quadrophenia, and gathered support for a staging and major tour of the rock opera in 1996-1997.

In 1996 Pete Townshend was approached to produce Quadrophenia for The Prince's Trust concert at Hyde Park, London. He at first planned to perform the opera as a solo acoustic piece using parts of the film on the screens, but after receiving offers of financing decided on a full out production. When he first contacted Daltrey to request a collaboration, Daltrey refused, but after some discussion, he agreed to help produce a one-off performance. The opera was performed with a large backing band, including John Entwistle on bass, Pete Townshend on acoustic guitar and vocals, Zak Starkey on drums, Rabbit Bundrick and Jon Carin on keyboards, Simon Townshend on guitar and special guests including David Gilmour, Adrian Edmondson, Trevor McDonald and Gary Glitter. A horn section was added, and backing vocalists, along with other actors. On the night before the show, Daltrey was struck in the face by a microphone stand swung by Gary Glitter. The accident fractured his eye-socket and caused considerable concern that he might not be able to perform safely, but Daltrey donned an eye-patch to cover the bruises and completed the show as scheduled. Afterward, Townshend decided to take the production on tour in 1996-1997 as The Who.

The band continued to work together sporadically for such events as Live Aid and The Concert for New York City. After their major tours to present the rock opera were successful, they returned in a stripped-down, five-piece lineup in 1999-2000. After Entwistle's death in June 2002, both Daltrey and Townshend decided to continue with an already planned tour as The Who. In 2006, they released their first studio album album of new material in twenty-four years, Endless Wire, proving to fans and critics that the highly acclaimed artistic tension within The Who lay between these two principals.
Please register for a free Genetic Matrix account to access more information about this and all other celebrity pages