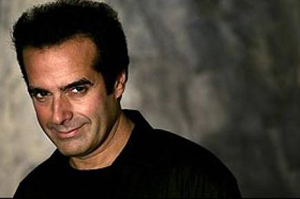 David Copperfield
Category : Magician
Type : MGP
Profile : 1/4 - Investigating / Opportunist
Definition : Single
Incarnation Cross : RAX Eden 3
Biography
David Copperfield (born David Seth Kotkin on September 16, 1956) is a world-renowned American magician and illusionist best known for his combination of spectacular illusions and storytelling. His most famous illusions include making the Statue of Liberty "disappear", "flying", "levitating" over the Grand Canyon, and "walking through" the Great Wall of China.

Copperfield was born in Metuchen, New Jersey, to Jewish-Ukrainian immigrants. He began practicing magic at the age of 12, and became the youngest person ever admitted to the Society of American Magicians. By age 16, he was teaching a course in magic at New York University. At age 18, he enrolled at Fordham University, and was cast in the lead role of the Chicago-based musical The Magic Man three weeks into his freshman year, adopting his new stage name "David Copperfield". At age 19, he was headlining at the Pagoda Hotel in Honolulu, Hawaii.

David Copperfield played the character of Ken the magician in the 1980 horror film Terror Train. He also made an uncredited appearance in the 1994 film Prêt-à-Porter. Most of his media appearances have been through television specials and guest spots on television programs.

In 1982, Copperfield founded Project Magic, a rehabilitation program to help disabled patients regain lost or damaged dexterity skills. The program has been accredited by the American Occupational Therapy Association, and is in use in over 1,000 hospitals worldwide.

David Copperfield at one time was ready to open a "Theme" restaurant called "Magic Underground." There were to be two locations, one in New York City and one in Walt Disney World (built in the shape of a Hidden Mickey). These locations would allow "D.A.V.I.D" (Digital, Audio, Video, Interface, Device) to remotely interact with the guests in the restaurant. It was basically a high tech videophone system. Other things such as the very table you were sitting at might "Float" around the room and even the waiters were to be involved performing magic as they brought your order to you. Eventually the New York project ran into trouble and it as well as the Walt Disney World location was aborted.

Copperfield has also attempted to preserve the history of the art of magic for present and future generations by providing a safe, permanent home for antiquarian props, books, and other historical ephemera related to conjuring. His vast collection, known as the International Museum and Library of the Conjuring Arts, is housed in Las Vegas, Nevada.

Forbes Magazine reported that Copperfield earned $57 million in 2003, making him the tenth highest paid celebrity in the world. It also estimated that he made $57 million in 2004 (35th) and $57 million in 2005 (41st) in merchandise and tour revenue. Copperfield performs over 500 shows per year throughout the world.

Personal life
Copperfield was engaged to the supermodel Claudia Schiffer, but the couple parted ways in 1999 after a six year relationship. There was speculation that Schiffer was not actually Copperfield's girlfriend, but was instead a contractor working for him. The popular German tabloid Bild published a fax from Copperfield's management to Schiffer, informing her of Copperfield's itinerary, where she should appear with Copperfield, and her fees. Copperfield labeled the fax a forgery. Richard Jeffries, the father of Schiffer's next boyfriend, art dealer Tim Jeffries, stirred up the controversy further when he publicly stated that Copperfield never had sexual relations with Schiffer. Copperfield's retort was that since Jeffries was never in their bedroom, he couldn't know. Schiffer also denied the accusations by Jeffries.

In February 2006, David's father, Hy (who often accompanied David on his many tours around the world), died in San Diego, CA. David set up a website, rememberhy.com, so fans and friends could pay tribute.

In April 2006, Copperfield and two of his female assistants were robbed at gunpoint after a performance in West Palm Beach, Florida. His assistants gave the robbers their money, passports, and a cell phone. However, according to his police statement, Copperfield did not hand over anything. (He later claimed to have used sleight-of-hand to hide his possessions.) One of Copperfield's assistants wrote down most of the license plate number, and the suspects were later arrested. Terrance Riley, 17, pleaded guilty and was sentenced to two years in prison for three counts of robbery with a weapon and one count of attempted robbery. Riley was also ordered to testify against his two co-defendants, his brother Dwayne Riley, 18, and Markeith Jones, 17.

David Copperfield said in August 2006 that he has found the "Fountain of Youth" in the southern Bahamas, amid a cluster of four tiny islands he had purchased on July 14th of that year. He claims that the water brings dead leaves back to life, and brings near dead insects back to life. He said he has hired biologists and geologists to examine its potential effect on humans. This claim echoes the precursor to many of his previous illusions and seems to predict what his next illusion will be.
Please register for a free Genetic Matrix account to access more information about this and all other celebrity pages