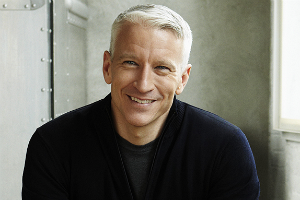 Anderson Cooper
Category : Journalist
Type : PSP
Profile : 2/4 - Hermit / Opportunist
Definition : Split - Large
Incarnation Cross : RAX Consciousness 2
Biography
Anderson Hays Cooper (born June 3, 1967) is an American journalist, author, and television personality. He is the primary anchor of the CNN news show Anderson Cooper 360°. The program is normally broadcast live from a New York City studio; however, Cooper often broadcasts live on location for breaking news stories. As of September 2011, he also serves as host of his own eponymous syndicated daytime talk show, Anderson Live, which will be cancelled at the end of the second season.
Early life
Cooper was born on June 3, 1967, in New York City, New York, the younger son of the writer Wyatt Emory Cooper and the artist, designer, writer, and heiress Gloria Vanderbilt. His maternal grandparents were millionaire equestrian Reginald Claypoole Vanderbilt and socialite Gloria Morgan Vanderbilt, and his maternal great-great-great-grandfather was Cornelius Vanderbilt of the prominent Vanderbilt shipping and railroad fortune. He is also a descendant, through his mother, of brevet Civil War Major General Hugh Judson Kilpatrick, who was with General William T. Sherman on his march through Georgia.
Cooper's media experience began early. As a baby, he was photographed by Diane Arbus for Harper's Bazaar. At the age of three, Cooper was a guest on The Tonight Show on September 17, 1970, appearing with his mother. At the age of nine, he appeared on To Tell the Truth as an impostor. From age 10 to 13 Cooper modeled with Ford Models for Ralph Lauren, Calvin Klein and Macy's.
Cooper's father suffered a series of heart attacks while undergoing open-heart surgery, and died January 5, 1978, at the age of 50. Cooper considers his father's book Families to be "sort of a guide on...how he would have wanted me to live my life and the choices he would have wanted me to make. And so I feel very connected to him."
Cooper's older brother, Carter Vanderbilt Cooper, committed suicide on July 22, 1988, at age 23, by jumping from the 14th-floor terrace of Vanderbilt's New York City penthouse apartment. Gloria Vanderbilt later wrote about her son's death in the book A Mother's Story, in which she expresses her belief that the suicide was caused by a psychotic episode induced by an allergy to the anti-asthma prescription drug salbutamol. Anderson cites Carter's suicide for sparking his interest in journalism. "Loss is a theme that I think a lot about, and it's something in my work that I dwell on. I think when you experience any kind of loss, especially the kind I did, you have questions about survival: Why do some people thrive in situations that others can't tolerate? Would I be able to survive and get on in the world on my own?"
Education
Cooper was educated at the Dalton School, a co-educational independent school in New York City. At age 17, after graduating from the Dalton School a semester early, Cooper travelled around Africa for several months on a "survival trip". He contracted malaria on the trip and was hospitalized in Kenya. Describing the experience, Cooper wrote "Africa was a place to forget and be forgotten in." Cooper went on to attend Yale University, where he resided in Trumbull College, and was inducted into the Manuscript Society, majoring in political science and graduated in 1989.
Career history
During college, Cooper spent two summers as an intern at the Central Intelligence Agency. Although he technically has no formal journalistic education, he opted to pursue a career in journalism rather than stay with the agency after school, having been a self-proclaimed "news junkie" since he was "in utero." After his first correspondence work in the early 1990s, he took a break from reporting and lived in Vietnam for a year, during which time he studied the Vietnamese language at the University of Hanoi.
Channel One
After Cooper graduated from Yale University, he tried to gain entry-level employment with ABC answering telephones, but was unsuccessful. Finding it hard to get his foot in the door of on-air reporting, Cooper decided to enlist the help of a friend in making a fake press pass. At the time, Cooper was working as a fact checker for the small news agency Channel One, which produces a youth-oriented news program that is broadcast to many junior high and high schools in the United States. Cooper then entered Myanmar on his own with his forged press pass and met with students fighting the Burmese government. He was ultimately able to sell his home-made news segments to Channel One.
After reporting from Burma, Cooper lived in Vietnam for a year to study the Vietnamese language at the University of Hanoi. Persuading Channel One to allow him to bring a Hi-8 camera with him, Anderson soon began filming and assembling reports of Vietnamese life and culture that aired on Channel One. He later returned to filming stories from a variety of war-torn regions around the globe, including Somalia, Bosnia, and Rwanda.
On assignment for several years Cooper had very slowly become desensitized to the violence he was witnessing around him; the horrors of the Rwandan Genocide became trivial: "I would see a dozen bodies and think, you know, it's a dozen, it's not so bad." One particular incident, however, snapped him out of it:
On the side of the road Cooper came across five bodies that had been in the sun for several days. The skin of a woman's hand was peeling off like a glove. Revealing macabre fascination, Cooper whipped out his disposable camera and took a closeup photograph for his personal album. As he did, someone took a photo of him. Later that person showed Cooper the photo, saying, "You need to take a look at what you were doing." "And that's when I realized I've got to stop, I've got to report on some state fairs or a beauty pageant or something, to just, like, remind myself of some perspective."
ABC
In 1995, Cooper became a correspondent for ABC News, eventually rising to the position of co-anchor on its overnight World News Now program on September 21, 1999. In 2000 he switched career paths, taking a job as the host of ABC's reality show The Mole.
My last year at ABC, I was working overnights anchoring this newscast, then during the day at 20/20. So I was sleeping in two- or four-hour shifts, and I was really tired and wanted a change. I wanted to clear my head and get out of news a little bit, and I was interested in reality TV—and it was interesting.
Cooper was also a fill-in co-host for Regis Philbin for the TV talk show Live with Regis and Kelly in 2007 when Philbin underwent triple-bypass heart surgery.
CNN
Cooper left The Mole after its second season to return to broadcast news in 2001 at CNN, commenting, "Two seasons was enough, and 9/11 happened, and I thought I needed to be getting back to news." His first position at CNN was to anchor alongside Paula Zahn on American Morning. In 2002 he became CNN's weekend prime-time anchor. Since 2002, he has hosted CNN's New Year's Eve special from Times Square. On September 8, 2003, he was made anchor of Anderson Cooper 360°.
Describing his philosophy as an anchor, Cooper has said:
I think the notion of traditional anchor is fading away, the all-knowing, all-seeing person who speaks from on high. I don't think the audience really buys that anymore. As a viewer, I know I don't buy it. I think you have to be yourself, and you have to be real and you have to admit what you don't know, and talk about what you do know, and talk about what you don't know as long as you say you don't know it. I tend to relate more to people on television who are just themselves, for good or for bad, than I do to someone who I believe is putting on some sort of persona. The anchorman on The Simpsons is a reasonable facsimile of some anchors who have that problem.
Cooper covered a number of important stories in 2005, including the tsunami damage in Sri Lanka; the Cedar Revolution in Beirut, Lebanon; the death of Pope John Paul II; and the royal wedding of Prince Charles and Camilla Parker Bowles.
During CNN coverage of the aftermath of Hurricane Katrina, he confronted Sen. Mary Landrieu, Sen. Trent Lott, and the Rev. Jesse Jackson about their perception of the government response. As Cooper said later in an interview with New York magazine, "Yeah, I would prefer not to be emotional and I would prefer not to get upset, but it's hard not to when you're surrounded by brave people who are suffering and in need." As Broadcasting & Cable magazine noted, "In its aftermath, Hurricane Katrina served to usher in a new breed of emo-journalism, skyrocketing CNN's Anderson Cooper to superstardom as CNN's golden boy and a darling of the media circles because of his impassioned coverage of the storm."
In August 2005, he covered the Niger famine from Maradi. In September 2005 the format of CNN's NewsNight was changed from 60 to 120 minutes to cover the unusually violent hurricane season. To help distribute some of the increased workload, Cooper was temporarily added as co-anchor to Aaron Brown. This arrangement was reported to have been made permanent the same month by the president of CNN's U.S. operations, Jonathan Klein, who has called Cooper "the anchorperson of the future." Following the addition of Cooper, the ratings for NewsNight increased significantly; Klein remarked that "Cooper's name has been on the tip of everyone's tongue." To further capitalize on this, Klein announced a major programming shakeup on November 2, 2005. Cooper's 360° program would be expanded to 2 hours and shifted into the 10 p.m. ET slot formerly held by NewsNight, with the third hour of Wolf Blitzer's The Situation Room filling in Cooper's former 7 p.m. ET slot. With "no options" left for him to host shows, Aaron Brown left CNN, ostensibly having "mutually agreed" with Jonathan Klein on the matter. In early 2007 Cooper signed a multi-year deal with CNN, which would allow him to continue as a contributor to 60 Minutes as well as doubling his salary from $2 million annually to a reported $4 million.
In October 2007 Cooper began hosting the documentary Planet in Peril, with Sanjay Gupta and Jeff Corwin on CNN. In 2008 he, Gupta, and Lisa Ling from National Geographic Explorer teamed up for a sequel, "Planet in Peril: Battle Lines," which premiered in December 2008. In 2007 he also began hosting CNN Heroes: An All-Star Tribute, a show which honors and recognizes extraordinary deeds by ordinary people.
Syndicated talk show
Warner Bros. and Telepictures (both corporate siblings of CNN) announced in September 2010 that Cooper had signed an agreement to host a nationally syndicated talk show. The New York Times' Brian Stelter reported on Twitter that the new Warner Bros. daytime talk show would be named Anderson (now titled Anderson Live). The show premiered on September 12, 2011, and, as part of negotiations over the talk show deal, Cooper signed a new multi-year contract with CNN to continue as the host of Anderson Cooper 360°. On October 29, 2012 it was announced that Anderson Live would end at the conclusion of its second season. The show, slightly renamed after Season 1 and revamped with a variety of co-hosts, failed to achieve the ratings distributor Warner Brothers hoped for. The final Anderson Live will air on an as yet to be determined date in summer 2013.
CBS
Cooper has been a correspondent for the CBS News program 60 Minutes since 2007 while concurrently serving as a CNN correspondent.
Broadway
Cooper was heard as the voice of the narrator for the 2011 Broadway revival of How to Succeed in Business Without Really Trying, directed by Rob Ashford and starring Daniel Radcliffe.
Writings
A freelance writer, Cooper has authored a variety of articles that have appeared in many other outlets, including Details magazine.
In May 2006, Cooper published a memoir for HarperCollins, Dispatches from the Edge, detailing his life and work in Sri Lanka, Africa, Iraq and Louisiana over the previous year. Some of the book's proceeds are donated to charity. The book topped the New York Times bestseller list on June 18, 2006.
Personal life
Cooper has two older half-brothers, Leopold Stanislaus "Stan" Stokowski (born 1950), and Christopher Stokowski (born 1952), from Gloria Vanderbilt's ten-year marriage to the conductor Leopold Stokowski.
He said to Oprah Winfrey – while promoting his book – that he had suffered from dyslexia as a child. In August 2007 he confirmed his "mild dyslexia" on The Tonight Show to Jay Leno, who also has dyslexia.
Cooper is openly gay; according to The New York Times, he is "the most prominent openly gay journalist on American television." For years Cooper avoided discussing his private life or being gay in interviews.
On July 2, 2012, however, he gave Andrew Sullivan permission to publish an email that stated, in part:
I've begun to consider whether the unintended outcomes of maintaining my privacy outweigh personal and professional principle. It's become clear to me that by remaining silent on certain aspects of my personal life for so long, I have given some the mistaken impression that I am trying to hide something—something that makes me uncomfortable, ashamed or even afraid. This is distressing because it is simply not true...The fact is, I'm gay, always have been, always will be, and I couldn't be any more happy, comfortable with myself, and proud.
Cooper has stated his intentions to marry his boyfriend, gay bar owner Benjamin Maisani, in New York City. He considered coming out to the public when same-sex marriage became legal in New York in July 2011. The couple has been dating since 2009.
Please register for a free Genetic Matrix account to access more information about this and all other celebrity pages