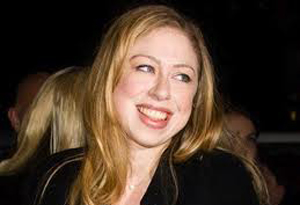 Chelsea Clinton
Category : Political - Family
Type : GE
Profile : 4/6 - Opportunistic / Role Model
Definition : Single
Incarnation Cross : RAX Planning 1
Biography
Chelsea Victoria Clinton (born February 27, 1980) is the daughter, and the only child of former US President Bill Clinton and United States Senator Hillary Clinton.
Chelsea was born in Little Rock, Arkansas. Her name was inspired by her parents' fondness for Judy Collins's recording of the Joni Mitchell song "Chelsea Morning".

In Arkansas, Chelsea attended Forest Park Elementary School, Booker Arts Magnet Elementary School and Horace Mann Junior High School. While at Booker, she skipped the third grade due to her reportedly high reading level. Later, she attended the prestigious, private, Sidwell Friends School. She has made few public comments on her upbringing but has said that her parents were "firm but fair".

Teenager at the White House

Chelsea Clinton moved into the White House on the day of her father's inauguration on January 20, 1993, when she was twelve years old.

Clinton spent her teenage years there and attended the elite private Sidwell Friends School, where she was on the varsity soccer team. Before Chelsea came to Washington, D.C., some people debated over whether the president should choose a public school or a private school for her. Debarah Fallows wrote a 1992 editorial for the Washington Monthly asserting that the Clintons should enroll Chelsea in a public school.

She was a National Merit Scholarship finalist in 1997. Having taken dance classes since she was four years old, Clinton began taking ballet courses at the Washington School of Ballet in 1993. She played the role of the Favorite Aunt in the Washington Ballet's 1996 production of Tchaikovsky's The Nutcracker. During her early schooling years, Clinton participated in Model United Nations conferences.

In August 1998, a few days after President Clinton's address to the nation in which he admitted to an inappropriate relationship with Monica Lewinsky, the teenage Clinton was placed prominently between her mother and father as they walked towards the Marine One helicopter to take them on their family vacation. On February 5, 1999, just before the Senate's vote on impeachment, People magazine ran a cover story on Chelsea Clinton. The cover story irked the First Family, as well as the Secret Service.

Clinton assumed her mother's White House Hostess responsibilities from January 3 to January 20, 2001, the period during which Hillary began her term as a U.S. Senator from New York until the end of her father's presidency. Chelsea did not assume the style of First Lady, generally accorded unofficially to the wives of Presidents who serve or have served as the White House Hostess.

As a child, her Secret Service codename was "Energy."

Absorbing criticism
The mainstream media generally saw her as "off limits," with a few notable exceptions. On a 1992 post-election Saturday Night Live, the characters Wayne and Garth compiled a list of 10 reasons they were happy Bill Clinton had been elected. After raving about the Gore daughters — the next item on the list read "Chelsea," regarding whom Wayne said "While it's true that adolescence has been thus far unkind, we think she's gonna be a future fox." SNL producer Lorne Michaels apologized to the Clinton family, as did Wayne actor Mike Myers, and subsequent rebroadcasts were edited to remove that part of the dialogue.

Critics of the Clintons have also criticized Chelsea.

Conservative talk show host Rush Limbaugh compared 13-year-old Chelsea to a dog:

On November 6, 1992, three days after her father won the elections, when Chelsea was still in braces, Rush Limbaugh said the following: "Everyone knows the Clintons have a cat; Socks is the White House cat. But did you know there is also a White House dog?" He then pointed to a video monitor, which switched to a picture of Chelsea. Although Limbaugh has claimed that it was a technical error, though as Al Franken documented in his book Lies and the Lying Liars Who Tell Them, since the show was on a tape delay, if it truly was a technical error, it could have been corrected prior to airing of the show.
Chelsea's other press encounters include the following:

In 1997 Stanford University senior Jesse Oxfeld was fired for writing an article about Chelsea for The Stanford Daily, after the paper stated a policy of not writing about the new freshman unless she did something newsworthy.
In 1998 the New York Post ran a story about Chelsea breaking up with her boyfriend of the time and seeking treatment for stress. The White House objected to this level of attention. The Post later apologized.
In 1998, Salon.com criticized the mainstream media for not directly quoting an off-color joke made by Sen. John McCain at a Republican fundraiser, in which he ridiculed Chelsea (who was a teenager at the time) along with Hillary Clinton and Janet Reno.
In 2001, as President Clinton was leaving office, The National Review contributing editor John Derbyshire authored a column specifically attacking Chelsea, in which he wrote "I hate Chelsea Clinton", and "Chelsea is a Clinton. She bears the taint."

Life after the Clinton Presidency

Clinton turned down Yale, Harvard, Princeton, and Brown to attend Stanford. She majored in chemistry before switching to history after 2 years. She graduated from Stanford University majoring in history, with distinction in 2001; her undergraduate thesis topic was her father's mediation of the 1998 Northern Ireland peace agreement. She went on to earn a Master's degree at University College, Oxford University in international relations.

In 2003, Clinton joined the consulting firm McKinsey & Company in New York City, reportedly earning a six-figure salary.

More recently, in November 2006, it was announced that Chelsea Clinton has joined Avenue Capital Group, a $12 billion hedge fund. Avenue Capital Group, which focuses on distressed securities investing, was co-founded by Marc Lasry, a donor to various Democratic politicians, including Hillary Clinton. Coincidentally, Morgan Stanley bought a minority stake in Avenue the same week.

The 2004 film Chasing Liberty was said to be inspired by a photograph of Clinton at a Stanford basketball game, trying to blend in with other students.

Clinton has since made occasional appearances in gossip columns for her associations with celebrities, including Madonna and Gwyneth Paltrow.

Clinton has never publicly commented about any of her parents' policies or public statements. On May 15, 2006, Hillary Clinton apologized to Chelsea for critical remarks she made about young people's work ethic, after the younger Clinton privately took exception to her mother's comments.

Since 2005, Clinton has lived in the mid-Manhattan west side neighborhood of Chelsea. The neighborhood north of it, Hell's Kitchen, was traditionally referred to as Clinton by real estate agents. The two Midtown West neighborhoods are often lumped together as "Chelsea Clinton" and there was a local weekly newspaper "Chelsea Clinton News" before she became the famous first daughter. As of 2006, Chelsea had moved to a building in the Gramercy area of Manhattan (just east of Chelsea). During the November 2006 mid-term election, in which her mother was running for re-election to the Senate, attention was drawn to her residence when it was discovered that an error at her 20th Street polling station had resulted in her name not being on the voting books. Clinton was allowed to vote via a paper ballot.
Please register for a free Genetic Matrix account to access more information about this and all other celebrity pages