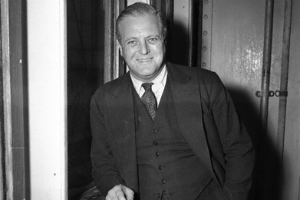 Randolph Churchill
Category : Political
Type : PSE
Profile : 6/2 - Role Model / Hermit
Definition : Split - Small (56)
Incarnation Cross : LAX Revolution 1
Biography
Randolph Frederick Edward Spencer-Churchill, MBE (28 May 1911 – 6 June 1968) was the son of British Prime Minister Winston Churchill and his wife Clementine. He was a Conservative Member of Parliament (MP) for Preston from 1940 to 1945. His wife from 1939 to 1946 was Pamela Harriman, who later became United States Ambassador to France and gave him a son Winston Churchill, who would follow his father into Parliament.
Early life and family
He was educated at Eton College and Christ Church, Oxford and became a journalist. In 1931 he shared Edward James's house in London with John Betjeman.
While attending Oxford, Churchill became embroiled in the controversy of February 1933 King and Country debate. Three weeks after the associated pacifist resolution was passed, Churchill proposed a resolution at the Oxford Union to delete the "King and Country" motion from the Union's records but this was defeated by 750 votes to 138 in a rowdy debate (one which was better attended than the original debate), where Churchill was met by a barrage of hisses and stink bombs. A bodyguard of Oxford Conservatives and police escorted Churchill back to his hotel after the debate. Sir Edward Heath records in his memoirs that Churchill was then chased around Oxford by undergraduates who intended to debag him (i.e. humiliate him by removing his trousers), and was then fined by the police for being illegally parked.
He was married twice. His first marriage, to the well-known socialite The Honourable Pamela Digby (later and better known as Pamela Harriman), produced a son, Winston Churchill, who became a Member of Parliament. The marriage ended in divorce in 1945. His second marriage to June Osborne produced a daughter, Arabella Churchill. It is alleged that he had an illegitimate daughter in Oklahoma in 1956. For the last twenty years of his life, he had an affair with Natalie Bevan, the wife of a friend and neighbour, Bobby Bevan. American author Christopher Ogden in his biography of Pamela Harriman has stated that while in Cairo in World War II he had a long affair with Maud (Momo) Marriott who was the wife of the senior British army officer Major General Sir John Charles Oakes Marriott.
Second World War
Randolph Churchill served with his father's old regiment, the 4th Queen's Own Hussars, and was attached for a time to the newly formed Special Air Service (SAS), joining their CO, David Stirling, on a number of missions behind enemy lines in the Libyan Desert. He also went on a military and diplomatic mission to Yugoslavia in 1944, part of the British support for the Partisans during that civil war. He and Evelyn Waugh arrived on the island of Vis on 10 July, where they met Josip Broz Tito, who had barely managed to evade the Germans after their "Operation Knight's Leap" (Rosselsprung) airdrop outside Tito's Drvar headquarters. In September that year, Churchill and Waugh established their military mission at Topusko. An outcome was a formidable report detailing Tito's persecution of the clergy. It was "buried" by Foreign Secretary Anthony Eden (who also attempted to discredit Waugh) to save diplomatic embarrassment, as Tito was then seen as a required ally of Britain and an official "friend". In both the Western Desert Campaign and Yugoslavia, Churchill crossed paths with Fitzroy Maclean, who wrote of their adventures, and some of the problems Churchill caused him, in his memoir Eastern Approaches.
Politics
Randolph Churchill's political career (like that of his son) was not as successful as that of Sir Winston or of his grandfather (Lord Randolph Churchill). In the 1935 general election he stood as an Independent Conservative, marking a temporary breach with his father's politics. He also stood in a by-election at Ross and Cromarty opposed to the National Government candidacy of Malcolm MacDonald. He was elected unopposed as Member of Parliament for Preston during the war (1940–45) to fill a vacancy, but lost his seat in the 1945 general election. He stood for parliament on many other occasions, and was defeated at each—including losing to future Labour leader Michael Foot at Plymouth Devonport in the 1951 general election.
Randolph was often portrayed as the black sheep of the Churchill family—irascible, spoiled by his father, and with a serious drinking problem. Evelyn Waugh, who was a friend, captured the mood of many after Churchill had had a growth removed by surgery. On hearing that the growth was not malignant, Waugh said "It was a typical triumph of modern science to find the one part of Randolph which was not malignant and to remove it."
Nevertheless Randolph inherited something of his father's literary flair, and carved out a career for himself as a journalist (helped by the liberal employment of ghost-writers). He started the official biography of his father in 1966, but had finished only the second volume by the time of his death in 1968. It was posthumously completed by Sir Martin Gilbert. He wrote an autobiography, Twenty-One Years, and had signed a contract with Robert Kennedy to write the biography of John F. Kennedy. As a consequence of this contract he obtained access to the Kennedy archives, but he died before beginning work.
His father declined a peerage at the end of the Second World War, and then again on his retirement in 1955 (when he was offered the Dukedom of London), ostensibly, so as not to compromise his son's political career. The main reason was actually that Churchill wanted to remain in the House of Commons—by 1955, Randolph's political career was 'already hopeless'. He had been out of parliament since 1945. However, since 1911 it had become traditional for British Prime Ministers to come from the lower house of Parliament (the House of Commons). If Sir Winston Churchill had accepted a peerage, upon his death his son would have automatically been forced to move to the House of Lords, giving up his seat in the House of Commons, should he have held one. Randolph would then have been styled 2nd Duke of London. In 1963, hereditary peers were allowed to disclaim their titles, although the only peer to do so and become Prime Minister, Sir Alec Douglas-Home—previously the 14th Earl of Home—served in that office for less than a year.
Death
Randolph Churchill died of a heart attack, aged 57 (on the very same day in June 1968 that Robert Kennedy was murdered). He is buried with his parents and siblings at St Martin's Church, Bladon, near Woodstock, Oxfordshire.
Please register for a free Genetic Matrix account to access more information about this and all other celebrity pages