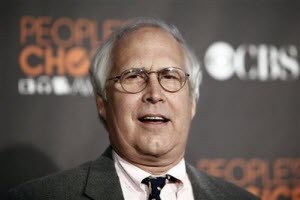 Chevy Chase
Category : Actor
Type : MGE
Profile : 6/2 - Role Model / Hermit
Definition : Split - Small (22,29,37)
Incarnation Cross : LAX Endeavor 2
Biography
Chevy Chase (born October 8, 1943) is an Emmy Award-winning American comedian, writer, and television and film actor. Born into a prominent family, Chase became a sensation as a cast member in the inaugural season of Saturday Night Live. He also hosted the Academy Awards twice (1987 and 1988) and briefly had his own late-night talk show, The Chevy Chase Show. He is also known for his portrayal of the character Clark Griswold in four National Lampoon films.

Early life and career
Chase was born Cornelius Crane Chase in Lower Manhattan, New York City. His father, Edward Tinsley ("Ned") Chase, was a prominent Manhattan book editor and magazine writer. His mother, Cathalene Parker (née Browning), a concert pianist and librettist, was the daughter of Miles Browning, who served a critical role at the Battle of Midway in World War II; she was adopted as a child by Cornelius Vanderbilt Crane, and took the name Cathalene Crane.
Chase's maternal grandmother was an opera singer who performed several times at Carnegie Hall. Chase is a 14th-generation New Yorker, and was listed in the Social Register at an early age. His mother's ancestors arrived in Manhattan starting in 1624. Among his ancestors are New York City mayors Stephanus Van Cortlandt and John Johnstone; John Morin Scott, General of the New York Militia during the American Revolution; Anne Hutchinson, dissident Puritan preacher and healer; and Mayflower passenger William Brewster. Chase's paternal grandfather was artist/illustrator Edward Leigh Chase, and his great-uncle was painter/teacher Frank Swift Chase.

Chase was named for his adoptive grandfather Cornelius, who lived at Castle Hill, Ipswich, Massachusetts, which was later used in the filming of The Witches of Eastwick. The name Chevy was a nickname bestowed by his grandmother. As a descendant of the Scottish Clan Douglas, who repelled an English invasion at the Battle of Cheviot Hills ("Chevy Chase") in 1436, the name "Chevy" seemed appropriate to her. Chase's parents divorced when he was four; his father remarried into the Folgers coffee family, and his mother was remarried twice. Both his parents died in 2005. His mother, who later married Juilliard professor and composer Lawrence Widdoes, is buried at the Artists' Cemetery in Woodstock, New York. He made recent claims that he was abused as a child by his mother and stepfather, John Cederquist.

Chase was expelled from private schools like New York City's Dalton School and Phillips Exeter Academy in New Hampshire. He did well at the Stockbridge School in Stockbridge, Massachusetts, and attended Riverdale Country School in The Bronx. He was valedictorian of his senior class and entered Haverford College, but was expelled (or 'separated') from it after one semester. He then transferred to Bard College in Annandale-on-Hudson, New York, where he studied a pre-med curriculum, dated actress Blythe Danner for several years, and graduated in 1967 with a bachelor of arts degree in English. An urban myth has it that he was suspended from Haverford for leading a cow to the second floor of his dormitory, knowing full well that a cow will go up a staircase willingly, but not down.

Chase did not enter medical school; instead he played drums for a time with the college band The Leather Canary, headed by school friends Walter Becker and Donald Fagen. At the time, Chase called the group "a bad jazz band," but Becker and Fagen went on to success after they changed their band's name to Steely Dan. Chase is gifted with absolute pitch. He played drums and keyboards for a rock band called Chamaeleon Church, which recorded one album for MGM Records before disbanding in 1969. Before becoming famous as a writer, actor and comedian, Chase worked in many jobs including as a cab driver, truck driver, motorcycle messenger, construction worker, waiter, busboy, fruit picker, produce manager of a supermarket, audio engineer, salesman in a wine store, and a theater usher.

Early career
Chase began to branch out into comedy (he cited Ernie Kovacs as one of his biggest influences), making it a full time career by 1973, when Chase became a cast member of The National Lampoon Radio Hour, a syndicated satirical series aired on Sunday nights. (prior to this, he had been in an early underground comedy ensemble called Channel One which he co-founded in 1967, he had written a one-page spoof on Mission: Impossible for Mad Magazine in 1970 and was a writer for the short lived Smothers Brothers TV show comeback in the early 1970s among other things) The Lampoon Radio Hour also featured John Belushi, another future "Not-Ready-For-Prime Time Player" on NBC's Saturday Night. The two also appeared at this time in National Lampoon's off-Broadway production of Lemmings, a sketch and musical send-up of popular youth culture (in which Chase also played the drums during the musical numbers). He appeared in theaters in The Groove Tube which was directed by another co-founder of the aforementioned Channel One comedy group, Ken Shapiro which featured several Channel One sketches.

Saturday Night Live
Chase was one of the original cast members of Saturday Night Live, NBC's late night sketch television show. He was the original anchor for the Weekend Update segment, introducing himself with the catch phrase "I'm Chevy Chase, and you're not" and concluding with "good night, and have a pleasant tomorrow." It would be this opening and closing which Chase would be well known for, although he experimented with other openings to Weekend Update like saying "I'm Chevy Chase, and you can't" on one show and "I'm Chevy Chase, and I love you all very deeply" on another, even simply "I'm not". On October 6, 2007, he made a Weekend Update cameo appearance, opening with, "I'm still, and you're still not." He also traditionally opened each Update with him engaging in sexual innuendo-laden talk with his girlfriend on the phone, not realizing he was on camera until it was comically too late. Chase wrote some jokes as well for Update, like The News For The Hard Of Hearing where Chase would read the top story of the day, aided by Garrett Morris, who would repeat the story by basically shouting it at the top of his lungs. Chase claimed his version of Weekend Update would later be the inspiration for shows like The Daily Show and The Colbert Report. He also had a recurring gag as the Landshark. One of his early, and most memorable trademark moves were his pratfalls during many of the show's opening skits, which often poked fun at President Gerald Ford. Chase opened most SNL shows with "The Fall of the Week," after which he would exclaim "Live from New York, it's Saturday Night!". It was during one of these skits (during the second season) when he was injured on an unpadded podium, which bruised a testicle and forced him to broadcast two of the show's segments live from his hospital bed. His racially-charged "word association" skit opposite Richard Pryor from SNL's first season is frequently cited by television critics as one of the funniest (and most daring) skits in the history of SNL.

In a 1975 New York Magazine cover story which called him "The funniest man in America", NBC executives referred to Chase as "The first real potential successor to Johnny Carson" and claimed he would begin guest-hosting The Tonight Show Starring Johnny Carson within six months of the article. Chase actually never did guest host the Tonight Show during his early peak years of success, and in fact, didn't even appear on the program until 1978, when he was promoting a prime time special for NBC (his whirlwind success even got to the point where he was labeled "the next Cary Grant," a label to which he took exception). He was the first breakout star of SNL, largely because he was the only cast member who identified himself by name in every episode of the first season, in the "Update" sketches, which helped his immediate visibility. (The opening credits in the first few episodes only showed the names of the cast members on the same title card without their faces and without being introduced by Don Pardo by name). Chase was committed contractually to Saturday Night Live for only one year as a writer, not an SNL cast member. He had signed a one year writing contract and became a cast member during rehearsals just before the show's premiere. Nonetheless, he received two Emmy Awards and a Golden Globe Award for his comedy writing and live comic acting.

Feuds
Chase was the first member of the original SNL cast to leave the show in 1976, and has said that he regretted leaving after just a year-and-a-half. However, Chase was never friendly with most of the cast; a rivalry with John Belushi went all the way back to their work on the National Lampoon radio show. By the time he left, early in the second season, Chase couldn't even get along with Lorne Michaels, the show's creator and producer. After leaving SNL, Chase moved to Los Angeles and married his girlfriend, Jacqueline Carlin (Carlin had appeared in some sketches with Chase on SNL's first season). Chase continued to make the cameo appearance here and there as the second season wound down; one of the more memorable ones was when he appeared on "Jeopardy 1999", a sketch in which the popular game show was set in the future (at that time, 1976) and hosted by Steve Martin, who was that week's SNL host. One of the questions on the show was "His Career Fizzled After Leaving Saturday Night". The punchline was that nobody could answer the question, because no one could remember who that person was whose career fizzled after leaving SNL, even the character played by Chase. SNL didn't stop there at poking fun at his sudden departure; an episode featured a sketch in which Paul Simon is outside the NBC Studios in Rockefeller Center to find Chase begging for change. A "Weekend Update" segment began with announcer Don Pardo saying "and now, Weekend Update with Chevy Chase" at which point WU anchor Jane Curtin reminded Pardo that Chase isn't on the show anymore to which Pardo replied: "sorry, old script."

Eventually, Chase was replaced by Bill Murray, who got into a legendary backstage brawl with Chase moments before Chase's scheduled 1978 hosting stint on SNL. Witnesses report that Murray initially provoked Chase about his "hated" status on the show, leading Chase to make fun of Murray's bad skin condition (comparing it to the surface of the moon). Laraine Newman, discussing the incident for authors Tom Shales and James Andrew Miller in their history of the show, Live From New York, said Murray took a shot at Chase's reported marital problems. Newman quoted Murray as saying, "Why don't you fuck your wife once in a while? She needs it." The two men were pulled apart by Dan Aykroyd and Belushi. Though the altercation occurred off the air, the story became so widely known that Chase and Murray duetted together during Chase's next hosting appearance, singing a "unity" medley including "We Write the Songs", "We Can't Get No Satisfaction", "We Shot the Sheriff" and "We Are the Walrus". Chase claims he and Murray have long since buried the hatchet on the incident, and appeared in Caddyshack together in a famous unscripted scene.

Chase also had a long running feud with Howard Stern, prompted by Stern calling Chase's home and speaking with his housekeeper on the air. However, Chase's continued harassment from Stern fans at public events led Chase to initiate ending their feud.

Hosting stints
Chase hosted SNL nine times after he left, most recently in 1997. Although Chase has not hosted the show since 1997, he appeared on the show's 25th anniversary special in 1999 and was interviewed for a 2005 NBC special on SNL's first five years. He also has made four cameo appearances: once in a Caddyshack skit (featuring Bill Murray), the October 25, 1997 episode with guest host Chris Farley, as the Land Shark in Weekend Update during the October 6, 2001 episode, and again on Weekend Update, delivering a political news/commentary, on the October 6, 2007 episode.

To this day, Chase admits that leaving SNL so soon was the biggest mistake of his career. He said as much when he appeared at the unveiling of Michaels' star on the Hollywood Walk of Fame. To Shales and Miller he put it this way: "I'm still hurting, I still grieve for all those years that I could have had there." Chase clarified to David Letterman that the reason he left SNL was for his girlfriend, Jacqueline. He stated that he was "infatuated" with her and moved to Los Angeles to marry her, because she wouldn't move to New York where SNL is performed.

Film career
Chase's early film roles included Tunnel Vision, Foul Play, and Oh Heavenly Dog. The role of Eric 'Otter' Stratton in National Lampoon's Animal House was originally written with Chase in mind, but he turned the role down to work on Foul Play. Chase said in an interview that he chose to do Foul Play so he could do "real acting" for the first time in his career instead of just doing "schtick". The role went to Tim Matheson instead. Chase followed Foul Play with the successful Harold Ramis comedy Caddyshack, in 1980.

Chase narrowly escaped death by electrocution during the filming of Modern Problems in 1980. During a sequence in which Chase's character wears 'landing lights' as he dreams that he is an airplane, the current in the lights short-circuited and arced through Chase's arm, back, and neck muscles. The near-death episode caused Chase to experience a period of deep depression, as his marriage to Jacqueline had ended just prior to the start of filming. Chase continued his film career in 1983's National Lampoon's Vacation, directed by Ramis and written by John Hughes. He married Jayni Luke in 1983, and in 1985, he starred in Fletch, the first of two films based on Gregory Mcdonald's Fletch books. Chase joined SNL veterans Steve Martin and Martin Short in the Lorne Michaels-produced comedy ¡Three Amigos! in 1986, admitting in an interview that making ¡Three Amigos! was the most fun he has had on a film. The trio hosted SNL that year, the only time the show has had three hosts on one show.

At the height of his career in the late 1980s, Chase earned around $7 million per film and was a highly visible celebrity. He appeared alongside Paul Simon, one of his best friends, in Simon's 1986 second video for "You Can Call Me Al," in which he lip-syncs all of Simon's lyrics. Chase hosted the Academy Awards in 1987 and 1988, signing on to the proceedings in 1987 with the opener, "Good evening, Hollywood phonies!" Chase filmed a sequel to Vacation, 1985's National Lampoon's European Vacation and then a third, National Lampoon's Christmas Vacation, in 1989, which, thanks to its holiday theme, has become his most durable film, airing on NBC every December. He played saxophone onstage at Simon's free concert at the Great Lawn in Central Park in the summer of 1991. Later in 1991, he helped record and appeared in the music video "Voices That Care" to entertain and support U.S. troops involved in Operation Desert Storm, and supported the International Red Cross.

Later work
In 1980, Chase released a self-titled record album with cover versions of songs by Randy Newman, Barry White, Bob Marley, the Beatles, Donna Summer, Tennessee Ernie Ford, The Troggs, and the Sugarhill Gang. The album was co-produced by Chase and Tom Scott. Among "short people" Chase names in his version of Newman's "Short People" is his friend Paul Simon, who features Chase in the video of "You Can Call Me Al". The Beatles' "Let It Be" is recorded a la Alvin and the Chipmunks.

Chase's career took a downturn in the late 1980s. Few of Chase's subsequent films have been able to duplicate the critical or commercial success of his early career. As fellow SNL personality Paul Shaffer later joked, "You made us laugh so much... and then you inexplicably stopped in about 1978." In fact, Chase's film successes, Caddyshack, Fletch, and National Lampoon's Vacation, all were products of the 1980s. Chase had three consecutive film flops from his later period: 1991's Razzie award-nominated Nothing But Trouble, 1992's Memoirs of an Invisible Man, and 1994's Cops and Robbersons. The three releases grossed $34 million in the U.S., combined. Even the durable Vacation series ground to a halt, following 1997's Vegas Vacation installment, the only one without the National Lampoon imprimatur. Some of the more recent movies starring Chase (e.g., Vacuums, Rent-a-Husband, Goose!) have not been released in the United States.

In September 1993, Chase hosted The Chevy Chase Show, a weeknight talk show, for the Fox Broadcasting Company. The show was cancelled by FOX after only six weeks. Chase later appeared in a commercial for Doritos, airing during the Super Bowl, in which he made humorous reference to the show. He was Hasty Pudding's 1993 Man Of The Year, and received a star on the Hollywood Walk of Fame in 1994. He starred with Farrah Fawcett in Man of the House, which immortalized the YMCA Indian Guides program in 1995, and received Harvard Lampoon's Lifetime Achievement Award in 1996.

In 1998, Chase was offered the lead role of Lester Burnham in the Academy Award-winning drama, American Beauty, but he turned it down, fearing that it would tarnish his family-friendly image. The role went on to win Kevin Spacey the Academy Award for Best Actor.

Chase visited Cuba in the late 1990s. Afterward, self-proclaimed former Cuban intelligence officer Delfin Fernandez said that Chase's room was bugged with both video and audio recording devices, a claim dismissed as false by Cuban officials. Later at Earth Day 2000 in Washington, D.C., Chase stated that mixed economies can work, stating, "Socialism works. I think Cuba can prove that". He was also investigated, but not charged, with using assets in countries where it is prohibited by the U.S. State Department. He was roasted by the Friars Club in 2002, but the occasion was notable for the near-total disconnect between Chase's career and the list of performers who agreed to appear. In 2005, Chase was the keynote speaker at Princeton University's Class Day, part of commencement activities for the graduating class of 2005. Though he mentioned that he "left his written speech on the corner of the bathtub at home," he spoke for about 15 minutes about sense of humor and the perspective on life that it creates, while also proclaiming, "I strapped my dong down this morning," and discussing deleted scenes from the movie Dirty Work. Chase returned to mainstream movie-making in 2006, co-starring with Tim Allen and Courteney Cox in the comedy Zoom. Chase returned for a series of cameos on SNL's Weekend Update segment for the Fall 2007 season, saying "it's a perfect political year" for him "to get in there and raise a little heck." His first appearance on the segment was on the October 6, 2007 episode.

Chase is an active environmentalist and charity fundraiser. He raised money and campaigned for Bill Clinton in the 1990s and John Kerry in the 2004 Presidential Election. Chase has harshly criticized President George W. Bush with comments like, "This guy in office is an uneducated, real lying schmuck... and we still couldn't beat him with a bore like Kerry." In the same speech he allegedly stunned the crowd at a People For the American Way benefit at the Kennedy Center, referring to the President as a "dumb fuck". Several Bush detractors present at the event distanced themselves from Chase's comments, with Norman Lear remarking, "he'll live with it, I won't".

Chase guest-starred as an anti-Semitic murder suspect in "In Vino Veritas", the November 3, 2006 episode of Law & Order, which was apparently inspired by actor/director Mel Gibson's notorious arrest for drunk driving in 2006. Chase himself was arrested for drunk driving in 1995 with a blood alcohol level of more than double the legal limit.

Most recently, Chase guest-starred in the ABC drama series Brothers & Sisters, in two episodes as a former love interest of Sally Field's character.

Personal life
Chase is the father of three girls, Cydney, Caley, and Emily. He lives with his wife, Jayni, in Bedford, New York. He took part in Amnesty International's The Secret Policeman's Ball in 2006.

Chase is also an avid fan of jazz music. He publicly made this known when he hosted the 2007 Newport Jazz Festival in Newport, Rhode Island.


Please register for a free Genetic Matrix account to access more information about this and all other celebrity pages