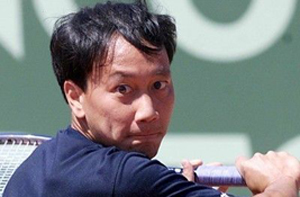 Michael Chang
Category : Tennis Player
Type : MGP
Profile : 4/6 - Opportunistic / Role Model
Definition : Single
Incarnation Cross : RAX The Sleeping Phoenix 1
Biography
Michael Te-Pei Chang (born February 22, 1972, in Hoboken, New Jersey, U.S.) is an American former professional tennis player. He is best remembered for becoming the youngest-ever male winner of a Grand Slam singles title when he won the French Open in 1989 at the age of 17.

Utilizing tremendous speed and strong determination, Chang was one of the best counterpunchers of all time and remained in the Top 10 in the ATP world rankings for several years in the 1990s, peaking at World No. 2. He is a Chinese American, and was popular in Asia. At that time, there were no other Asian-heritage players among tennis' higher ranks.

Tennis career
Chang first came to the tennis world's attention as a brilliant junior player who set numerous "youngest-ever" records. He won his first national title, the USTA Junior Hard Court singles, at the age of 12. At age 13, he won the Fiesta Bowl 16s.

In 1987, aged 15, Chang won the USTA Boys 18s Hardcourts and the Boys 18s Nationals, and became the youngest player to win a main draw match at the US Open when he defeated Paul McNamee in four sets in the first round. A month later he reached the semi-finals at Scottsdale, Arizona to become the youngest player to reach the semi-final stage of a top-level professional tournament. He won his first top-level singles title in 1988 at San Francisco, aged 16 years and 7 months.

Chang's most significant youngest-ever record came in 1989 when he won the French Open at the age of 17 years and 3 months, to become the youngest male player ever to win a Grand Slam title. He defeated Stefan Edberg in a memorable five-set final, winning 6-1, 3-6, 4-6, 6-4, 6-2. His victory is equally remembered for an epic five-set encounter with Ivan Lendl in the fourth round (see below). Chang became the first American man to win the French Open since 1955. And in August 1989, Chang became the youngest player to be ranked in the world's top-five on the men's singles rankings. (Chang's success marked the start of an era in which a new generation of American players – which also included Pete Sampras, Jim Courier and Andre Agassi – would come to dominate the game.)

Chang had another famous match against Edberg in the semi-finals of the US Open in 1992. This time Edberg won in a five-set encounter 7-6, 5-7, 6-7, 7-5, 4-6. The 5-hour, 26-minute marathon match was the longest in US Open history.

Chang reached three further Grand Slam finals after his famous 1989 French Open triumph – losing the 1995 French Open final to Thomas Muster, the 1996 Australian Open final to Boris Becker, and the 1996 US Open final to Pete Sampras.

Chang was a member of the US team which won the Davis Cup in 1990, beating Australia in the final. He was also on the US team which won the World Team Cup in 1993.

Chang was introduced to tennis by his father Joe, who was his first coach. For much of his professional career, he was coached by his older brother Carl Chang, who also played in several doubles tournaments with him in the early-1990s.

Chang retired from the professional tour in 2003. During his career, he won a total of 34 top-level professional singles titles. His final top-level title was won in 2000 at Los Angeles. His total career prize-money earnings was US$19,145,632. His career-high singles ranking was World No. 2 in 1996.

Michael has joined Jim Courier's senior tour, which began on Friday, March 10, 2006, in Naples, Florida.

1989 French Open match vs Ivan Lendl
Perhaps Chang's most famous match took place at the 1989 French Open, which was Chang's only Grand Slam singles title. In the fourth round, he faced the World No. 1 and three-time former champion Ivan Lendl. Conventional wisdom made Lendl the heavy favorite to win the match against the 15th seeded and 17-year-old Chang.

Everything seemed to be going to form when Lendl comfortably took the first two sets 6-4, 6-4 and then broke Chang's serve in the opening game of the third set. But Chang broke back immediately and went on to claim the third set 6-3. Part way through the fourth set, Chang experienced a severe attack of leg cramps. Fighting to stay in the match, Chang resorted to some novel tactics. For a period, he began taking all speed out of the match by playing "moon balls," he ate bananas and drank at every opportunity, and left the court for an extended bathroom break. Lendl, who was known to be one of the calmest players, lost his rhythm. He began to swear at the umpire and the crowd, especially after losing a key point in the fifth set when Chang shocked him by delivering an under-arm serve. Chang later explained, "I was trying to break his concentration. I would do anything to stay out there." (That underhanded serve achieved cult status among amateurs and, at least in Chang's hometown area of Southern California, it was not unheard of to see juniors emulate the swing in desperation while trying to come back from behind in a match during the 1990s.)

Barely able to stand, and screaming with pain after many of his shots, Chang continued to battle on. Despite being on the verge of physical breakdown, he fought his way to a 5-3 lead in the fifth set with two match points on Lendl's serve. Aiming to break Lendl's concentration one more time, Chang stood well inside the baseline, almost at the T-line in the centre of the court while waiting to receive Lendl's serve (normally an almost suicidal position when facing an opponent's serve). The tactic worked as Lendl produced a double-fault to give Chang the victory, 4-6, 4-6, 6-3, 6-3, 6-3 in four hours and 37 minutes. Chang sank to his knees and broke down in tears at the conclusion of the match. Seven days later, he became the youngest male champion in French Open history.

(Note: Chang and Lendl played a similar match in a semifinal of the 1991 Grand Slam Cup, where Chang again came back from two sets down and won 2-6, 4-6, 6-4, 7-6, 9-7.)

Personal and family life
Chang was born in Hoboken, New Jersey in 1972 to Joe and Betty (née Tung). His parents both grew up in Taiwan (though were born elsewhere, as his father was forced to flee the developing communist party regime on mainland China) and were educated in the United States, where they met. (Betty moved to the U.S. in 1959 and Joe moved in 1966. They were introduced by a mutual friend.) Betty was born in New Delhi, India as the daughter of Michael Tung, then serving as the Republic of China Ambassador to India. Joe was born in Chaozhou, Guangdong, China, and moved to Taiwan at age seven. Michael's Chinese name (Simplified Chinese: pinyin: Zh?ng Dépéi) was chosen by Joe, and his English name by Betty (who named him after her father).

Chang dropped out of Grade 10 at San Dieguito High School in Encinitas, California, after passing his GED in February 1988 in order to pursue a professional tennis career.

Chang served as Chairman of ATP Tour Charities in 1994. He has supported grassroots tennis development in Asia through his Stars of the Future program in Hong Kong and the Reebok Challenge across Asia. He was one of five athletes named in the second annual "Most Caring Athlete" list by USA Today Weekend in 1995. In 1997, he was given one of seven Asian-American leadership awards by A Magazine for his status as a role model for Asian-American youth. He has also served as a national spokesman for the National Fish and Wildlife Federation in the US.

A devout Christian, Chang and his family established the Chang Family Foundation in 1999 "to introduce the Good News of Jesus Christ to the World".

In 2001, Chang served as a goodwill ambassador for the 2008 Beijing Olympic bid committee.

Chang currently lives in Mercer Island, Washington. He is an avid fisherman, who often takes fishing trips while traveling. He also has a passion for breeding African cichlids in several large freshwater aquariums at his home.

Chang published a book about his career, Holding Serve: Persevering On and Off the Court, in 2002.

He now attends Biola University in La Mirada, California.

Trivia
Chang is also a very keen golfer with a notably powerful drive. He participated in the first Allstar Cup a celebrity Ryder Cup style tournament for the United States in 2005 and hit a drive almost 400 yards (392 yards).
He was the subject of an entire verse in the song "Saturday Night" by Incredibad.
Please register for a free Genetic Matrix account to access more information about this and all other celebrity pages