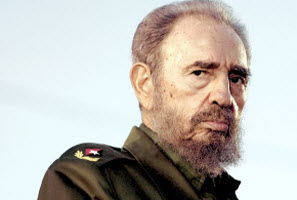 Fidel Castro
Category : Political
Type : PSP
Profile : 1/4 - Investigating / Opportunist
Definition : Single
Incarnation Cross : RAX Explanation 3
Biography
Fidel Alejandro Castro Ruz (born August 13, 1926) is the current President of Cuba. On July 31, 2006, Castro, after undergoing intestinal surgery for diverticulitis, transferred his responsibilities to the First Vice-President, his younger brother Raúl Castro.
On June 2, 2007, Castro appeared on Cuban Television with Vietnamese Communist Party Leader Non Duc Mahn looking much healthier, indicating his full recovery. He led the revolution overthrowing Fulgencio Batista in 1959 and shortly after was sworn in as the Prime Minister of Cuba. Castro became First Secretary of the Communist Party of Cuba in 1965, and led the transformation of Cuba into a one-party socialist republic. In 1976 he became president of the Council of State as well as of the Council of Ministers. He also holds the supreme military rank of Comandante en Jefe ("Commander in Chief") of the Cuban armed forces.
Castro first attracted attention in Cuban political life through nationalist critiques of Batista and the United States political and corporate influence in Cuba. He gained an ardent, but limited, following and also drew the attention of the authorities. He eventually led the failed 1953 attack on the Moncada Barracks, after which he was captured, tried, incarcerated and later released. He then travelled to Mexico to organize and train for the guerrilla invasion of Cuba that took place in December 1956. Since his assumption of power in 1959 he has evoked both praise and condemnation (at home and internationally). Castro is described by opponents as a dictator while supporters see Castro as a charismatic liberator.

Outside of Cuba, Castro has been defined by his relationship with the United States and the former Soviet Union, both of whom courted Cuban attentions as part of their own global political game. After the failed Bay of Pigs invasion of Cuba in 1961 by U.S. backed forces, the Castro-led government has had an openly antagonistic relationship with the U.S., which encouraged a closeness with the Soviet bloc. The collapse of the Soviet Union in 1991 forced Castro to seek alliances regionally to counter U.S. and find like-minded partners in regional nationalist figures such as Hugo Chávez in Venezuela and Evo Morales in Bolivia. Over time he has become a world icon.

At home, Fidel Castro has overseen the implementation of various economic policies, leading to the rapid centralization of Cuba's economy, land reform, collectivization and mechanization of agriculture, and the nationalization of leading Cuban industries. The expansion of publicly funded health care and education has been a cornerstone of Castro's domestic social agenda. Cuba ranks better than many countries, including the United States, among world countries on the United Nations' List of countries by infant mortality rate, which is claimed by Castro's supporters as a success of his regime. Castro and his policies are cited by some as being responsible for Cuba's economic problems, whilst others blame the U.S. embargo. Still others attribute the shortcomings to a mix of these factors. He holds a Juris Doctor degree from the University of Havana.

Family

By his first wife Mirta Díaz Balart, Castro has a son named Fidel "Fidelito" Castro Díaz-Balart. Díaz-Balart and Castro were divorced in 1955, and she remarried. After a spell in Madrid, Díaz-Balart reportedly returned to Havana to live with Fidelito and his family. Fidelito grew up in Cuba, For a time, he ran Cuba's atomic-energy commission before being removed from the post by his father. Díaz-Balart's nephews are Republican U.S. Congressmen Lincoln Diaz-Balart and Mario Diaz-Balart, vocal critics of the Castro government.

Fidel has five other sons by his second wife, Dalia Soto del Valle: Alexis, Alexander, Alejandro, Antonio, and Angel.

While Fidel was married to Mirta, he had an affair with Naty Revuelta resulting in a daughter named Alina Fernández-Revuelta. Alina left Cuba in 1993, disguised as a Spanish tourist, and sought asylum in the United States. She has been a vocal critic of her father's policies.

Castro is reputed to have other children by other women.

During his days in the Sierra and up to her death in 1980, Castro was linked romantically with fellow rebel Celia Sánchez, though support for this theory isn't as common as it was.

His sister Juanita Castro has been living in the United States since the early 1960s and was featured in a film documentary by Andy Warhol in 1965.
Please register for a free Genetic Matrix account to access more information about this and all other celebrity pages