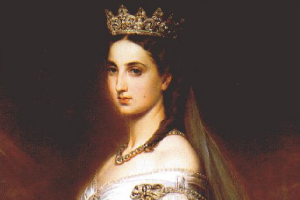 Carlota, Empress of Mexico
Category : Royalty
Type : PE
Profile : 6/2 - Role Model / Hermit
Definition : Split - Large
Incarnation Cross : LAX Separation 1
Biography
Carlota of Mexico, born Charlotte of Belgium (Marie Charlotte Amélie Augustine Victoire Clémentine Léopoldine; 7 June 1840 – 19 January 1927), empress consort of Emperor Maximilian I of Mexico, the former Archduke of Austria.
The only daughter of Leopold I, King of the Belgians (1790–1865) by his second wife, Louise of Orléans, Princess of Orléans (1812–1850), Charlotte was born at the Royal Castle of Laeken in Laeken, Brussels, Belgium. Charlotte had three brothers: Louis-Philippe, who died in infancy, Leopold, who on the death of their father became Leopold II of Belgium and Philippe, Count of Flanders. She was also a first cousin to both Queen Victoria of the United Kingdom and her husband, Prince Albert, as well as Ferdinand II of Portugal. She belonged to the House of Saxe-Coburg and Gotha.
Her favorite grandparent Maria Amalia of the Two Sicilies, Queen of France, was the consort of Louis-Philippe of France, and a niece of Marie Antoinette. Maria Amalia was Charlotte's close confidante, and on her wedding day in 1857, she wore a bracelet with a miniature portrait of her. They regularly corresponded, especially later while Charlotte was in Mexico.
When Charlotte was ten years old, her mother, Louise-Marie, died of tuberculosis and Charlotte was entrusted to the Countess of Hulste, a close family friend. Although young, the princess had her own household; but for a few weeks out of the year, Charlotte stayed in Claremont with Maria Amalia and the rest of her mother's family in exile.
Archduchess of Austria
On 27 July 1857 in Brussels, Charlotte married her second cousin Archduke Maximilian of Austria, the idealistic younger brother of Emperor Franz Josef of Austria. In the Court of Vienna she was much prized by her mother-in-law, who saw in her the perfect example of a wife to an Austrian Archduke. Charlotte disliked Empress Elisabeth (also known as Sissi, Franz Josef's wife). It is said that the archduchess disliked the deep connection that existed between the empress and Maximilian, who were confidantes and shared the same tastes for many things, especially because her sister-in-law was universally admired for her beauty and charms.
Charlotte spent several relatively happy years in Italy as Maximilian's wife while the archduke served as governor of the provinces of Lombardy and Venetia. Although Lombardy and Venetia were then under the rule of the Austrian Empire, neither Maximilian nor Charlotte held real power, and both were fatally eager for more challenging roles in life.
Empress of Mexico
In the early 1860s, the ambitious Napoleon III initiated the French intervention in Mexico. France, eager to turn Mexico into a satellite state, searched for a suitable figurehead to serve as the nominal emperor of Mexico. Maximilian accepted the Mexican crown and the couple sailed for the New World. The imperial couple were crowned at the Catedral Metropolitana in 1864 and chose as their seat Mexico City, making their home in the Neoclassical Castillo de Chapultepec. As Empress, she took the name of Carlota (Spanish for Charlotte). Carlota tried to take her imperial duties seriously, and even undertook a tour of the remote Yucatán frontier, visiting the ruins of Uxmal.
Maximilian and Carlota were crowned in 1864 at the Catedral Metropolitana in Mexico City
Only months after the coronation, however, Napoleon III began signaling his abandonment of Maximilian, and the French began to withdraw their troops from Mexico. This strategic pullback was a potentially fatal blow to the infant Mexican monarchy. The situation was exacerbated by a United States blockade that prevented French reinforcements from landing. In a desperate attempt to save her husband's throne, Carlota returned to Europe, seeking assistance for her husband in Paris, Vienna, and finally in Rome from Pope Pius IX. Her efforts failed; she manifested symptoms of paranoia, suffered a profound cognitive and emotional collapse, and never returned to Mexico.
Family
Carlota and Maximilian had no children, but in 1865 the imperial couple adopted Agustín de Iturbide y Green and Salvador de Iturbide y de Marzán – grandsons of Agustín de Iturbide y Arámburu, an earlier emperor of Mexico (r. 1822-23). They gave two-year-old Agustín the title of "His Highness, The Prince of Iturbide" —similar imperial titles were accorded to various members of the child's extended family—but he never intended to give him the throne, because he was not of royal blood. Maximilian explained himself that it was all a charade to get his brother Archduke Karl Ludwig of Austria to give him one of his sons as heir. The explosive events of 1867, dashed any hopes of inheritance, and after he grew to adulthood, Agustín renounced all rights to the Mexican throne, served in the Mexican army, and eventually established himself as a professor at Georgetown University.
Rumors persist that, in 1866, Carlota was having an affair with Belgian officer Colonel Alfred Van der Smissen and that she gave birth to a son, Maxime Weygand, in Brussels on 21 January 1867. Weygand refused to confirm or deny the persistent rumor and his parentage remains uncertain. Weygand was a French military commander in both World War I and II.
Empress dowager
President Benito Juárez of the Republic of Mexico oversaw the execution of Maximilian in 1867. (His last words were reportedly of his absent wife: "Poor Carlota!") The empire had collapsed after only three years. Carlota's mental state continued to be poor. Her brother Prince Philippe, Count of Flanders, had her examined by alienists (psychiatrists), who pronounced her insane. She spent the rest of her life in seclusion, first at Miramar Castle near Trieste, Italy, and then at the Castle of Bouchout in Meise, Belgium. During World War I, her Belgian estate was surrounded by the occupying German army, but the estate itself was sacrosanct because Austria was one of Germany's chief allies and she was the widowed sister-in-law of the Austrian emperor.
As Carlota 's illness progressed, her paranoia faded. She remained deeply in love with her husband. After his death, she cherished all of the surviving possessions they had enjoyed in common. The bias of the historiography of the time makes it difficult to assess to what extent she suffered from alleged mental conditions such as psychosis, paranoia and monomania. Her considerable fortune as one of the richest women of Europe was administered by baron de Goffinet, a servant of King Leopold II, who ensured that the money was used for his personal colonization of the Congo.
Carlota died of pneumonia brought on by influenza at the Bouchout Castle, in Meise, Belgium, on 19 January 1927, and is buried at the Church of Our Lady of Laeken.
Please register for a free Genetic Matrix account to access more information about this and all other celebrity pages