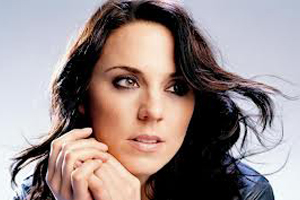 Melanie C
Category : Singer - Popular
Type : GP
Profile : 2/4 - Hermit / Opportunist
Definition : Single
Incarnation Cross : RAX Maya 4
Biography
Melanie Jayne Chisholm (born 12 January 1974) is a British singer-songwriter, actress and businesswoman professionally known as Melanie C or Mel C. She is one of the five members of the Spice Girls, in which she was nicknamed "Sporty Spice". With the Spice Girls, Chisholm toured the world and sold over 100 million records worldwide.
As a solo artist, Chisholm has sold more than 12 million records. She released her debut solo studio album, Northern Star in 1999, which sold four million copies. Her second album Reason was released in 2003, her third album Beautiful Intentions in 2005, her fourth album This Time in 2007, her fifth album The Sea in 2011 and her sixth album Stages in 2012. Chisholm has been nominated for BRIT and ECHO awards. She currently holds the third position for most United Kingdom number-ones by a female artist. She is also the only female to reach the UK number one spot as part of a quartet, a quintet, a duo and solo. In 2012, Chisholm earned her 12th UK number 1 as part of The Justice Collective with the Christmas number 1 single "He Ain't Heavy, He's My Brother".
Chisholm has also received critical acclaim for her starring roles in the West End production of Blood Brothers and the UK arena tour of Jesus Christ Superstar.
Early life
Chisholm was born on 12 January 1974 at Whiston Hospital in Whiston, Lancashire (now Merseyside). Raised in Rainhill, Merseyside and then Widnes, Cheshire where she attended Fairfield High School. Following school, Chisholm studied for a diploma course in dance, singing, drama and musical theatre at the Doreen Bird College of Performing Arts in Sidcup, Kent. During college, she replied to an advert in The Stage by Chris and Bob Herbert, who were looking to form a new girl group, later to become the Spice Girls. She left college just short of completing her three-year course and gained teaching qualifications in tap and modern theatre dance with the ISTD.
Music career
1994–98: Spice Girls
In 1994, she joined the Spice Girls (then called Touch). In 1996, Chisholm, with Melanie Brown, Geri Halliwell, Emma Bunton, and Victoria Beckham (at that time Victoria Adams), released "Wannabe" which was a big hit in United Kingdom and United States. Chisholm usually wore a tracksuit with her hair in a ponytail and sporting the attitude of a tomboy and became known as Sporty Spice. Their debut album, Spice and second album, Spiceworld each sold more than 20 million copies worldwide. During the Spiceworld: The Tour, Halliwell left the group and the four remaining members began work on their third studio album.
1999–2002: Northern Star and Forever
Chisholm took her first steps in establishing a solo career in late 1998 by singing with Canadian rocker Bryan Adams on "When You're Gone". Her debut album Northern Star was in 1999. A track from this, ("Ga Ga"), was on the Big Daddy soundtrack before the album's release. Singles "Goin' Down" and "Northern Star" were met with promising success, but the third single "Never Be the Same Again", featuring TLC member Lisa "Left Eye" Lopes, became her first UK number-one single as a solo artist and a number-one single in the Netherlands, a Top Five hit in Germany and No.2 in Australia. Chisholm released a fourth single from Northern Star, a dance remix of "I Turn to You", and earned herself a second number-one single in both the UK and the Netherlands. "I Turn to You" reached No.2 in Germany, No.11 in Australia and eventually climbed to the top of the Billboard dance chart in the United States. Northern Star was re-released with the single versions of "Never Be the Same Again" and "I Turn to You", and eventually peaked at number four on the United Kingdom album chart and number six in Germany. The fifth and final single from Northern Star, If That Were Me" peaked at number eighteen in the UK and the proceeds were donated to a charity for the homeless. Northern Star is certified three times platinum in the United Kingdom for shipping 900,000 copies, platinum in Germany for selling over 500,000 copies, gold in Brazil for selling 100,000 copies, and gold in Australia for selling over 35,000 copies. Chisholm then went on her Northern Star World Tour, performing in countries such as Canada, Ireland, Israel and the United Kingdom.
In 2000, Spice Girls released their third and final studio album, Forever. The album featured their number-one singles "Goodbye", "Holler" and "Let Love Lead the Way". After the album's release, the group went their separate ways.
2003–06: Reason and Beautiful Intentions
After a break from public life and an eating disorder and depression, Chisholm released her second studio album, Reason, in March 2003. The album included production from collaborators including Gregg Alexander, Marius De Vries, Dr Robert of The Blow Monkeys, David Arnold and Matt Rowe, co-writer of "Wannabe". The lead single from Reason was "Here It Comes Again", which reached number seven in the United Kingdom, the album entering the UK Albums Chart a week later at number five, but quickly fell off the chart. The album entered at number twelve in Germany and number twenty-one in Switzerland.
The second single from the album, "On the Horizon" peaked at number fourteen in the UK Singles Chart. A promotional single in Japan, "Let's Love" where the song accompanied a Toyota commercial was released. The third single, "Yeh Yeh Yeh" was released in mainland Europe and a double A-side single release of "Melt" and "Yeh Yeh Yeh", which achieved a disappointing UK Singles Chart position of number twenty-seven. After a series of disappointments and the relative failure of "Melt" and "Yeh Yeh Yeh", Chisholm parted ways with her label, Virgin Records. Reason has been certified gold in the United Kingdom.
Chisholm spent much of 2004 working on new material and setting up her own record company, Red Girl Records. Without major label backing, her activities were decided and funded by herself, alongside her business partner and manager, Nancy Phillips. In April 2005, Chisholm released her third album, Beautiful Intentions. The Adam Argyle-penned "Next Best Superstar" was chosen as the lead single and was released simultaneously in Europe and Australia. The single peaked at number ten in the United Kingdom and reached the top of the German radio airplay chart for several weeks. The second single, "Better Alone", was released but later restricted to purchase from the iTunes Store and from her official online shop. Chisholm released "Better Alone" in 2006 in some other European countries like Germany, Australia and Switzerland. The third single from her third album was "First Day of My Life", a previously unheard Chisholm recording written by Guy Chambers and Enrique Iglesias. "First Day of My Life" topped the charts in several European countries. The single became one of the biggest hits of 2005 in parts of Europe, reaching number one in Spain, Portugal, Switzerland and Germany for two weeks. Beautiful Intentions has been certified gold in Germany, Austria, Switzerland and platinum in Portugal, where it spent nine weeks at number one.
In 2006, Chisholm released her first live DVD, "Live Hits". Recorded on 31 August 2006 at The Bridge in South East, London, it features Chisholm performing a selection of songs from her first three albums in both acoustic and full band sets. The DVD peaked at number ten on the Official UK DVD Music Chart.
2007–09: This Time and the Spice Girls reunion
In early 2007, Chisholm released her fourth album, This Time. It featured writing collaborations with Adam Argyle, who wrote six tracks for new album, Peter-John Vettese, Guy Chambers and Cathy Dennis (amongst others). The first single released from the project was "The Moment You Believe", primarily released in Germany, Austria and Switzerland, where it became a top twenty hit. The single also peaked at number 1 in Spain for two weeks and was a hit in several other European countries. In the UK, Chisholm released the track "I Want Candy", which peaked at number twenty-four and featured on the soundtrack to the film of the same name. The single peaked at number nine in Italy and Denmark. The second single from the album This Time was "Carolyna", released in June in the UK and across Europe. Although it underperformed in the UK, it became a top five radio hit in Germany, Austria and Switzerland and a top twenty hit in Italy. In October 2007 in the UK, Germany, Switzerland and Austria Chisholm released the single "This Time". A new version of the song was recorded for the release. It featured a B-side track called "We Love To Entertain You", which was used for 2007's Pro7 Starforce campaign in Germany.
In November 2007, Chisholm reunited with the Spice Girls for a Greatest Hits album and a three-month world tour. Chisholm performed an acoustic solo set at The Mint in Los Angeles on 6 December during the tour's first two-day break. Solo shows at The Grand Ballroom in New York and in Toronto, Canada, followed. Chisholm released the album This Time in Canada on 8 April 2008, followed by a full Canadian tour in May 2008. The first single "Carolyna". "Understand" was released as a second single in Canada on 25 July. The video was filmed largely in Toronto, but several live clips were included from her various Canadian performances as well.
Chisholm released her DVD concert Live at the Hard Rock Cafe on 29 June 2009, in aid of the Caron Keating Foundation. The DVD included two new songs from Chisholm, "Blue Skies All the Way" and "Paris Burning".
2011–12: The Sea and The Night
On 24 June 2011, Chisholm released the single "Rock Me". The single served as the official theme song for German TV channel ZDF's coverage of the 2011 FIFA Women's World Cup. The single went top 40 on the German singles chart.
On 2 September 2011, Chisholm released her fifth studio album, titled The Sea. Chisholm worked with producers and songwriters such as James Walsh, Andy Chatterley, Richard Stannard, Cutfather, Greg Hatwell, Peter-John Vettese, Guy Chambers and Ina Wroldsen for the album. The album received a positive reaction from music critics and the album charted at number 45 in UK Albums Chart. Two days after the album release, the track from the album "Think About It" was released as a single. The single peaked at number 95 in UK Singles Chart. In November and December 2011, two more singles from the album were released. "Weak" was released in the United Kingdom while "Let There Be Love" was released in Germany, Austria and Switzerland.
In support of her album The Sea, Chisholm embarked on The Sea – Live tour where she performed in Germany, United Kingdom, Switzerland, Austria and Ireland. The DVD of the tour, "The Sea Tour Live", was released on 27 February 2012.
Chisholm released her first EP, The Night, a three track dance inspired EP was released on 13 May 2012, a collaboration with Jodie Harsh. The EP charted at number 16 in the UK Independent chart selling 1,882 copies in the first week. Chisholm also supported a homeless charity by donating funds raised from her annual calendar.
2012–present: Stages
On 12 August 2012, Chisholm reunited with the Spice Girls to perform at the Closing Ceremonies of the 2012 Summer Olympics in London. They performed a medley of their hit singles "Wannabe" and "Spice Up Your Life" and their performance was shown to be the most tweeted about moment of the entire Olympic Games.
In September 2012, Chisholm released her sixth studio album, Stages. The record was produced by Peter-John Vettese and featured a collection of songs from the theatre that have been important to Chrisholm at various stages of her life. The album also featured a duet with her former Spice Girls bandmate, Emma Bunton. The album charted at number 50 in the UK Albums Chart. The promotional single from the album, "I Don't Know How to Love Him" was released on 22 July, while the first official single, "I Know Him So Well" (featuring Emma Bunton) was released on 11 November.
In December 2012, Chisholm earned her 12th UK number one single as part of The Justice Collective's charity single "He Ain't Heavy, He's My Brother", an official tribute single for the Hillsborough disaster. The single also became Chisholm's 4th UK Christmas number one single, which tied her with Sir Cliff Richard and The Beatles for appearing on the second highest amount of UK Christmas number ones, behind only Sir Paul McCartney who has featured on seven.
In July 2013, Chisholm was featured in a collaboration with The X Factor winner Matt Cardle for the single "Loving You". The single was released on August 18, 2013 and charted at number-fourteen in UK Singles Chart.
Musical style
Chisholm has cited Madonna as one of her biggest musical influences. She stated: "I think she's inspired me a lot musically, and maybe in just the way I present myself. I've always admired how hard she works and what a strong lady she is, so she's always inspired me in that way."
Acting career
In the early to mid-1990s, Chisholm made several appearances in television commercials and music videos while trying to pursue her music career. It was not until The Spice Girls became popular that she made regular television appearances and played herself in many commercials. In 1997, Chisholm's feature film debut came in Spiceworld The Movie playing herself alongside her bandmates. In 2000, Chisholm played herself in an episode of The Norm Show while promoting her Spice Girls' third studio album Forever.
She said in an interview with Nylon Magazine in December 2009, that she is interested in pursuing a serious acting career in film. In 2008 it was planned she would star in a sequel to the 1996 horror film The Craft, but filming was terminated.
In 2009, Chisholm signed to perform the role of Mrs. Johnstone in the musical Blood Brothers by Willy Russell in London's West End. She performed the role for six months, commencing November 2009. Following her time in the production, Chisholm was nominated Best Actress in a Musical at the 2010 Laurence Olivier Awards and Outstanding Newcomer at the 2010 Evening Standard Theatre Awards. She reprised the role for a limited two-week engagement at the Liverpool Empire Theatre in November 2010.
In 2012 Chisholm co-starred in the UK arena tour of the musical Jesus Christ Superstar, playing the role of Mary Magdalene. For her performance Chisholm won Best Supporting Actress in a musical at the 2013 "WhatsOnStage.com" Awards. Prior to this, she was a judge on the series Superstar, the ITV talent show looking for an actor to play the lead role in the musical. It has been announced that a second UK arena tour of the production will take place in 2013 due to popular demand.
Personal life
Chisholm has been open about her battles with clinical depression and an eating disorder, which she has experienced several times during her life.
Her younger half-brother Paul O'Neill is a racing driver. She has 11 tattoos on her body which her parents allowed. She was in a relationship with property developer Thomas Starr whom she met in 2002 during a holiday in Barbados. They separated in July 2012.
On 22 February 2009, Chisholm gave birth to a baby girl at the Portland Hospital in London. The baby weighed 3.7 kg (8 lbs 3oz) and was named Scarlet.
Chisholm also has a £1 million country home at Catbrook, outside Chepstow, Monmouthshire.
Chisholm is a Liverpool F.C. supporter.
In 2013, Chisholm joined Jack Dee, Dara Ó Briain, Greg James, Chelsee Healey and Philips Idowu in Through Hell and High Water, a Comic Relief challenge which involved British celebrities canoeing the most difficult rapids of the Zambezi River. They raised over £1 million for the charity.
Please register for a free Genetic Matrix account to access more information about this and all other celebrity pages