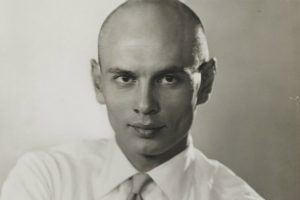 Yul Brynner
Category : Actor
Type : PSP
Profile : 4/6 - Opportunistic / Role Model
Definition : Split - Small (10)
Incarnation Cross : RAX Penetration 2
Biography
Yul Brynner (July 11, 1920 – October 10, 1985) was a Russian-born actor of stage and film. He was best known for his portrayal of Mongkut, king of Siam, in the Rodgers and Hammerstein musical The King and I on both stage and screen, as well as Rameses II in the 1956 Cecil B. DeMille film The Ten Commandments and Chris Adams in The Magnificent Seven. Brynner was noted for his deep, rich voice and for his shaven head, which he maintained as a personal trademark after adopting it for his role in The King and I. He was also a photographer and the author of two books.

Early life

Yul Brynner was born Yuliy Borisovich Bryner in 1920. He exaggerated his background and early life for the press, claiming that he was born Taidje Khan of part-Mongol-Tatar parentage, on the Russian island of Sakhalin. In reality, he was born at home in a four-story residence at #15 Aleutskaya Street, Vladivostok, Russian Far East, Russia. He also infrequently referred to himself as Julius Briner. A biography written by his son Rock Brynner in 1989 clarified these issues.

His father, Boris Julievich Bryner, was a mining engineer whose father, Jules Bryner, was Swiss and whose mother, Natalya Iosifevna Kurkutova, was a native of Irkutsk and was partly of Buryat Mongol ancestry.

His mother, Marousia Dimitrievna (née Blagovidova), came from the intelligentsia and studied to be an actress and singer; she was the daughter of a doctor who had converted from Judaism to the Russian Orthodox Church.

He was also a Romany on his mother's side, and in 1977, he was named Honorary President of the International Romani Union, an office that he kept until his death.

After Boris Bryner abandoned his family, his mother took Yul and his sister, Vera Bryner, to Harbin, China, where they attended a school run by the YMCA, and in 1934 she took them to Paris. During World War II, Brynner worked as a French-speaking radio announcer and commentator for the U.S. Office of War Information, broadcasting propaganda to occupied France.
Career

He began acting and modeling in his twenties, and early in his career he was photographed nude by George Platt Lynes.

Brynner's best-known role was that of King Mongkut of Siam in the Broadway production of Rodgers and Hammerstein's musical The King and I, which he played 4,525 times on stage over the span of his career. He appeared in the original production and later touring productions, as well as a 1977 Broadway revival, London Production in 1979 and another Broadway revival in 1985. He also appeared in the film version for which he won an Academy Award as Best Actor, and in a short-lived TV version (Anna and the King) on CBS in 1972. Brynner is one of only nine people who have won both a Tony Award and an Academy Award for the same role. His connection to the story and the role of King Mongkut is so deep, he was mentioned in the song "One Night in Bangkok" from the 1984 musical Chess, whose second act is set in Bangkok.

He made an immediate impact upon launching his film career in 1956, appearing not only in The King and I that year, but also in major roles in The Ten Commandments with Charlton Heston and Anastasia with Ingrid Bergman. Brynner, at 5'10", was reportedly concerned about being overshadowed by Charlton Heston's height and physical presence in The Ten Commandments and prepared with an intensive weight-lifting program.

He later starred in such films as the Biblical epic Solomon and Sheba (1959), The Magnificent Seven (1960), and Kings of the Sun (1963). He co-starred with Marlon Brando in Morituri (1965), Katharine Hepburn in The Madwoman of Chaillot (1969) and William Shatner in a film version of The Brothers Karamazov (1958). He played the titular role of The Ultimate Warrior (1975) and starred with Barbara Bouchet in Death Rage (1976). Among his final feature film appearances were in Michael Crichton's Westworld (1973) and its sequel Futureworld (1976). Brynner also appeared in drag (as a torch singer), in an unbilled role in the Peter Sellers comedy The Magic Christian (1969).
Photographer, author, and musician

In addition to his work as a performer, Brynner was an active photographer, and wrote two books. His daughter Victoria put together Yul Brynner: Photographer (ISBN 0-8109-3144-3) a collection of his photographs of family, friends, and fellow actors, as well as those he took while serving as a UN special consultant on refugees. Brynner wrote Bring Forth the Children: A Journey to the Forgotten People of Europe and the Middle East (1960) and The Yul Brynner Cookbook: Food Fit for the King and You (1983 ISBN 0-8128-2882-8).

A student of music from childhood, Brynner was an accomplished guitarist and singer. In his early period in Europe he often played and sang gypsy songs in Parisian nightclubs with Aliosha Dimitrievitch. He sang some of those same songs in the film The Brothers Karamazov. In 1967, he and Dimitrievitch released a record album, The Gypsy and I: Yul Brynner Sings Gypsy Songs (Vanguard VSD 79265).
Personal life

Brynner was married four times, the first three ending in divorce. He fathered three children and adopted two.

He and his first wife, actress Virginia Gilmore (1944–1960), had one child, Yul Brynner II, who was born on December 23, 1946. His father nicknamed him "Rock" when he was six in honor of boxer Rocky Graziano, who won the middleweight title in 1947. Rock is a historian, novelist, and university history lecturer at Marist College in Poughkeepsie, New York and Western Connecticut State University in Danbury, Connecticut. In 2006, Rock wrote a book about his father and his family history titled Empire and Odyssey: The Brynners in Far East Russia and Beyond.

His daughter Lark Brynner (born 1958) was born out of wedlock and raised by her mother, Frankie Tilden, who was 20 years old at the time of the birth. Brynner supported her financially. Brynner's second wife, from 1960 to 1967, Doris Kleiner, was a Chilean model, whom he married on the set during shooting of The Magnificent Seven in 1960. They had one child, Victoria Brynner (born November 1962), whose godmother was Audrey Hepburn.

His third wife, Jacqueline Thion de la Chaume (1971–1981), was a French socialite, the widow of Philippe de Croisset (son of French playwright Francis de Croisset), a publishing executive, the victim of a car accident. Brynner and Jacqueline adopted two Vietnamese children: Mia (1974), and Melody (1975). The first house that he ever owned was the Manoir de Cricqueboeuf, a sixteenth-century manor house that he and Jacqueline purchased.

He married his fourth wife, Kathy Lee, a 24 year old ballerina from a small town in Malaysia whom he had met in a production of The King and I, in which she had a small dancing role. The marriage lasted for 2 years (1983–1985) until Brynner's death.

According to Marlene Dietrich's daughter Maria Riva (as she wrote in her memoir Marlene Dietrich, 1994), he had a passionate affair with the famous actress during the first production of The King and I.
Death

Brynner died of lung cancer on October 10, 1985 in New York City, the same day as Orson Welles.

Knowing he was dying of cancer, Brynner starred in a run of farewell performances of his most famous role, The King and I, on Broadway from January 7 to June 30, 1985, with Mary Beth Peil.

Throughout his life, Brynner was often seen with a cigarette in his hand. In January 1985, nine months before his death, he gave an interview on Good Morning America, expressing his desire to make an anti-smoking commercial. A clip from that interview was made into just such a public service announcement by the American Cancer Society, and released after his death; it includes the warning "Now that I'm gone, I tell you, don't smoke. Whatever you do, just don't smoke. If I could take back that smoking, we wouldn't be talking about any cancer. I'm convinced of that." This advertisement is now featured in the Body Worlds exhibition.

Brynner is interred on the grounds of the Saint-Michel-de-Bois-Aubry Russian Orthodox monastery, not far from Luzé, between Tours and Poitiers, Vienne, France.
Honors and awards

Brynner has a star on the Hollywood Walk of Fame at 6162 Hollywood Blvd, and his childhood home, in Vladivostok, is now a museum.

He won the 1956 Academy Award for Best Actor for his portrayal of the King of Siam in The King and I and made the "Top 10 Stars of the Year" list in both 1957 and 1958.

In 1985, he received a Special Tony Award honoring his 4,525 performances in The King and I.
Please register for a free Genetic Matrix account to access more information about this and all other celebrity pages