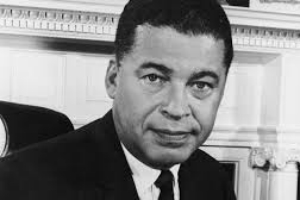 Edward William Brooke
Category : Political
Type : MGE
Profile : 1/3 - Investigating / Martyr
Definition : Split - Small (9)
Incarnation Cross : RAX Unexpected 3
Biography
Edward William Brooke III (born October 26, 1919) is an American politician and was elected to the United States Senate as a Republican from Massachusetts in 1966, defeating his Democratic opponent, former Massachusetts governor, Endicott Peabody in a landslide. He served for two terms, and was defeated by Paul Tsongas in the 1978 senate election.
Brooke was the first African American popularly elected to the Senate and would remain the only person of African heritage sent to the Senate in the 20th century until Democrat Carol Moseley Braun of Illinois in 1993, and the only African-American Senator to serve multiple terms. Brooke was the last Republican Senator elected from Massachusetts until Scott Brown was elected in 2010, and is the most recent Republican of African-American heritage to be elected to the Senate in his own right and the only one to win re-election. (Tim Scott, appointed to serve in the 113th Congress, was appointed to continue a term to which Jim DeMint was elected.) Brooke is also the oldest living former Senator.
In 1967, he was awarded the Spingarn Medal from the NAACP.
Early years
Edward William Brooke III was born on October 26, 1919, in Washington, D.C., to Edward Brooke, Jr. and Helen (Seldon) Brooke. He was the second of three children; the Brookes' first-born died at age 3 before he was born. He was raised in a middle class section of the city, and attended Dunbar High School, then one of the most prestigious high schools for African Americans. After graduating in 1936 he enrolled in Howard University, where he first considered medicine, but ended up studying social studies and political science. He graduated in 1941, and immediately enrolled in the United States Army after the Japanese Attack on Pearl Harbor.
Brooke spent five years as an officer in the Army, seeing combat in Italy during World War II as a member of the segregated 366th Infantry Regiment, earning a Bronze Star. In Italy Brooke met his future wife Remigia Ferrari-Scacco, with whom he had two daughters, Remi and Edwina. Following his discharge, Brooke graduated from the Boston University School of Law in 1948. In 1950 he ran for a seat in the Massachusetts House of Representatives, but lost. Brooke then made two more tries for office, including one for secretary of state, but lost both races. The loss in the secretary's race (to future Boston Mayor Kevin White) was particularly close, and highlighted Brooke's potential to Republican Party leaders.
Governor John Volpe sought to reward Brooke for his effort, and offered him a number of jobs, most judicial in nature. Seeking a position with a higher political profile, Brooke eventually accepted the position of chairman of Finance Commission of Boston, where he investigated financial irregularities and uncovered evidence of corruption in city affairs. He was described in the press as having "the tenacity of a terrier", and it was reported that he "restore to vigorous life an agency which many had thought moribund." He parlayed his achievements their into a successful election as Attorney General of Massachusetts in 1962; he was the first elected African-American Attorney General of any state. In this position, Brooke gained a reputation as a vigorous prosecutor of organized crime and corruption, securing convictions against a number of members of the Furcolo administration; an indictment against Furcolo was dismissed due to lack of evidence. He also coordinated with local police departments on the Boston strangler case, although the press mocked him for permitting an alleged psychic to participate in the investigation. Brooke was portrayed in the 1968 film dramatizing the case by William Marshall.
U.S. Senator
In 1966 Brooke defeated former Governor Endicott Peabody with 1,213,473 votes to 744,761, and served as a United States Senator for two terms, from January 3, 1967, to January 3, 1979. The black vote had "no measurable bearing" on the election as less than 3% of the state's population was black, and Peabody also supported civil rights for blacks. Brooke stated "I do not intend to be a national leader of the Negro people", and "condemned both Stokely Carmichael and Georgia's Lester Maddox" as extremists; nonetheless, his historic election gave Brooke "a 50-state constituency, a power base that no other Senator can claim." In 1967, he served on the President's Commission on Civil Disorders. He was a member of the liberal wing of the Republican Party and organized the Senate's "Wednesday Club" of progressive Republicans who met for Wednesday lunches and strategy discussions. Brooke, who had supported Michigan Governor George W. Romney and then New York Governor Nelson Rockefeller's bids for the 1968 GOP presidential nomination against Richard Nixon's, often differed with President Nixon on matters of social policy and civil rights.
By his second year in the Senate, Brooke had taken his place as a leading advocate against discrimination in housing and on behalf of affordable housing. With Walter Mondale, a Minnesota Democrat and fellow member of the Senate Banking Committee, he co-authored the 1968 Fair Housing Act, which prohibits discrimination in housing, and created HUD's Office of Fair Housing and Equal Opportunity as the primary enforcer of the law. President Johnson signed the Fair Housing Act into law on April 11, one week after the assassination of Martin Luther King, Jr.. Dissatisfied with the weakened enforcement provisions that emerged from the legislative process, Brooke repeatedly proposed stronger provisions during his Senate career. In 1969, Congress enacted the "Brooke Amendment" to the federal publicly assisted housing program which limited the tenants' out-of-pocket rent expenditure to 25 percent of his or her income. By the 1990s, the percentage had gradually increased, but the principle of limiting the housing 'burden' of very-low income renters survives in statute, as of 2008.
During the Nixon presidency, Brooke opposed repeated Administration attempts to close down the Job Corps and the Office of Economic Opportunity and to weaken the Equal Employment Opportunity Commission—all foundational elements of President Lyndon Johnson's Great Society.
In 1969, Brooke was a leader of the bipartisan coalition that defeated the Senate confirmation of the President's nominee to the Supreme Court, Clement Haynsworth. A few months later, he again organized sufficient Republican support to defeat Nixon's second Supreme Court nominee Harrold Carswell. Nixon then turned to Harry A. Blackmun, later the author of Roe v. Wade.
In 1970, the Senate adopted his resolution prohibiting tests of MIRV missiles.
Despite Brooke's disagreements with Nixon, the president reportedly respected the senator's abilities; after Nixon's election he had offered to make Brooke a member of his cabinet, or ambassador to the UN. The press discussed Brooke as a possible replacement for Spiro Agnew as Nixon's running mate in the 1972 presidential election. While Nixon retained Agnew, Brooke was re-elected in 1972, defeating Democrat John J. Droney by a vote of 64%–35%.
Before the first year of his second term ended, Brooke became the first Republican to call on President Nixon to resign, on November 4, 1973, shortly after the Watergate-related "Saturday night massacre". He had risen to become the ranking Republican on the Senate Banking Committee and on two powerful Appropriations subcommittees, Labor, Health and Human Services (HHS) and Foreign Operations. From these positions, Brooke defended and strengthened the programs he identified with; for example, he was a leader in enactment of the Equal Credit Act which ensured married women the right to credit of their own.
In 1974, with Indiana senator Birch Bayh, he led the fight to retain Title IX, a 1972 amendment to the Higher Education Act of 1965, that guarantees equal educational opportunity to girls and women.
In 1975, with the extension and expansion of the Voting Rights Act at stake, Brooke faced senator John Stennis (D-Mississippi) in "extended debate" and won the Senate's support for the extension. The press again speculated on his possible candidacy for the Vice Presidency as Gerald Ford's running mate in 1976, with Time calling him an "able legislator and a staunch party loyalist".
In 1976, he also took on the role of supporter of wide-scale, legalized abortion. The Appropriations bill for HHS became the battleground over this issue because it funds Medicaid. The pro-life movement fought, eventually successfully, to prohibit funding for abortions of low-income women insured by Medicaid. Brooke led the fight against restrictions in the Senate Appropriations Committee and in the House-Senate Conference until his defeat.
In Massachusetts, Brooke's support among Catholics weakened, and during the 1978 re-election campaign, the state's bishops spoke in opposition to his leading role, in spite of the equally pro-choice position of his Democratic opponent. In addition, he was challenged in the Republican primary by a conservative talk show host, Avi Nelson. Most seriously, Brooke "confessed that he had made a false statement about his finances in his divorce deposition. The admission...erupted into a staccato of charges that ultimately cost him his Senate seat" to Paul Tsongas. In 1992, a plea agreement by a top aide to Brooke admitted that Brooke falsely stated that neither he nor the aide had tried to influence a HUD official on behalf of a client of Brooke.
Post-Senate life
After leaving the Senate, Brooke practiced law in Washington, D.C., partner O'Connor & Hannan; of counsel, Csaplar & Bok, Boston and served as chairman of the board of the National Low Income Housing Coalition. In 1984 he became chairman of the Boston Bank of Commerce, and one year later he was named to the board of directors of Grumman. In 1996, he became the first chairman of the World Policy Council, a think tank of Alpha Phi Alpha whose purpose is to expand the fraternity's involvement in politics, and social and current policy to encompass international concerns. Brooke currently serves as the council's chairman emeritus and was honorary chairman at the Centennial Convention of Alpha Phi Alpha held in Washington, D.C., in 2006.
On June 20, 2000, a newly constructed Boston courthouse was dedicated in his honor. The Edward W. Brooke Courthouse is part of the Massachusetts Trial Court system, and houses the central division of the Boston Municipal Court, Boston Juvenile Court, Family Court, and Boston Housing Court, among others.
In 2002, scholar Molefi Kete Asante listed Edward Brooke on his list of 100 Greatest African Americans.
In September 2002, he was diagnosed with breast cancer and, since then, has assumed a national role in raising awareness of the disease among men.
On June 23, 2004, President George W. Bush awarded Brooke the Presidential Medal of Freedom. That same year he received the Jeremy Nicholson Negro Achievement Award, acknowledging his outstanding contributions to the African American community. On April 29, 2006, the Massachusetts Republican Party awarded the first annual "Edward Brooke Award" to former White House Chief of Staff Andrew Card at their 2006 State Convention.
Two days after his 90th birthday, Brooke was presented with the Congressional Gold Medal on October 28, 2009.
The first of Boston's Brooke Charter Schools was founded in 2002.
Personal life
In 2008, Barbara Walters wrote in her memoir Audition that she and Brooke had an affair lasting several years during the 1970s, while Brooke was married to his first wife. Walters said that they ended the relationship to protect their careers from possible scandal. Brooke has not commented on the claim.
Please register for a free Genetic Matrix account to access more information about this and all other celebrity pages