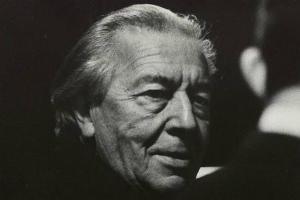 Andre Breton
Category : Writer
Type : MGE
Profile : 1/3 - Investigating / Martyr
Definition : Triple Split
Incarnation Cross : RAX The Sleeping Phoenix 1
Biography
André Breton (19 February 1896 – 28 September 1966) was a French writer and poet. He is known best as the founder of Surrealism. His writings include the first Surrealist Manifesto (Manifeste du surréalisme) of 1924, in which he defined surrealism as "pure psychic automatism".
Born to a family of modest means in Tinchebray (Orne) in Normandy, he studied medicine and psychiatry. During World War I he worked in a neurological ward in Nantes, where he met the devotee of Alfred Jarry, Jacques Vaché, whose anti-social attitude and disdain for established artistic tradition influenced Breton considerably. Vaché committed suicide at age 24, and his war-time letters to Breton and others were published in a volume entitled Lettres de guerre (1919), for which Breton wrote four introductory essays.
Breton married his first wife, Simone Kahn, on 15 September 1921. The couple relocated to rue Fontaine # 42 in Paris on 1 January 1922. The apartment on rue Fontaine became home to Breton's collection of more than 5,300 items: modern paintings, drawings, sculptures, photographs, books, art catalogs, journals, manuscripts, and works of popular and Oceanic art.
From Dada to Surrealism
In 1919 Breton initiated the review Littérature with Louis Aragon and Philippe Soupault. He also associated with Dadaist Tristan Tzara. In 1924 he was instrumental in the founding of the Bureau of Surrealist Research.
In a publication The Magnetic Fields (Les Champs Magnétiques), a collaboration with Soupault, he implemented the principle of automatic writing. He published the Surrealist Manifesto in 1924, and was editor of the magazine La Révolution surréaliste from 1924. A group of writers became associated with him: Philippe Soupault, Louis Aragon, Paul Éluard, René Crevel, Michel Leiris, Benjamin Péret, Antonin Artaud, and Robert Desnos.
Anxious to combine the themes of personal transformation found in the works of Arthur Rimbaud with the politics of Karl Marx, Breton joined the French Communist Party in 1927, from which he was expelled in 1933. During this time, he survived mostly by the sale of paintings from his art gallery.
In 1935, there was a conflict between Breton and Ilya Ehrenburg during the first "International Congress of Writers for the Defense of Culture" which opened in Paris in June. Breton had been insulted by Ehrenburg—along with all fellow surrealists—in a pamphlet which said, among other things, that surrealists were "pederasts". Breton slapped Ehrenburg several times on the street, which resulted in surrealists being expelled from the Congress. Crevel, who according to Salvador Dalí, was "the only serious communist among surrealists" was isolated from Breton and other surrealists, who were unhappy with Crevel because of his homosexuality and annoyed with communists in general.
In 1938, Breton accepted a cultural commission from the French government to travel to Mexico. After a conference at the National Autonomous University of Mexico about surrealism, Breton stated after getting lost in Mexico City (as no one was waiting for him at the airport) "I don't know why I came here. Mexico is the most surrealist country in the world".
However, visiting Mexico provided the opportunity to meet Leon Trotsky. Breton and other surrealists traveled via a long boat ride from Patzcuaro to the town of Erongaricuaro. Diego Rivera and Frida Kahlo were among the visitors to the hidden community of intellectuals and artists. Together, Breton and Trotsky wrote a manifesto Pour un art révolutionnaire indépendent (published under the names of Breton and Diego Rivera) calling for "complete freedom of art", which was becoming increasingly difficult with the world situation of the time.
In 1939, Breton collaborated with artist Wifredo Lam on the publication of Breton's poem "Fata Morgana", which was illustrated by Lam.
1940s
Breton was again in the medical corps of the French Army at the start of World War II. The Vichy government banned his writings as "the very negation of the national revolution" and Breton escaped, with the help of the American Varian Fry and Harry Bingham, to the United States and the Caribbean during 1941. Breton got to know Martinican writer Aimé Césaire, and later composed the introduction to the 1947 edition of Césaire's Cahier d'un retour au pays natal. During his exile in New York City he met Elisa, the Chilean woman who would become his third wife.
In 1944, he and Elisa traveled to the Gaspé Peninsula in Québec, Canada, where he wrote Arcane 17, a book which expresses his fears of World War II, describes the marvels of the Rocher Percé and the extreme northeastern part of North America, and celebrates his new romance with Elisa.
Later life
Breton returned to Paris in 1946, where he opposed French colonialism (for example as a signatory of the Manifesto of the 121 against the Algerian war) and continued, until his death, to foster a second group of surrealists in the form of expositions or reviews (La Brèche, 1961–1965). In 1959, he organized an exhibit in Paris.
By the end of World War II André Breton decided to embrace anarchism explicitly. In 1952 Breton wrote "It was in the black mirror of anarchism that surrealism first recognised itself." "Breton was consistent in his support for the francophone Anarchist Federation and he continued to offer his solidarity after the Platformists around Fontenis transformed the FA into the Federation Communiste Libertaire. He was one of the few intellectuals who continued to offer his support to the FCL during the Algerian war when the FCL suffered severe repression and was forced underground. He sheltered Fontenis whilst he was in hiding. He refused to take sides on the splits in the French anarchist movement and both he and Peret expressed solidarity as well with the new FA set up by the synthesist anarchists and worked in the Antifascist Committees of the 60s alongside the FA."
André Breton died in 1966 at 70 and was buried in the Cimetière des Batignolles in Paris.
Breton as a collector
Breton was an avid collector of art, ethnographic material, and unusual trinkets. He was particularly interested in materials from the northwest coast of North America. During a financial crisis he experienced in 1931, most of his collection (along with his friend Paul Éluard's) was auctioned. He subsequently rebuilt the collection in his studio and home at rue Fontaine 42. The collection grew to over 5,300 items: modern paintings, drawings, sculptures, photographs, books, art catalogs, journals, manuscripts, and works of popular and Oceanic art. The famous French anthropologist Claude Lévi-Strauss in an interview in 1971 declared on Breton skills on knowing authenticty of objects. Strauss even described their friendship while the two were living in New York :'We lived in New York between 1941 and 1945 in a great friendship, running museums and antiquarians together. I owe him a lot about the knowledge and appreciation of objects. I've never seen him(Breton)doing a mistake on excotic and unusual objects. When I say a mistake, I mean about it's authenticity but also it's quality. He(Breton) had a sense, almost of divination.'
After Breton's death on 28 September 1966, Breton's third wife, Elisa, and his daughter, Aube, allowed students and researchers access to Breton's archive and collection. After thirty-six years, when attempts to establish a surrealist foundation to protect the collection were opposed, the collection was auctioned by Calmels Cohen at Drouot-Richelieu. A wall of the apartment is preserved at the Centre Georges Pompidou.
Nine previously unpublished manuscripts, including the Manifeste du surréalisme, were auctioned by Sotheby's in May 2008.
Please register for a free Genetic Matrix account to access more information about this and all other celebrity pages