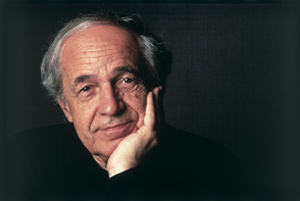 Pierre Boulez
Category : Entertain-Music-Composer/Arranger
Type : GE
Profile : 2/4 - Hermit / Opportunist
Definition : Split - Small (12,34,35,57)
Incarnation Cross : RAX Service 1
Biography
Pierre Boulez (b. March 26, 1925) is a French composer of contemporary classical music and conductor .

Early years
Boulez was born in Montbrison, France. He initially studied mathematics at Lyon before pursuing music at the Paris Conservatoire under Olivier Messiaen and the wife of Arthur Honegger, Andrée Vaurabourg.
He studied twelve-tone technique with René Leibowitz and went on to write atonal music in a post-Webernian serial style. Boulez was initially part of a cadre of early supporters of Leibowitz, but due to an altercation with Leibowitz, their relations turned divisive, as Boulez spent much of his career promoting the music of Messiaen instead.
The first fruits of this were his cantatas Le Visage nuptial and Le Soleil des eaux for female voices and orchestra, both composed in the late 1940s and revised several times since, as well as the Second Piano Sonata of 1948, a well-received 32-minute work that Boulez composed at the age of 23.
Thereafter, Boulez was influenced by Messiaen's research to extend twelve-tone technique beyond the realm of pitch organization, serialising durations, dynamics, mode of attack, and so on. This technique became known as integral serialism. Boulez quickly became one of the philosophical leaders of the post-war movement in the arts towards greater abstraction and experimentation. Many composers of Boulez's generation taught at the Internationale Ferienkurse für Neue Musik in Darmstadt, Germany.
The so-called Darmstadt School composers were instrumental in creating a style that, for a time, existed as an antidote to music of nationalist fervor; an international, even cosmopolitan style, a style that could not be 'co-opted' as propaganda in the way that the Nazis used, for example, the music of Ludwig van Beethoven. Boulez was in contact with many young composers who would become influential, including John Cage.

Serialism
"ny musician who has not experienced — I do not say understood, but truly experienced — the necessity of dodecaphonic music is USELESS. For his whole work is irrelevant to the needs of his epoch."
Pierre Boulez ("Eventuellement...", 1952, translated as "Possibly...")
Boulez's totally serialized, punctual works consist of Polyphonie X (1950–51; withdrawn) for 18 instruments, the two musique-concrète Études (1951–52), and Structures, book I for two pianos. The latter work was quite successful, and seems to sum up the feelings of zero hour in Europe during the early 1950s. Structures was also a turning point for Boulez.
As one of the most visible totally serialized works, it became a lightning rod for various kinds of criticism. György Ligeti, for example, published an article that examined its patterns of durations, dynamics, pitch, and attack types in great detail, concluding that its "ascetic attitude" is "akin to compulsion neurosis", and that Boulez "had to break away from it. . . . And so he created the sensual feline world of the 'Marteau'".
These criticisms, combined with what Boulez felt was a lack of expressive flexibility in the language, as he outlined in his essay "At the Limit of Fertile Land..." had already led Boulez to refine his compositional language. He loosened the strictness of his total serialism into a more supple and strongly gestural music, and did not publicly reveal much about these techniques, which limited further discussion. His first venture into this new kind of serialism was a work for 12 solo voices titled Oubli signal lapidé (1952), but it was withdrawn after a single performance. Its material was reused in the 1970 composition Cummings ist der Dichter.

Le marteau sans maître
Boulez's strongest achievement in this method is his masterpiece Le marteau sans maître (The Hammer without a Master) for ensemble and voice, from 1953 to 1957, one of the few works of advanced music from the 1950s to remain in the repertoire. Le marteau was a surprising and revolutionary synthesis of many different streams in modern music, as well as seeming to encompass the sound worlds of modern jazz, the Balinese Gamelan, traditional African musics, and traditional Japanese musics. Fluent and expressive, even sensuous, in a way that Boulez's earlier serial works had not been, it was hailed by diverse musicians, including Igor Stravinsky. Boulez described one of the work's innovations, called "pitch multiplication", in several articles, most importantly in the chapter "Musical Technique" in Boulez 1971. It was Lev Koblyakov, however, who first described its presence in the three "L'Artisanat furieux" movements of Le Marteau sans maître, and in his 1981 doctoral thesis. However, an explanation of the processes themselves was not made until 1993. Other techniques used in the "Bourreaux de solitude" cycle were first described by Ulrich Mosch, and later fully elaborated by him.

Experimentation
After Le marteau sans maître, Boulez began to strengthen the position of the music post-WWI modern composers through conducting and advocacy. He also began to consider new avenues in his own work. With Pli selon pli for orchestra with solo soprano, he began to work with an idea of improvisation and open-endedness. He considered how the conductor might be able to 'improvise' on vague notations, such as the fermata, and how the players might 'improvise' on irrational durations, such as grace notes. In addition, he worked with the idea of leaving the specific ordering of movements or sections of music open to be chosen for a particular night of a performance, an idea related to the polyvalent form of Karlheinz Stockhausen. Interestingly, though the two works sound similar today, and certainly represent the same impeccable craft, Pli selon pli was not received as well as Le marteau. This is perhaps more of a cultural barometer than a reflection on the work itself. During the time that Boulez was testing these new ideas, those colleagues who had never been entirely comfortable with the prominence of a rigorous musical language, such as György Ligeti, had brought a convincing musical counter argument to Boulez's musical ideals. In a poetic twist, Boulez had moved from peerless respect for Le marteau sans maître to seeming defeat with Pli selon pli (Fold upon fold), which sets a Stéphane Mallarmé poem about the tripping impotence of a swan, unable to take flight from a frozen lake.

Controlled chance
"Why compose works that have to be re-created every time they are performed? Because definitive, once-and-for-all developments seem no longer appropriate to musical thought as it is today, or to the actual state that we have reached in the evolution of musical technique, which is increasingly concerned with the investigation of a relative world, a permanent 'discovering' rather like the state of 'permanent revolution'."
Pierre Boulez ("Sonate, que me veux-tu?", 1960)
From the 1950s, beginning with the Third Piano Sonata (1955–57/63), Boulez experimented with what he called "controlled chance" and he developed his views on aleatoric music in the articles "Aléa" and "Sonate, que me veux-tu?". His use of chance, which he would later employ in compositions like Eclat (1965), Domaines (1961–68) and Rituel in Memoriam Bruno Maderna (1974–75), is very different from that in the works of, for example, John Cage. While in Cage's music the performers are often given the freedom to improvise and create completely unforeseen sounds, with the object of removing the composer's intention from the music, in works by Boulez they only get to choose between possibilities that have been written out in detail by the composer—a method that, when applied to the successional order of sections, is often described as "mobile form".

1970s
Boulez's output since the late 1970s has been of a different kind since the early works that brought him to initial prominence. After a rapid succession of explosive works, such as the three cantatas on poetry by René Char, the first two piano sonatas, and other chamber music, compositions have tended to be contemplated and expanded over a long period of time, during which they were performed in various stages of development. ...explosante-fixe..., now resembling a flute concerto with electronics, was first published in 1971 as a sketch in the journal Tempo as a memorial tribute to Stravinsky, then worked out in various versions, including one for mixed octet with electronics performed in 1973. Eclat/Multiples has remained a large fragment, and Dérive II (1988/2002/2006) and Répons (1980/82/84) have been performed in various stages of development. The desire to expand unrealized possibilities has also lead Boulez to create related works in series. His early twelve miniatures for piano, Notations (1945), has, since the 1970s, been in the process of being expanded as an orchestral cycle. To date, at least seven movements have been completed. The material contained in Anthèmes for solo violin, itself once expanded, was later worked out as an extended composition for violin and electronics Anthèmes 2. Boulez now plans to further realize the material's implications as a violin concerto. Incises, a short work for solo piano, has since exploded into Sur Incises for three percussive groups (pianos, harps, percussion) in two very extended movements.

Electronic music
After the 1960s, in which he had produced little, Boulez began to turn back to the electronic medium and to large extended works. Although unsatisfied with the products of his work with tape in the 1950s (Two Studies, Poésie pour pouvoir) he began to explore the possibilities of live electronic sound manipulation. His first attempt was the 1973 version of ...explosant/fixe... However, at around this time president Georges Pompidou began to discuss with Boulez the possibility of creating an institute for the exploration and development of modern music where there would be a chance to explore the medium seriously. This was to become IRCAM. At IRCAM, Boulez created an environment where composers would have at hand the best performers available, and where the most advanced technology and computer scientists would be at their service. Boulez now began to explore the use of electronic sound transformation in real time. Previously electronic music had to be recorded to tape, which thus 'fixed' it. The temporal aspect of any live music making in which it played a part had to be coordinated with the tape exactly. Boulez found this impossibly restrictive. Now at IRCAM, he composed Répons, for six instrumental groups, chamber orchestra, and electronics. With the assistance of Andrew Gerzso Boulez fashioned a work in which the computer captured the resonance and spatialization of sounds created by the ensemble and processed them in real time.

Recent years
Today, Boulez was and is one of the leaders of the post-World War II musical modernism. His compositions have enriched musical culture, and his advocacy of modern and postmodern music has been decisive for many. Boulez continues to conduct and compose as of 2006. From 1976 to 1995, Boulez held the Chair in "Invention, technique et langage en musique" at the Collège de France. In 2002 he was awarded the Glenn Gould Prize for his contributions. In 2007, Boulez finished recording the Mahler cycle for Deutsche Grammophon with his recording of Mahler's 8th Symphony with the Staatskapelle Berlin, the Berlin State Opera and Radio choruses.

Boulez as a conductor
Boulez is also a conductor, known the world over having directed most of the world's leading symphony orchestras and ensembles since the late fifties. He served concurrently as chief conductor of the BBC Symphony Orchestra from 1971 to 1975, and music director of the New York Philharmonic from 1971 to 1977. He is currently the Conductor Emeritus of the Chicago Symphony Orchestra. Boulez is particularly famed for his polished interpretations of twentieth century classics—Alban Berg, Claude Debussy, Gustav Mahler, Arnold Schoenberg, Igor Stravinsky, Béla Bartók, Anton Webern and Edgard Varèse—as well as for numerous performances of contemporary music. Clarity, precision, rhythmic agility and a respect for the composers' intentions as notated in the musical score are the hallmarks of his conducting style. In 1984 he collaborated with Frank Zappa and conducted the Ensemble Intercontemporain, who performed three of Zappa's pieces. He never uses a baton, conducting with his hands alone. His nineteenth century repertoire focuses upon Ludwig van Beethoven, Hector Berlioz, Robert Schumann and especially Richard Wagner. His recording of Anton Bruckner's Eighth Symphony has met with considerable critical acclaim. In 1974 he also recorded Maurice Ravel's then little-known orchestral version of "Une Barque sur l'océan" from Miroirs, when there was still no printed score. The score was published only in 1983, and even then only in the first of two slightly different versions Ravel had made.

During his tenure as music director of the New York Philharmonic he was criticized, even by members of the orchestra, for his concentration on modern repertoire at the expense of works by earlier composers. Nonetheless, Boulez' controversial "Rug" concerts of contemporary music with members of the New York Philharmonic played a significant role in "bridging" the widening gap between the New York downtown music scene with concerts of "uptown" music, directed primarily at Columbia University by a former classmate at the Paris Conservatoire and a pupil of Leibowitz, Jacques-Louis Monod. In his 1981 volume of compilation of reviews from the New York Times, Facing the Music, critic Harold C. Schonberg includes a column in which he details how unhappy some members of the New York Philharmonic orchestra were with Boulez during his tenure.

Boulez has also conducted opera productions and made several recordings of opera. He was the conductor for the 1976 centenary production of Richard Wagner's Der Ring des Nibelungen, directed by Patrice Chéreau, recordings of which were commercially released in audio and video formats. Boulez reunited with Chéreau for a 2007 production in Amsterdam of Leoš Janá?ek's From the House of the Dead, in what Boulez said was the last opera production that he would ever conduct.

Boulez as a writer
Boulez is also an articulate, perceptive and sweeping writer on music. Some articles—notably the notorious Schoenberg is Dead—were deliberately provocative and veered towards polemic. Others dealt with questions of technique and aesthetics in a deeply reflective if sometimes elliptical manner. These writings have mostly been republished under the titles Stocktakings from an Apprenticeship, Orientations: Collected Writings, and Boulez on Music Today, as well as in the journal of the Darmstadt composers of the time, Die Reihe.

Awards
Sonning Award (1985) Denmark
Grawemeyer Award (2001) United States for Sur Incises
Glenn Gould Prize (2002) Canada
Wolf Prize (2000)Israel
Please register for a free Genetic Matrix account to access more information about this and all other celebrity pages