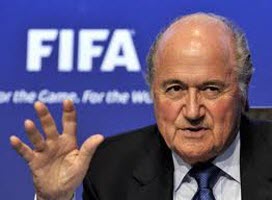 Sepp Blatter
Category : Football Administrator
Type : ME
Profile : 4/6 - Opportunistic / Role Model
Definition : Split - Small (12,20,44)
Incarnation Cross : RAX Rulership 1
Biography
Joseph S. Blatter (born 10 March 1936) is the 8th and current President of FIFA (Fédération Internationale de Football Association). He was elected on 8 June 1998, succeeding João Havelange.

Life and career

Blatter was born in Visp, Canton Valais, Switzerland. He studied in Sion, Switzerland before he received a degree in business and economics from the University of Lausanne in 1959.

Blatter has a long and varied history including posts such as Head of Public Relations of the Valaisan Tourist Board in his native Switzerland, as well as General Secretary of the Swiss Ice Hockey Federation. He was Director of Sports Timing and Relations of Longines S.A. and was involved in the organization of the 1972 and 1976 Olympic Games. In the early 1970s, Blatter was elected president of the World Society of Friends of Suspenders, an organisation which tried to stop women replacing suspender belts with pantyhose. Blatter first entered the world of Football in 1973 as president of The Zurich Brown Shirts, though ultimately failed to obtain the required funding and gain enough attention through various large rallies in order to turn the 'club' fully professional.

Since 1975 Blatter has been working at FIFA, first as Technical Director (1975–1981), then General Secretary (1981–1998) before his election as FIFA President in 1998. He was re-elected as head of FIFA in 2002 and was re-elected unopposed for another four years on 31 May 2007 even though only 66 of 207 FIFA members nominated him.
2011 FIFA presidential election
Main article: 61st FIFA Congress

Blatter is running unopposed for a fourth term as FIFA president, the vote is due to take place at the 61st FIFA Congress. The only other candidate, Mohammed bin Hammam withdrew from the presidential race on the 28th May. Bin Hammam had supported Blatter's 1998 and 2002 presidential campaigns but admitted that he had fallen out with Blatter over issues within the FIFA Executive Committee. The FIFA ethics committee that investigated bribery claims against Bin Hammam and Jack Warner announced that Blatter will not face an investigation into claims that he knew of the bribery and did nothing about it due to a lack of evidence.
Controversy

Sepp Blatter's 1998 election to the presidency of FIFA over UEFA President Lennart Johansson occurred amidst much controversy. His 2002 candidacy has been marked with rumours of financial irregularities and backroom dealings, culminating with direct accusations of bribery, by a third party, made in the British press by Farra Ado, vice-president of the Confederation of African Football and president of the Somali Football Federation, who claimed to have been offered $100,000 to vote for Blatter in 1998.

Amidst internal divisions, FIFA's secretary-general Blatter's deputy and former protégé, Michel Zen-Ruffinen drew up a 30-page dossier outlining allegations of financial mismanagement within the organisation. The dossier alleged that the collapse of FIFA's marketing partner ISL had led to losses of up to $100m under Blatter's management. The allegations were backed by Johansson, and the dossier was handed to the Swiss authorities, but they cleared Blatter of any wrong doing and FIFA had to pay all the costs. An internal investigation within FIFA was halted by Blatter because members of it broke confidentiality agreements. This questionable behaviour led him to remove Zen-Ruffinen from office immediately before the FIFA World Cup 2002.

Blatter incurred criticism from female footballers in 2004 when he suggested that women should "wear tighter shorts and low cut shirts... to create a more female aesthetic" and attract more male fans, remarks that were apparently ridiculed in the press.

In the 2006 FIFA World Cup after a controversial second-round match between Portugal and the Netherlands, which saw referee Valentin Ivanov issuing a record 16 yellow cards and four red cards, Blatter was said to have lambasted the officiating referee, and said that Ivanov should have given himself a yellow card for his poor performance as a referee. However he later regretted his words and promised to officially apologise to Ivanov. This apology was never given, and the referee was removed from further officiating. Also during the 2006 FIFA World Cup final in Germany, Blatter's absence during the prize-podium event was noted and criticized in international media. It was claimed that the reason Blatter did not attend was because he was upset that Italy won instead of France. Blatter later apologised and said the reason he had shunned the presentation ceremony was because he was afraid of being whistled.

Blatter appeared to incur much criticism during 2007 and 2008 for his apparent persistence in attempting to change EU employment law regarding the number of foreign players football clubs can field at any one time. His plans are to set a restriction to 5 foreign players and having 6 players from the said team's own nationality. Blatter believes this would help the countries' national sides by having more national players playing in their leagues. Blatter has often referred to the English Premier League as one of the major problems in football and uses it as an example, due to the influence of foreign players, coaches and owners in the top teams.

In the 2010 FIFA World Cup Blatter publicly laughed at a request by the Football Association of Ireland that Ireland be the 33rd entrant following a controversial hand ball incident in their qualification. Ireland had been drawn against France after a highly controversial seeding system was put into place. This seemed to favour higher ranked teams and Blatter's very late decision to implement it was seen by many as a last ditch attempt to ensure that the higher ranked teams went through. Ireland had lost the first leg 1-0. However, during the second leg, with Ireland leading 1-0 and minutes to go, Thierry Henry used his hand twice to control the ball in the penalty area and deliver a pass to William Gallas for an easy goal.

The criticism attracted by Blatter's refusal to allow goal-line technology or video replays intensified following the controversial Lampard disallowed goal in the match between England and Germany on 27 June 2010. Two days later, Blatter stated that he deplored the "evident referee mistakes" in the England v Germany and Mexico v Argentina matches, and apologised to the English Football Association and the Mexican Football Federation (the two organizations directly concerned by the referees' mistakes), acknowledging that Lampard had indeed scored against Germany and that Tévez's goal against Mexico had been scored from an offside position. He added: "It is obvious that after the experiences so far at this World Cup it would be a nonsense not to re-open the file on goal-line technology. We will come out with a new model in November on how to improve high level referees. I cannot disclose more of what we are doing but something has to be changed."

It was reported that Blatter had "cut an unofficial deal with UEFA head Michel Platini" to ensure Europe would receive the 2018 World Cup, such that if the non-European bids did not withdraw from 2018 "they will find themselves frozen out and not given any backing by the FIFA High Command, damaging their chances of being serious contenders for the second tournament."

Eleven bids were submitted in March 2009 covering thirteen nations. Mexico and Indonesia withdrew. Five of the remaining nine bids, South Korea, Qatar, Japan, Australia and United States were only for the 2022 World Cup, while all the others were bidding for both the 2018 and 2022 World Cups. However, since all of the bids for the 2018 World Cup were from European nations, and FIFA's rules dictate that countries belonging to confederations that hosted either of the two preceding tournaments are not eligible to host, the bids of England, Russia, Netherlands/Belgium and Spain/Portugal were forced to be for 2018 only.

Controversy came in the British press when Russia was awarded the 2018 games, with England receiving just two of their 'promised' votes - this controversy was dismissed by Blatter as the English showing themselves to be "bad losers". The awarding of the 2022 games to Qatar was also controversial; the illegality of homosexuality in the nation caused Blatter to joke that "I would say they should refrain from any sexual activities", which brought condemnation from retired basketball star John Amaechi and gay rights groups.

Blatter criticised the International Olympic Committee by stating they manage their finances "like a housewife" after the IOC agreed to look into Issa Hayatou's alleged corruption.
Changes to the game made under Blatter

The silver goal replaced the golden goal rule in extra time of play-off matches. Under the golden goal rule, the match ends immediately if one side scores in extra time. The silver goal rule states that the match will end at the half-time period in extra time if one team is leading – otherwise the match will continue until the end of the extra time period. Some fans believe that this rule change makes the game less exciting, while others felt that the game is more fair as a result. The new rule was first applied in the Euro 2004 competition, but it has since been discontinued along with golden goal. All competitions have now reverted to the traditional extra time rules, i.e. they must play the full amount of extra time, no matter what the score is.
Since the 2002 World Cup, the current World Cup champion no longer automatically qualifies for the next World Cup finals, as was the case for the champions of all 16 previous World Cups.
National associations must now enforce immediate suspensions of all players sent off during a game, even if television replays offer compelling evidence of a player's innocence. In particular, Blatter insists that a referee's judgement must be seen as final and that mistakes are part of the game. The FA, however, has refused to follow this directive, and allows appeals against straight red cards (though not those resulting from two yellows).
Under Blatter, starting in 2004, the game implemented the booking of players who remove their shirts after scoring a goal, as well as those who are guilty of 'over-zealous celebrations'. The rationale for this rule change is that football is a global sport, and thus the sensibilities of conservative nations and spectators must be respected.
In 2007, Blatter decided that no football matches will be played above 2500 metres (8200 ft) above sea level. This number was revised to 3000 metres (9840 feet) on 26 June 2007. The move had consequences for the Bolivia national football team, whose stadium (Estadio Hernando Siles) is located more than 3000 metres above sea level.

Honours

Sepp Blatter has received the following awards:
2014 FIFA Announcement (Joseph Blatter) 7.jpg

Recipient of the 'Global Award for Peace' awarded by the International Amateur Athletic Association.
Liberian Humane Order of African Redemption
Hononary title of 'Datuk Seri' from the Sultan of Pahang and former President of Asian Football Confederation, Sultan Ahmad Shah of Pahang.
Please register for a free Genetic Matrix account to access more information about this and all other celebrity pages