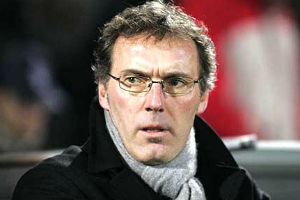 Laurent Blanc
Category : Football Manager
Type : MGP
Profile : 3/5 - Martyr / Heretic
Definition : Split - Small (23)
Incarnation Cross : RAX Contagion 4
Biography
Laurent Robert Blanc (born 19 November 1965) is a French football manager and former player. He is the former head coach of the French national team, having replaced Raymond Domenech in the wake of the 2010 FIFA World Cup in South Africa. He was also previously the manager of Bordeaux.
Blanc played professional football for numerous clubs, including Montpellier, Napoli, Barcelona, Marseille, Internazionale and Manchester United, often operating in the sweeper position. He is also a former French international, playing in several international tournaments, which include the 1998 FIFA World Cup and UEFA Euro 2000, both of which France won. On 28 June 1998, Blanc scored the first golden goal in World Cup history against Paraguay. Blanc has the nickname Le Président, which was given to him following his stint at Marseille in tribute to his leadership skills.
Club career
Early years
Blanc was born in Alès. His career started in Montpellier, where he signed his first professional contract in 1983. A very technical player, he played as an attacking midfielder and helped the club get promoted to Division 1 in 1987. Only a few years later did he settle as a defender following the advice from Michel Mézy, a position in which his physical stature (1.91 m, 82 kg) and his temper would prove invaluable. His game being perfectly fitted for the French league, he managed to score at least 12 goals in every season at Montpellier, for the most part penalties and headers. He also won the Coupe de France in 1990, scoring a goal in the final match. Blanc became, and remains, Montpellier's all-time leading goal scorer, with 84 in all competitions (76 in league play).
In 1991, Blanc tried a first experience abroad when he left Montpellier for Napoli in the Italian Serie A. Despite a decent season during which he managed to score six goals, he felt like he could not fully express his potential and returned to France after just one year, to Nîmes and then Saint Étienne, where again he not only imposed himself as one of the best defenders in the league, but also scored 13 goals in his last season with the latter club. Saint-Étienne, however, were struggling at the time and was almost relegated, only staying up because Marseille were not allowed to return to the first division because of the club's financial difficulties. Guy Roux, impressed by Blanc and looking for a replacement for Dutch international Frank Verlaat, convinced him to join Auxerre in 1995. Despite injuring himself early in the season, Blanc came back strongly and played a great part in the team's double that year.
Barcelona
Blanc's performances on the pitch, emphasized by Auxerre's success, drew the attention of several big European clubs. He finally signed for Barcelona in Spain. That second abroad experience turned out not to be as successful as he could have hoped. Johan Cruyff, who had wanted Blanc and persuaded him to sign for Barça, was sacked on the very day Blanc agreed to join the club. Blanc won the Supercopa de España against Atlético Madrid, but injured himself quickly afterwards. He came back and played regularly but was sent off during the Cup Winners' Cup quarter-final against AIK, then injured himself again against Extremadura, which forced him to miss the Clásico and the Cup Winners' Cup final against Paris Saint-Germain. After this disappointing season and only one year away from the World Cup, he decided to leave.
"Le Président"
Rolland Courbis managed to convince Blanc to join Marseille, which proved beneficial for both the club and Blanc. Blanc quickly became a leader in the team that was desperately lacking confidence, and helped Marseille finish an honorable fourth place in his first season, scoring 11 goals and earning the nickname Le Président (The President) in the process. The season following the World Cup was both successful and frustrating for Blanc and Marseille, as they finished runners-up in the championship, only one point shy of Bordeaux, and reached the UEFA Cup final, only to lose 3–0 to Parma, with Hernán Crespo intercepting Blanc's back pass to Stéphane Porato to score the opener. Afterwards, Blanc departed Marseille for Internazionale, where he enjoyed some success in defence, even winning the Pirata d'Oro (Inter Player of the Year) in 2000.
Manchester United
Manchester United manager Alex Ferguson had attempted to lure Blanc several times since 1996 and finally succeeded in 2001. Despite his age of 35 years, Blanc was brought in to replace the departing Jaap Stam. He was criticised for poor performances in the early months of his stay at Old Trafford, compounded by United's five losses early in the 2001-02 season to Newcastle United, Bolton Wanderers, Liverpool, Arsenal, and Chelsea. He retired two years later, having helped the club to the 2002–03 Premier League crown. He scored four goals during his time at Manchester United. One of these came in the league against Tottenham Hotspur, and the other three all came in the Champions League in games against Olympiacos and Boavista (both home and away). During his time in Manchester, he was known by fans as "Larry White".
International career
Laurent Blanc won the 1988 European Under-21 Championship, beating Greece in the final. On 7 February 1989, he made his debut for the national team against Ireland. France, then in reconstruction after the retirement of numerous key players, did not manage to qualify for the 1990 World Cup. Shortly after that, they started an impressive 19-game unbeaten streak, including eight wins out of eight in Euro 1992 qualifying, making them one of the favorites to win the competition. They would, however, get knocked out in the pool stage by eventual winners Denmark
After France failed to qualify for the 1994 World Cup, Laurent Blanc was heavily criticised, as well the rest of the team, and he subsequently decided to retire from international football. Aimé Jacquet, after taking over the managerial position of the national team, made it one of his priorities to convince Blanc to change his mind. France then entered the 1998 World Cup, which was held on home soil. Blanc was exemplary during the competition and, on 28 June 1998, scored against Paraguay in the Round of 16, the first-ever golden goal in World Cup history. He missed the final after being sent off in the semi-final against Croatia for elbowing Slaven Bilic, although replays showed that Bilic had clearly feigned the injury, earning the Croat heavy criticism afterwards. The sending off was the first (and only) red card of Blanc's professional career.
Blanc was also part of the team that won Euro 2000 during which, despite having been criticised for his age and lack of speed during the qualifications, he proved reliable in defence and even scored a goal against Denmark in the group stage. He announced his retirement from international football after the competition, following the example of his captain Didier Deschamps. Blanc was also well known for kissing good friend and goalkeeper Fabien Barthez's head before the start of every match, supposedly for good luck (the two did repeat this ritual when they played together for Manchester United, but only for UEFA Champions League matches). Overall, he recorded 97 caps and scored 16 goals. In 2006, the readers of France Football magazine voted him the fourth best French player of all time behind Michel Platini, Zinedine Zidane, and Raymond Kopa.
Managerial career
Bordeaux
On 8 June 2007, Blanc was named the new manager of Bordeaux, replacing Brazilian Ricardo. For his first season on the bench, he led the club to a second place in the league and won the Manager of the Year award. His second season was extremely successful, as Bordeaux won the final 11 games of the season, setting a new French record for consecutive wins, and clinched the league title, three points clear of Marseille, having already won the Coupe de la Ligue that year. Blanc was again nominated for Manager of the Year but lost to Marseille manager Eric Gerets.
France
On 16 May 2010, Blanc confirmed his departure from Bordeaux after three seasons in charge of the French outfit. After resigning from his position, Blanc contacted the French Football Federation to inquire about the France national team job, which was eventually vacated by Raymond Domenech following the 2010 World Cup. Later that day, FFF president Jean-Pierre Escalettes confirmed that Blanc was a candidate for the position. On 18 May 2010, with Blanc's appointment to the position becoming more probable, Bordeaux chairman Jean-Louis Triaud demanded compensation from the Federation. On 20 May 2010, the club reached an agreement with the FFF for €1.5 million. On 26 June, French media confirmed that Blanc had signed a two-year contract with the Federation to lead the team to UEFA Euro 2012. The deal was finalized a week later and Blanc was officially named as manager of the team on 2 July.
Blanc's first move as manager was to suspend all 23 players from the 2010 FIFA World Cup squad from his first game, as collective punishment for a number of negative incidents involving the squad, which had occurred during the course of the competition. He also reversed the policy on providing only halal meat at team lunches. On 11 August, in his first game as manager, France lost 2–1 to Norway at the Ullevaal Stadion in Oslo. However, Blanc's team soon managed to top their Euro 2012 qualifying group while also achieving friendly wins over England, Brazil and Germany. The first game of Euro 2012 was against England and ended in a 1–1 draw, after Samir Nasri scored to cancel out a goal scored by Joleon Lescott. France then went on to win their second game against Ukraine, thereby advancing to the quarter-finals despite losing to Sweden. France was eliminated in the quarter-finals after losing 2–0 to Spain. Blanc stepped down as manager of the national team on 30 June 2012.
Controversy
On 28 April 2011, French investigative website Mediapart released a story which claimed that the French Football Federation had been attempting to secretly put in place a race-quota system in order to limit the number of dual-nationality players in its national academies. Quoting a senior figure in the FFF, the organization was said to have wanted to set a cap of 30% on the number of players of non-white origin by limiting places the academies in the 12–13 age bracket. On 29 April, Blanc, who, in the report, was claimed to have agreed with the decision to implement the quotas, held a personal press conference at the l'Hôtel Le Régent in Bordeaux, in which he also denied the report declaring that he had "not heard of such a project". On the following day, after Mediapart announced that it had a taped audio recording of the November 2010 meeting, Blanc released a statement on the FFF's website in which he apologized for possible offending comments he made during the meeting, while also declaring he was misquoted and denying he was racist stating "I do not withdraw the remarks I made yesterday. I admit that some terms used during a meeting on a sensitive subject can be ambiguous, out of context, and, if in my case, I've hurt some feelings, I apologize. But being suspected of racism or xenophobia, which I am against all forms of discrimination, I do not support it".
Former national team player Lilian Thuram said of the allegations, "Initially I thought this was a joke. I'm so stunned I don't know what to say", while Patrick Vieira declared that the comments Blanc allegedly made at the meeting were "serious and scandalous". Blanc was defended by several former players, most notably his 1998 FIFA World Cup-winning teammates Christophe Dugarry, Bixente Lizarazu, Didier Deschamps, Zinedine Zidane, Marcel Desailly, and Emmanuel Petit, current players, such as Alou Diarra, and external sources, which included Pathé Diba, the president of L'Association Soutien aux Handicapés Africains (English: Association to Support Disabled Africans). On 9 May, Blanc gave testimony at a hearing set up by the federation to investigate the quota matter. On 10 May, the results of the inquiry was revealed and Blanc was cleared of any wrongdoing by the French Football Federation.
Please register for a free Genetic Matrix account to access more information about this and all other celebrity pages