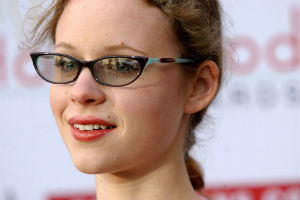 Thora Birch
Category : Actress
Type : MGE
Profile : 5/1 - Heretical / Investigator
Definition : Single
Incarnation Cross : LAX Informing 1
Biography
Thora Birch (born March 11, 1982) is an American actress. She got her first role at the age of 6 in the short-lived sitcom Day By Day (1988). That performance was followed by an appearance in the motion picture Purple People Eater (1988), for which she received a Young Artist Award for "Best Young Actress Under Nine Years of Age". Birch's profile was raised significantly with major parts in films such as All I Want for Christmas (1991), Patriot Games (1992), Hocus Pocus (1993), Monkey Trouble (1994), Now and Then (1995), and Alaska (1996).
Her breakthrough role came in 1999 with the Academy Award winning film, American Beauty. Her performance was well received by both critics and audience and brought Birch to an international recognition. She later played the lead role in Ghost World (2001) for which she received a Golden Globe Award nomination for Best Actress – Motion Picture Musical or Comedy. She has since appeared in independent and straight-to-video films such as Dark Corners (2006), Train (2008) and Winter of Frozen Dreams (2009).
Early life
Birch was born in Los Angeles, California, the eldest child of Jack Birch and Carol Connors. Her parents, who were her business managers from the start, are former adult film actors and both appeared in the pornographic film Deep Throat. Birch is of German Jewish, Scandinavian, and Italian ancestry. The family's original surname was Biersch. Her name Thora is derived from the name of the Norse God of thunder and lightning, Thor. She has a younger brother named Bolt.
Due to their own experience with acting, Birch's parents were reluctant to encourage her in the profession, but were persuaded to show her photograph to agents by a babysitter who noticed her imitating commercials. She had several parts in the late '80s, including advertisements for Burger King, California Raisins, Quaker Oats, and Vlasic Pickles.
Career
Early career, 1988–1995
In 1988, she landed the role of Molly in the short-lived television series Day By Day. She was billed simply as "Thora". That same year, she won a part in the movie Purple People Eater opposite Ned Beatty and Neil Patrick Harris. Her performance won her a Youth In Film Award. Birch played as 'tomboy' Billie Pike in the movie Paradise, which also starred Don Johnson, Melanie Griffith, and Elijah Wood.
Birch's parts during the period of 1991–1995 included the role of Dani in Hocus Pocus (1993), as well as All I Want for Christmas (1991) and Monkey Trouble (1994). She appeared in two Harrison Ford films, Patriot Games (1992) and its sequel, Clear and Present Danger (1994), where she played Sally Ryan, the daughter of Ford's character Jack Ryan. Birch's performance in the 1995 film Now and Then teamed her with Gaby Hoffmann, Christina Ricci, Demi Moore, Rosie O'Donnell, and Melanie Griffith.
Worldwide recognition, 1996–2001
In 1996, she landed a leading role in the adventure film, Alaska (1996). After guest-starring appearances in The Outer Limits, Promised Land, and Touched by an Angel, Birch took a break from acting. In 1999, she returned in the made-for-TV movie Night Ride Home and also took a small uncredited role in the Natalie Portman film Anywhere but Here.
Later in 1999, Birch won critical praise playing the role of Jane Burnham in American Beauty and was nominated for a British Academy of Film and Television Arts award. The movie itself went on to win the Academy Award for Best Picture. As Birch was 16 at the time she made the film, and thus classified as a minor in the United States, her parents had to approve her brief topless scene in the movie. They and child labor representatives were on the set for the shooting of the scene.
After supporting roles in The Smokers (2000; where Birch was called "a scene-stealer" by The Hollywood Reporter) and Dungeons & Dragons (2000), she landed the lead role alongside Keira Knightley in the horror movie The Hole (2001). The film went direct-to-video almost two years later and gained divided reviews. BBC.co.uk wrote: "Given that she has a much leaner role than the one she enjoyed in "American Beauty", the qualities which made her flourish in that multi-Oscar-winner are still abundantly clear".
Birch landed the leading role in Ghost World (2001), alongside Scarlett Johansson, Steve Buscemi, and Brad Renfro. Her performances gained positive response from film critics. In his review for The New York Times, A. O. Scott praised her: "Thora Birch, whose performance as Lester Burnham's alienated daughter was the best thing about American Beauty, plays a similar character here, with even more intelligence and restraint". In his Chicago Reader review, Jonathan Rosenbaum wrote, "Birch makes the character an uncanny encapsulation of adolescent agonies without ever romanticizing or sentimentalizing her attitudes, and Clowes and Zwigoff never allow us to patronize her". However, in his review for The New York Observer, Andrew Sarris disliked Birch's character of Enid and remarked: "I found Enid smug, complacent, cruel, deceitful, thoughtless, malicious and disloyal". She was nominated for a Golden Globe for her performance.
2002–present
Birch played Liz Murray in the made-for-TV movie Homeless to Harvard: The Liz Murray Story (2003), for which she received an Emmy nomination. The next year, she appeared as Karen in Silver City (2004), which after premiering at that year's Cannes Film Festival, received a mixed reception. She later, in 2006, starred in the low-budget horror movie Dark Corners. The film is about a troubled young woman (played by Birch) who wakes up one day as a different person - someone who is stalked by creatures. Tony Sullivan, for Eyeforfilm.co.uk, found Birch "convincing as the two halves of this split personality". She also had the leading role in the 2008 slasher Train.
She starred alongside Brittany Murphy in the psychological thriller Deadline. The film first premiered directly-to-video in October 2009 in the U.K. before being released in December in the United States. Also in that year, she starred in the mystery motion picture Winter of Frozen Dreams. A controversy during filming involving Birch's father and his forced presence during Thora's taping of a sex scene for the movie led Birch to be back into tabloid headlines. In January 2010, Birch played Sidney Bloom in the Lifetime movie, The Pregnancy Pact.
Birch was cast and scheduled to make her American stage debut in the off Broadway revival of Dracula, but was fired for reasons apparently involving her father's interference four days before the show's first performance. She is set to appear as one of the starring roles in the comedy Petunia alongside Brittany Snow. About the motion picture, she said: "I think it's just something that's a little bit different from your standard summer fare. It's a little bit more intimate. It's also a very modern tale. I think it's actually honest." The movie is due for an early 2013 release.
Please register for a free Genetic Matrix account to access more information about this and all other celebrity pages