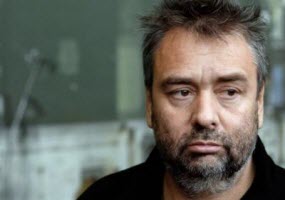 Luc Besson
Category : Film - Director
Type : MGE
Profile : 5/1 - Heretical / Investigator
Definition : Split - Small (13,16,20,25,31,35)
Incarnation Cross : LAX The Plane 1
Biography
Luc Besson (born March 18, 1959) is a French film director, writer and producer.

Little is known about Luc Besson's private life since he rarely discusses his personal life in interviews. He was born in Paris to parents who were both scuba diving instructors. This had a heavy influence on his childhood and throughout his childhood Besson planned on becoming a marine biologist until the age of 17 when he had a diving accident which left him unable to dive any longer. He has since fully recovered.

During his childhood, and especially during adolescence, Besson showed amazing creativity. Out of boredom, he started to write stories, including the backdrop to what would later become one of his most popular movies, The Fifth Element.

At 18, unable to dive, Besson returned to his birthplace of Paris. There he started to become involved in film, taking on odd jobs to get a feel for the industry. After this, he moved to the United States for three years, but returned to form his own production company which he called "Les Films du Loup". The name was later changed to Les Films du Dauphin. In the early 1980s, Besson met Éric Serra and asked him to compose the score for his first short film, L'Avant dernier.

He was married to Anne Parillaud, who starred in the film he wrote and directed, La Femme Nikita.

Besson later dated model Maïwenn Le Besco. Their daughter, Shana Besson, was born in 1993.

Besson married Milla Jovovich on December 14, 1997, but they divorced in 1999. On August 28, 2004, Besson married Virginie Silla.

Besson's influence on other directors, artists, and world-wide popular culture cannot be denied, largely resulting from his films of the early-1990s notably Nikita (1990) starring Anne Parillaud and Léon (aka The Professional, 1994) starring Jean Reno, Gary Oldman, and introducing Natalie Portman to the screen. These two films strongly influenced spin-off works by many artists in comics books, other films with "cleaner" hit-man characters, and several American television shows, with the most direct spin-off being the long-running (1997-2001) USA network TV series La Femme Nikita as well as influences on ABC's Alias starring Jennifer Garner as paranoid girl-spy du jour. This influence extends to the creation of FOX TV's 24 by Joel Surnow and Robert Cochran, who had previously produced Nikita for the USA network. Harvey Keitel has played "cleaners" in the "Americanized" version of Nikita with Bridget Fonda called Point of No Return (1993) and Pulp Fiction (1994). This character also made it to TV in 1994 in the form of The Cleaner in The X-Files and has been satirized in the 2006 film The Cleaner starring Cedric The Entertainer.

He was also in charge of the promotional movie which was presented to the IOC members for the bid of Paris for the 2012 Summer Olympics.

In recent years, he has largely written and produced a large number of action movies, including the "Taxi" series, "The Transporter" series, and the Jet Li films "Kiss of the Dragon" and "Unleashed/Danny the Dog".

Lawsuits
On several occasions Besson has been sued by collaborators, such as Subway co-writer Pierre Jolivet. Kathryn Bigelow accused him of stealing the script she wrote for a movie about Joan of Arc. This lawsuit ended in a settlement, the terms of which were confidential. Other trials for plagiarism were won by Besson.

In January 2003, following the publication of a highly critical article , Besson sued the French magazine Brazil, demanding 50,000 euros. He lost. Besson also lost a trial against Julien Seri, the first director of Yamakasi, who was fired by Besson. Seri had publicly accused Besson of dictatorial methods and unrealistic schedules.

The most serious confrontation with the law concerned the death of cameraman Alain Dutartre during the shooting of Taxi 2, due to a failed stunt. The charges against Besson and director Gérard Krawczyk were dropped in February 2006, but stunt coordinator Rémy Julienne and executive producer Bernard Grenet of Europacorp are to go on trial for involuntary manslaughter.

Cinéma du look
Besson was a prominent face in the era of Cinema du look in the 80's into the start of the 90's. Subway, The Big Blue and Nikita are all considered to be in this era.
Please register for a free Genetic Matrix account to access more information about this and all other celebrity pages