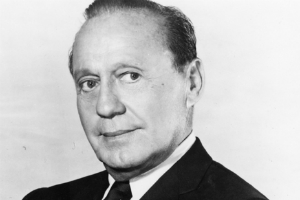 Jack Benny
Category : Comedian
Type : PSP
Profile : 2/4 - Hermit / Opportunist
Definition : Single
Incarnation Cross : RAX Contagion 1
Biography
Jack Benny (born Benjamin Kubelsky; February 14, 1894 – December 26, 1974) was an American comedian, vaudevillian, radio, television, and film actor, and a notable violinist. Recognized as a leading American entertainer of the 20th century, Benny portrayed character roles as a miser, and playing the violin badly. In character, he would be 39 years of age, regardless of his actual age at the time.
Benny was known for comic timing, and ability to create laughter with a pregnant pauses or single expression, such as his signature exasperated "Well!" His radio and television programs, popular from the 1930s to the 1960s, were a major influence on the sitcom genre.
Early life
Benny was born Benjamin Kubelsky February 14, 1894, in Chicago, Illinois, and grew up in neighboring Waukegan, Illinois. He was the son of Meyer Kubelsky and Emma Sachs Kubelsky. Meyer was a Jewish saloon owner, later becoming a haberdasher, who had emigrated to America fromPoland. Emma had emigrated from Lithuania. Benny began studying violin, an instrument that would be his trademark, at the age of six, his parents hoping that he become a professional violinist. He loved the instrument, but hated practice. At 14, he was playing in local dance bands as well as his high school orchestra. Benny was a dreamer and poor at his studies, and was ultimately expelled from high school. He did poorly in business school later, as well in attempts to join his father's business. At age 17, he began playing the violin in local vaudeville theaters for $7.50 a week. He was joined by Ned Miller, a young composer and singer, on the circuit. They became lifelong friends with Miller joining the cast of The Jack Benny Program in the 1960s.
In 1911, Benny was playing in the same theater as the young Marx Brothers. Minnie, their mother, enjoyed Benny playing the violin, and invited him to accompany her boys in their act. The Benny's parents refused to let their son go on the road at 17, but it was the beginning of his long friendship with the Marx Brothers, especially Zeppo Marx.
The next year, Benny formed a vaudeville musical duo with pianist Cora Salisbury, a buxom 45-year-old widow who needed a partner for her act. This provoked famous violinist Jan Kubelik, who thought that the young vaudeville entertainer with his similar name (Kubelsky) would damage the reputation of Kubelik. Under legal pressure, Benjamin Kubelsky agreed to change his name to Ben K. Benny, sometimes also spelled Bennie. When Salisbury left the act, Benny found a new pianist, Lyman Woods, and renamed the act "From Grand Opera to Ragtime". They worked together for five years and slowly added comedy elements to the show. They reached the Palace Theater, the "Mecca of Vaudeville", and did not do well. Benny left show business briefly in 1917 to join the U.S. Navy during World War I, and he often entertained the troops with his violin playing. One evening, his violin performance was booed by the troops, so with prompting from fellow sailor and actor Pat O'Brien, he ad-libbed his way out of the jam and left them laughing. He received more comedy spots in the revues and did well, earning himself a reputation as a comedian and musician.
Shortly after the war, Benny started a one-man act, "Ben K. Benny: Fiddle Funology".[8] He then received legal pressure from Ben Bernie, another patter-and-fiddle performer, regarding his name, so he adopted the sailor's nickname Jack. By 1921, the fiddle became more of a prop, and the low-key comedy took over.
Benny had several romantic encounters, including one with a dancer, Mary Kelly, whose devoutly Catholic family forced her to turn down his proposal because he was Jewish. Benny was introduced to Kelly by Gracie Allen. Some years after their split, Kelly resurfaced as a dowdy fat girl and Jack gave her a part in an act of three girls: one homely, one fat and one who couldn't sing. This lasted until, at Mary Livingstone's request, Mary Kelly was fired..
In 1922, Jack accompanied Zeppo Marx to a Passover seder where he met Sadie Marks, whom he married in 1927 after meeting her again on a double-date. She was working in the hosiery section of the Hollywood Boulevard branch of the May Company, which was where Benny courted her.Called on to fill in for the "dumb girl" part in one of Benny's routines, Sadie proved a natural comedian. Adopting Mary Livingstone as her stage name, Sadie collaborated with Benny throughout most of his career. They later adopted a daughter, Joan.
In 1929 Benny's agent, Sam Lyons, convinced Irving Thalberg of MGM to watch Benny at the Orpheum Theatre in Los Angeles. Benny then signed a five-year contract with MGM, where his first role was in The Hollywood Revue of 1929. His next movie, Chasing Rainbows, did not do well, and after several months Benny was released from his contract and returned to Broadway in Earl Carroll's Vanities. At first dubious about the viability of radio, Benny became eager to break into the new medium. In 1932, after a four-week nightclub run, he was invited on to Ed Sullivan's radio program, uttering his first radio spiel "This is Jack Benny talking. There will be a slight pause while you say, 'Who cares?'..."
Radio
History
Benny had been a minor vaudeville performer, but became a national figure with The Jack Benny Program, a weekly radio show that ran from 1932 to 1948 on NBC and from 1949 to 1955 on CBS. It was among the most highly rated programs during its run.
Benny's long radio career began on April 6, 1932, when the NBC Commercial Program Department had him audition for the N.W. Ayer agency and its client Canada Dry, after which Bertha Brainard, head of the division, said, "We think Mr. Benny is excellent for radio and, while the audition was unassisted as far as orchestra was concerned, we believe he would make a great bet for an air program."
With Canada Dry Ginger Ale as a sponsor, Benny came to radio on The Canada Dry Program, on May 2, 1932, on the NBC Blue Network and continuing for six months until October 26, moving to CBS on October 30. With Ted Weems leading the band, Benny stayed on CBS until January 26, 1933.
Arriving at NBC on March 17, Benny did The Chevrolet Program until April 1, 1934. He continued with sponsor General Tire through the end of the season. In October, 1934, General Foods, the makers of Jell-O and Grape-Nuts, became the sponsor most identified with Jack, for the next ten years.American Tobacco's Lucky Strike was his longest-lasting radio sponsor, from October, 1944, through the end of his original radio series.
The show switched networks to CBS on January 2, 1949, as part of CBS president William S. Paley's notorious "raid" of NBC talent in 1948–49. It stayed there the remainder of its radio run, ending on May 22, 1955. CBS aired repeats of old episodes from 1956 to 1958 as The Best of Benny.
Characters
Benny's comic persona changed in the course of his career. At some point he developed a miserly persona. This stage character was just about everything the actual Jack Benny was not: cheap, petty, vain, and self-congratulatory. His comic rendering of these traits became the linchpin to the success of his show. Benny set himself up as comedic foil, allowing his supporting characters to draw laughs at the expense of his own flaws. With his humanism and vulnerability in an era where few male characters were allowed such character traits, Benny made what could have been unlikable an everyman character. Benny said on several occasions: "I don't care who gets the laughs on my show, as long as the show is funny." Jack felt he got the credit or blame either way, not the actor saying the lines, so there was emphasis on the comedic bottom line.
Mary Livingstone, his wife, was a supporting character, as his wisecracking and not especially deferential female friend. She was not quite his girlfriend, since Benny would often try to date movie stars like Barbara Stanwyck, and occasionally had stage girlfriends, such as "Gladys Zybisco". Don Wilson, the rotund announcer, also appeared on the show. He also announced for the Fanny Brice's hit Baby Snooks. Bandleader Phil Harris appeared as a jive-talking, wine drinker and philanderer, whose repartee was rather risqué for its time. Boy tenor Dennis Day appeared as a sheltered, naïve youth who still got the better of his boss as often as not. This character was originated by Kenny Baker who was later replaced by Day. Eddie Anderson was valet-chauffeur Rochester van Jones and singer Larry Stevens was the replacement for Dennis Day from 11-5-44 to 3-10-46, while the latter was in the Navy.
Rochester's comic element was to get the better of his vain, skinflint boss. With his mock-befuddled one-liners and sharp retorts, Rochester broke comedic racial barriers. Unlike many black supporting characters of the time, Rochester was a regular member of the fictional household of Benny. Benny, in character, treated Rochester as a partner rather than hired domestic, although gags about Rochester's low salary were also a running joke.
Rochester seemed to see right through the vanities of his boss, and knew how to prickle him without going too far, with his famous line: "Oh, Boss, come now!" Benny wrote the character as transcending racial stereotype of the era, and the popularity of Rochester nearly rivaled his own. A New Year's Eveepisode, in particular, shows their mutual love and respect as they quietly toasted one another with champagne. The conscientious equal treatment of race on the show became clear during World War II, when Benny would frequently pay tribute to the diversity of Americans who had been drafted.
After the war, Benny made a conscious effort to remove any stereotypical aspects of the Rochester character. In 1948, a 1941 script for show was re-used, which included several African-American stereotypes—for example, a reference to Rochester carrying a razor—and prompted a number of listeners, who were unaware the script was reused, to send in angry letters protesting the stereotypes. Thereafter, Benny insisted that his writers should make sure that no racial jokes or references should be heard on his show. Benny also often gave key guest-star appearances to African-American performers such as Louis Armstrongand The Ink Spots.[citation needed]
The remainder of the cast included character actors and comedians:
Sheldon Leonard - later a successful television producer and creator, as a tight-lipped racetrack tout
Joseph Kearns - remembered as the cantankerous Mr. Wilson on the television version of Dennis the Menace, as Ed, the superannuated guard to Jack's money vault
Verna Felton - portrayed Dennis Day's mother
Frank Nelson - usually as an oily desk clerk or floorwalker, always greeting Benny with an eager Yeeeeeeesss?;
singer/bandleader Bob Crosby - succeeded Phil Harris in the early 1950s);
Artie Auerbach - as the Yiddish-accented Mr. Kitzel ("hoo, hoo, hoo!");
Bea Benaderet - as Gertrude the switchboard operator;
Mel Blanc - several characters' voices, including the railroad station announcer who said, "Train leaving on track five for Anaheim, Azusa and Cu... camonga!". This gag became so well known, and was also used in several Bugs Bunny cartoons which Mel Blanc also voiced. It eventually led to a statue of Benny in Cucamonga. Blanc also was featured with Benny in the classic Si-Sy routine, and on radio as the sound of the Maxwell automobile of Benny. Blanc is perhaps best remembered as the perpetually frustrated violin teacher, Professor LeBlanc, who was as likely to throw his own and Benny's instrument into the fireplace as he was to have a nervous breakdown before he was out the door.
Other musical contributions came in 1946 from the singing quartet the Sportsmen (members: Bill Days, Max Smith,Marty Sperzel and Gurney Bell) singing the middle Lucky Strike commercial. In the early days of the program, the supporting characters were often vaudevillian ethnic stereotypes whose humor was grounded in dialects. As the years went by, the humor of these figures became more character-based.
The method Benny used to bring a character into a skit by announcing his name also became a well-known Benny shtick: "Oh, Dennis ..." or "Oh, Rochester ..." typically answered by, "Yes, Mr. Benny (Boss)?"
Situational comedy
The Jack Benny Program evolved from a variety show blending sketch comedy and musical interludes into the situation comedy form we now recognize, crafting particular situations and scenarios from the fictionalization of Benny the radio star. Situations included hosting parties, income tax time, or nights on the town. The writers and star would also insert musical interludes from Phil Harris and Dennis Day. With Day, invariably, it would be a brief sketch that ended with Benny ordering Day to sing the song he planned to do on the show that week.
One extremely popular scenario that became an annual tradition on The Jack Benny Program was the "Christmas Shopping" episode, in which Benny would go to a local department store. Each year, Benny would buy a ridiculously cheap Christmas gift for Don Wilson from a store clerk played by Mel Blanc. Benny would then have second, then third, and even fourth thoughts about his gift choice, driving Blanc (or his wife or his psychiatrist) by exchanging the gift, pestering about the Christmas card or wrapping paper countless times throughout the episode. In many cases, the clerk would commit suicide, or attempt and fail to commit suicide, saying "Look what you done! You made me so nervous, I missed!"
In the 1946 Christmas episode, for example, Benny buys shoelaces for Don, and is unable to make up his mind whether to give Wilson shoelaces with plastic tips or shoelaces with metal tips. After exchanging them repeatedly, Mel Blanc is heard screaming insanely, "Plastic tips! Metal tips! I can't stand it anymore!" A variation in 1948 was with an expensive wallet, but repeatedly changing the greeting card, prompting Blanc to shout, "I haven't run into anyone like you in 20 years! Oh, why did the governor have to give me that pardon!?" Benny then realizes that he should have gotten Don a wallet for $1.98, whereupon the store clerk responds by committing suicide. Over the years, in these Christmas episodes, Benny bought and repeatedly exchanged cuff links, golf tees, a box of dates, a paint set (water colors or oils), and a gopher trap.
In 1936, after a few years broadcasting from New York, Benny moved the show to Los Angeles, allowing him to bring in guests from among his show business friends, including Frank Sinatra, James Stewart, Judy Garland, Barbara Stanwyck, Bing Crosby, Burns and Allen (George Burns was Benny's closest friend), and many others. Burns, Allen and Orson Welles guest hosted several episodes in March and April 1943 when Benny was seriously ill with pneumonia, while Ronald Colman and his wife Benita Hume appeared frequently in the 1940s as Benny's long-suffering neighbors.
On the broadcast of January 8, 1950, journalist Drew Pearson was the subject of a joke gone wrong. Announcer Don Wilson was supposed to say he heard Jack bought a new suit on Drew Pearson, but said the name wrong; Don said "Drear Pewson". Later on in the show, comedic actor Frank Nelson was asked by Benny if he was the doorman. Changing the script by suggestion of the writers, Nelson said, "Well, who do you think I am, Drear Pewson?" The audience laughed for almost 30 seconds.
Sponsors
In the early days of radio and in the early television era, airtime was owned by sponsor, and Benny incorporated the commercials into the body of the show. Sometimes the sponsors were the butt of jokes, though Benny did not deploy this device as frequently as his friend and "rival" Fred Allen did at the time, or as his cast member Phil Harris later did on his own successful radio sitcom. Nevertheless, for many years Benny insisted in contract negotiations that his writers pen the sponsor's commercial in the middle of the program (leaving the sponsor to provide the opening and closing spots) and the resulting ads were cleverly and wittily worked into the storyline of the show. For example, on one program, Don Wilson accidentally misread Lucky Strike's slogan ("Be happy, go Lucky") as "Be Lucky, go happy", prompting a story arc over several weeks that had Wilson unable to attend the show due to being severely traumatized by the error.
In fact, the radio show was generally not announced as The Jack Benny Program. Instead, the primary name of the show tied to the sponsor. Benny's first sponsor was Canada Dry Ginger Ale from 1932 to 1933. Benny's sponsors included Chevrolet from 1933 to 1934, General Tire in 1934, and Jell-Ofrom 1934 to 1942. The Jell-O Program Starring Jack Benny was so successful in selling Jell-O, in fact, that General Foods could not manufacture it fast enough when sugar shortages arose in the early years of World War II, and the company had to stop advertising the popular dessert mix. General Foods switched the Benny program from Jell-O to Grape-Nuts from 1942 to 1944, and it became, naturally, The Grape Nuts Program Starring Jack Benny. Benny's longest-running sponsor, however, was the American Tobacco Company's Lucky Strike cigarettes, from 1944 to 1955, when the show was usually announced as The Lucky Strike Program starring Jack Benny.
Writers
Benny was notable for employing a small group of writers, most of whom stayed with him for many years. This was very much in contrast to other successful radio or television comedians, such as Bob Hope, who would change writers frequently. Historical accounts (like those by longtime Benny writer Milt Josefsberg) indicate that Benny's role was essentially that of both head writer and director of his radio programs, though he was not credited in either capacity. In contrast to Fred Allen, who initially personally wrote all of his own radio scripts (and continued to extensively rewrite scripts produced in later years by a writing staff), Jack Benny was often described by his writers as a consummate comedy editor rather than a writer per se. He would often debate the precise wording of jokes, and always sought to ensure the preservation of the integrity of the show's characters above easy gags.
Jack Benny has a reputation for being a master of timing. Since his days at the radio, he often explored the limits of timing for comedic purposes, like pausing a disproportionate amount of time before answering a question.
Theme music
During his early radio shows, there was no recurring theme, the program instead opening each week with a different then-current popular song. Throughout the Jello and Grapenuts years, announcer Don Wilson would announce the name of the show, some of the cast, and then state "The orchestra opens the program with [name of song]." The orchestra number would continue softly as background for Don Wilson's opening commercial.
Starting in the Lucky Strike era, Benny adopted a medley of "Yankee Doodle Dandy" and "Love in Bloom" as his theme music, opening every show. "Love in Bloom" later became the theme of his television show as well. His radio shows often ended with the orchestra playing "Hooray for Hollywood". The TV show ended with one of two bouncy instrumentals written for the show by his musical arranger and conductor, Mahlon Merrick.
Benny would sometimes joke about the propriety of "Love in Bloom" as his theme song. On a segment often played in Tonight Show retrospectives, Benny talks with Johnny Carson about this. Benny says he has no objections to the song in and of itself, only as his theme. Proving his point, he begins reciting the lyrics slowly and deliberately: "Can it be the trees. That fill the breeze. With rare and magic perfume. Now what the hell has that got to do with me?"
"Your money or your life"
In an episode that was broadcast March 28, 1948, Benny borrowed neighbor Ronald Colman's Oscar, and was returning home when he was accosted by a mugger (voiced by comedian Eddie Marr). After asking for a match to light a cigarette, the mugger demands, "Don't make a move, this is a stickup. Now, come on. Your money or your life." Benny paused, and the studio audience—knowing his skinflint character—laughed. The robber then repeated his demand: "Look, bud! I said your money or your life!" Benny snapped back, without a break, "I'm thinking it over!" This time, the audience laughed louder and longer than they had during the pause.
The punchline came to Benny staff writers John Tackaberry and Milt Josefsberg almost by accident. Writer George Balzer described the scene to author Jordan R. Young, for The Laugh Crafters, a 1999 book of interviews with veteran radio and television comedy writers:
... they had come to a point where they had the line, "Your money or your life." And that stopped them... Milt is pacing up and down, trying to get a follow... And he gets a little peeved at Tack, and he says, "For God's sakes, Tack, say something." Tack, maybe he was half asleep—in defense of himself, says, "I'm thinking it over." And Milt says, "Wait a minute. That's it." And that's the line that went in the script... By the way, that was not the biggest laugh that Jack ever got. It has the reputation of getting the biggest laugh. But that's not true.
The actual length of the laugh the joke got was five seconds when originally delivered and seven seconds when the gag was reprised on a follow-up show. In fact, the joke is probably not so memorable for the length of the laugh it provoked, but because it became the definitive "Jack Benny joke"—the joke that best illustrated Benny's "stingy man" persona. The punchline—"I'm thinking it over!"—simply would not have worked with any other comedian but Benny.
The actual longest laugh known to collectors of The Jack Benny Program lasted in excess of 32 seconds. The International Jack Benny Fan Club reports that, at the close of the program broadcast on December 13, 1936, sponsored by Jell-O, guest Andy Devine says that it is the "last number of the eleventh program in the new Jelly series." The audience, who loved any sort of accidental flub in the live program, is still laughing after 32 seconds, at which point the network cut off the program to prevent it from running overtime.
According to Jack himself, Mary Livingstone got the biggest laugh he ever heard on the show, on the April 25, 1948, broadcast. The punchline was the result of the following exchange between Don Wilson and noted opera singer Dorothy Kirsten:
Don Wilson: Oh, Miss Kirsten, I wanted to tell you that I saw you in "Madame Butterfly" Wednesday afternoon, and I thought your performance was simply magnificent.
Dorothy Kirsten: Well, thanks, awfully. It's awfully nice and kind of you, Mr. Wilson. But, uh, who could help singing Puccini? It's so expressive. And particularly in the last act, starting with the allegro vivacissimo.
Don Wilson: Well, now, that's being very modest, Miss Kirsten. But not every singer has the necessary bel canto and flexibility or range to cope with the high tessitura of the first act.
Dorothy Kirsten: Thank you, Mr. Wilson. And don't you think that in the aria, "Un bel dì vedremo", that the strings played the con molto passione exceptionally fine and with great sostenuto?
Jack Benny: Well, I thought—
Mary Livingstone (to Jack): Oh, shut up!
According to Jack, the huge laugh resulted from the long buildup, and the audience's knowledge that Jack, with his pompous persona, would have to break into the conversation at some point.
A nearly identical exchange occurred over a year earlier, among renowned violinist Isaac Stern, actor Ronald Colman, Jack Benny, and Mary Livingstone. The quartet's back-and-forth, which centered on Stern's recent public performance of a Mendelssohn piece, was heard on an episode first broadcast on February 16, 1947. The resulting laughter lasted some 18 seconds, after which Jack retorted, "Mary, that's no way to talk to Mr. Stern."
Later in life, when performing as a stand-up comedian in Las Vegas, Jack had just begun to tell an old joke about the salesman, the farmer, and the farmer's daughter: "So the salesman and the farmer's daughter come to the front door, and the farmer opens the door." At this point, Sammy Davis, Jr., walks onstage behind Jack, the audience screams, and Sammy proceeds to speak and sing and dance about 25 minutes or so, while Jack continues to stand at center stage, quietly watching the spectacle. When Davis finally walks offstage and the audience's applause dies down, Jack continues to watch Davis offstage for a few moments, then as the audience is finally quiet continues: "... So the farmer said—" And that's about as far as that joke got, because the audience laughed for minutes afterward.
The Benny-Allen "feud"
In 1937, Benny began his famous radio "feud" with rival Fred Allen. Allen kicked the "feud" off on his own show, after child violinist Stewart Canin gave a performance credible enough that Allen wisecracked about "a certain alleged violinist" who should by comparison be ashamed of himself. Benny, who either listened to the Allen show or was told about the crack, answered in kind on his own show. And the two comedians were off and running.
For a decade, the two went at it back and forth, so convincingly that fans of either show could have been forgiven for believing they had become blood enemies. In fact, the two men were good friends and each other's greatest admirers. Benny and Allen often appeared on each other's show during the thick of the "feud"; numerous surviving episodes of both comedians' radio shows feature each other, in both acknowledged guest spots and occasional cameos. Benny in his eventual memoir (Sunday Nights at Seven) and Allen in his Treadmill to Oblivion later revealed that each comedian's writing staff often met together to plot future takes on the mock feud. If Allen zapped Benny with a satirisation of Benny's show ("The Pinch Penny Program"), Benny shot back with a parody of Allen's early favourite, Town Hall Tonight. Benny's parody? "Clown Hall Tonight." And their playful sniping ("Benny was born ignorant, and he's been losing ground ever since") was also advanced in the films Love Thy Neighbor and It's in the Bag!.
Perhaps the climax of the "feud" came during Fred Allen's parody of popular quiz-and-prize show Queen for a Day, which was barely a year old when Allen decided to have a crack at it on The Fred Allen Show—an episode that has survived for today's listeners to appreciate. Calling the sketch "King for a Day", Allen played the host and Benny a contestant who sneaked onto the show using the alias Myron Proudfoot. Benny answered the prize-winning question correctly and Allen crowned him "king" and showered him with a passel of almost meaningless prizes. Allen proudly announced, "Tomorrow night, in your ermine robe, you will be whisked by bicycle to Orange, New Jersey, where you will be the judge in a chicken-cleaning contest," to which Benny joyously declared, "I'm king for a day!" At this point a professional pressing-iron was wheeled on stage, to press Benny's suit properly. It didn't matter that Benny was still in the suit. Allen instructed his aides to remove Benny's suit, one item at a time, ending with his trousers, each garment's removal provoking louder laughter from the studio audience. As his trousers began to come off, Benny howled, "Allen, you haven't seen the end of me!" At once Allen shot back, "It won't be long now!"
The laughter was so loud and chaotic at the chain of events that the Allen show announcer, Kenny Delmar, was cut off the air while trying to read a final commercial and the show's credits. (Allen was notorious for running overtime often enough, largely thanks to his ad-libbing talent, and he overran the clock again this time.)
Benny was profoundly shaken by Allen's sudden death of a heart attack in 1956. In a statement released on the day after Allen's death, Benny said, "People have often asked me if Fred Allen and I were really friends in real life. My answer is always the same. You couldn't have such a long-running and successful feud as we did, without having a deep and sincere friendship at the heart of it."
The CBS talent raid
On the advice of MCA's Lew Wasserman, Jack Benny formed a holding company, "Amusement Enterprises" (a tax break major entertainers usually enjoyed in those years), which allowed him to bundle his entire program and personnel into a single commodity. The company also gave Benny the opportunity to produce and package other radio programs (including his 1947 summer replacement series starring Jack Paar), and invest in other entertainment ventures, including the production of a 1949 feature film, The Lucky Stiff, starring Dorothy Lamour, and as a key financial backer of the 1948 Broadway version of Mister Roberts, starring Henry Fonda. While Benny was top of the proverbial heap on NBC, CBS czar William S. Paley cast a hungry eye upon the comedian. Paley apparently had good reason to believe Benny could be had. In the summer of 1948, he successfully negotiated a deal with Freeman Gosden and Charles Correll, buying theirholding company, which owned the Amos 'n' Andy radio show (and the rights to those characters), moving the entire "package" from NBC to CBS that fall: he then learned that NBC balked at buying a "Jack Benny" package deal when "Jack Benny" was not the star's real name. Paley reached out to Benny and offered him a deal that would allow that package-buy.
But Paley, according to CBS historian Robert Metz, also learned that Benny chafed under NBC's almost indifferent attitude toward the talent that attracted the listeners. NBC, under the leadership of David Sarnoff, seemed at the time to think that listeners were listening to NBC because of NBC itself. To Paley, according to Metz, that was foolish thinking at best: Paley believed listeners were listening because of the talent, not because of which platform hosted them. When Paley said as much to Benny, the comedian agreed. Because Paley took a personal interest in the Benny negotiations, as opposed to Sarnoff who had never met his top-rated star, Benny was convinced to make the jump. He convinced a number of his fellow NBC performers (notably Burns and Allen,Edgar Bergen, Red Skelton and Kate Smith) to join him.
To sweeten the deal for a very nervous sponsor, Paley also agreed to make up the difference to American Tobacco if Benny's Hooper rating (the radio version of today's Nielsen ratings) on CBS fell to a certain level below his best NBC Hooper rating. Benny's CBS debut on January 2, 1949 bested his top NBC rating by several points while also pumping up the ratings of the show that followed, Amos 'n' Andy. NBC, with its smash Sunday night lineup now broken up, offered lucrative new deals to two of those Sunday night hits, The Fred Allen Show and The Phil Harris-Alice Faye Show. Benny's bandleader and his singing actress wife now starred in their own hit sitcom, meaning Harris was featured on shows for two different networks.
Benny and Sarnoff eventually met several years later and became good friends. Benny said that if he had had this kind of relationship with Sarnoff earlier, when he was Sarnoff's number-one radio star, he never would have left NBC.
Television
Benny first appeared on television in a brief appearance on the inaugural broadcast of Los Angeles station KTTV (Channel 11) on January 1, 1949. KTTV was the Los Angeles CBS Television outlet at the time.
The television version of The Jack Benny Program ran from October 28, 1950, to 1965. Initially scheduled as a series of five "specials" during the 1950–1951 season, the show appeared every six weeks for the 1951–1952 season, every four weeks for the 1952–1953 season and every three weeks in 1953–1954. For the 1953–1954 season, half the episodes were live and half were filmed during the summer, to allow Benny to continue doing his radio show. From the fall of 1954 to 1960, it appeared every other week, and from 1960 to 1965 it was seen weekly.
In September 1954, CBS premiered Chrysler's Shower of Stars co-hosted by Jack Benny and William Lundigan. It enjoyed a successful run from 1954 until 1958. Both television shows often overlapped the radio show. In fact, the radio show alluded frequently to its television counterparts. Often as not, Benny would sign off the radio show in such circumstances with the line "Well, good night, folks. I'll see you on television."
When Benny moved to television, audiences learned that his verbal talent was matched by his controlled repertory of dead-pan facial expressions and gesture. The program was similar to the radio show (several of the radio scripts were recycled for television, as was somewhat common with other radio shows that moved to television), but with the addition of visual gags. Lucky Strike was the sponsor. Benny did his opening and closing monologues before a live audience, which he regarded as essential to timing of the material. As in other TV comedy shows, canned laughter was sometimes added to "sweeten" the soundtrack, as when the studio audience missed some close-up comedy because of cameras or microphones in their way. The television viewers learned to live without Mary Livingstone, who was afflicted by a striking case of stage fright. Livingstone appeared rarely if at all on the television show (for the last few years of the radio show, she pre-recorded her lines and Jack and Mary's daughter, Joan, stood in for the live broadcast as the pre-recordings were played), and finally retired from show business permanently in 1958, as her friend Gracie Allen had done.
Benny's television program relied more on guest stars and less on his regulars than his radio program. In fact, the only radio cast members who appeared regularly on the television program as well were Don Wilson and Eddie Anderson. Day appeared sporadically, and Harris had left the radio program in 1952, although he did make a guest appearance on the television show (Bob Crosby, Phil's "replacement", frequently appeared on television through 1956). A frequent guest was the Canadian born singer-violinist Gisele Mackenzie.
Benny was able to attract guests who rarely, if ever, appeared on television. In 1953, both Marilyn Monroe and Humphrey Bogart made their television debuts on Benny's program.
Canadian singer Gisele MacKenzie, who toured with Benny in the early 1950s, guest starred seven times on The Jack Benny Program. Benny was so impressed with MacKenzie's talents that he served as co-executive producer and guest starred on her 1957–1958 NBC variety show, The Gisele MacKenzie Show.
In 1964, Walt Disney was a guest, primarily to promote his production of Mary Poppins. Benny persuaded Disney to give him over 100 free admission tickets toDisneyland for his friends, but later in the show Disney apparently sent his pet tiger after Benny as revenge, at which point Benny opened his umbrella and soared above the stage like Mary Poppins.
In due course the ratings game finally got to Benny, too. CBS dropped the show in 1964, citing Benny's lack of appeal to the younger demographic the network began courting, and he went to NBC, his original network, in the fall, only to be out-rated by CBS's Gomer Pyle, U.S.M.C. The network dropped Benny at the end of the season. He continued to make occasional specials into the 1970s. His last television appearance was in 1974, on a The Dean Martin Celebrity Roast for Lucille Ball. The videotaped show was telecast just a few weeks after his death.
In his unpublished autobiography, I Always Had Shoes (portions of which were later incorporated by Jack's daughter, Joan, into her memoir of her parents,Sunday Nights at Seven), Benny said that he, not NBC, made the decision to end his TV series in 1965. He said that while the ratings were still very good (he cited a figure of some 18 million viewers per week, although he qualified that figure by saying he never believed the ratings services were doing anything more than guessing, no matter what they promised), advertisers were complaining that commercial time on his show was costing nearly twice as much as what they paid for most other shows, and he had grown tired of what was called the "rate race". Thus, after some three decades on radio and television in a weekly program, Jack Benny went out on top. In fairness, Benny himself shared Fred Allen's ambivalence about television, though not quite to Allen's extent. "By my second year in television, I saw that the camera was a man-eating monster...It gave a performer close-up exposure that, week after week, threatened his existence as an interesting entertainer."
In a joint appearance with Phil Silvers on Dick Cavett's show, Benny recalled that he had advised Silvers not to appear on television. However, Silvers ignored Benny's advice and proceeded to win several Emmy awards as Sergeant Bilko on the popular series The Phil Silvers Show, while Benny claimed he never won any of the television honors.
Movies
Benny also acted in movies, including the Academy Award-winning The Hollywood Revue of 1929, Broadway Melody of 1936 (as a benign nemesis for Eleanor Powell and Robert Taylor), George Washington Slept Here (1942), and notably, Charley's Aunt and To Be or Not to Be. He and Livingstone also appeared in Ed Sullivan's Mr. Broadway (1933) as themselves. Benny often parodied contemporary movies and movie genres on the radio program, and the 1940 film Buck Benny Rides Again features all the main radio characters in a funny Western parody adapted from program skits. The failure of one Benny vehicle, The Horn Blows at Midnight, became a running gag on his radio and television programs, although contemporary viewers may not find the film as disappointing as the jokes suggest.
Benny may have had an unbilled cameo role in Casablanca (claimed by a contemporary newspaper advertisement and reportedly in the Casablanca press book). When asked in his column "Movie Answer Man", critic Roger Ebert first replied, "It looks something like him. That's all I can say." In response to a follow-up question in his next column, he stated, "I think you're right."
Benny also was caricatured in several Warner Brothers cartoons including Daffy Duck and the Dinosaur (1939, as Casper the Caveman), I Love to Singa, Slap Happy Pappy, and Goofy Groceries(1936, 1940, and 1941 respectively, as Jack Bunny), Malibu Beach Party (1940, as himself), and The Mouse that Jack Built (1959). The last of these is probably the most memorable:Robert McKimson engaged Benny and his actual cast (Mary Livingstone, Eddie Anderson, and Don Wilson) to do the voices for the mouse versions of their characters, with Mel Blanc—the usual Warner Brothers cartoon voicemeister—reprising his old vocal turn as the always-aging Maxwell, always a phat-phat-bang! away from collapse. In the cartoon, Benny and Livingstone agree to spend their anniversary at the Kit-Kat Club, which they discover the hard way is inside the mouth of a live cat. Before the cat can devour the mice, Benny himself awakens from his dream, then shakes his head, smiles wryly, and mutters, "Imagine, me and Mary as little mice." Then, he glances toward the cat lying on a throw rug in a corner and sees his and Livingstone's cartoon alter egos scampering out of the cat's mouth. The cartoon ends with a classic Benny look of befuddlement. It was rumored that Benny requested that, in lieu of monetary compensation, he receive a copy of the finished film.
Running gags
Benny teamed with Fred Allen for the best-remembered running gag in classic radio history, in terms of character dialogue. But Benny alone sustained a classic repertoire of running gags in his own right, including a skinflint radio and television persona; a perpetual listed age of 39; and ineptitude at violin playing, most frequently demonstrated by futile attempts to perform Rodolphe Kreutzer's Etude No. 2 in C major.
A skit heard numerous times on radio, and seen many times on television, had Mel Blanc as a Mexican in a sombrero and serape sitting on a bench. Jack Benny sits down and begins a conversation. To each question asked by Benny, Blanc replies Si. When Benny asks his name, Blanc replies Sy, which would prompt the exchange, Sy?, Si. And when Benny asks where Blanc is going, Blanc replies, "to see his sister", Sue (Sue?, Si.), who of course sews for a living (Sew?, Si.).
A running gag in Benny's private life concerned George Burns. To Benny's eternal frustration, he could never get Burns to laugh. Burns, on the other hand, could crack Benny up with the least effort. An example of this occurred at a party when Benny pulled out a match to light a cigar. Burns announced to all, "Jack Benny will now perform the famous match trick!" Benny had no idea what Burns was talking about, so he proceeded to light up. Burns observed, "Oh, a new ending!" and Benny collapsed in helpless laughter.
Benny even had a sound-based running gag of his own: his famous basement vault alarm, allegedly installed by Spike Jones, ringing off with a shattering cacophony of whistles, sirens, bells, and blasts, before ending invariably with the sound of a foghorn. The alarm rang off even when Benny opened his safe with the correct combination. The vault also featured a guard named Ed (voiced by Joseph Kearns) who had been on post down below before, apparently, the end of the Civil War, the end of the Revolutionary War, the founding of Los Angeles, on Jack's 38th birthday, and even the beginning of humanity. In one appearance, Ed asked Benny, "By the way, Mr. Benny...what's it like on the outside?" Benny responded, "...winter is nearly here, and the leaves are falling." Ed responded, "Hey, that must be exciting," to which Benny replied (in a stunningly risqué joke for the period), "Oh, no—people are wearing clothes now." In one episode of the Benny radio show, Ed the Guard actually agreed when Jack invited him to take a break and come back to the surface world, only to discover that modern conveniences and transportation, which hadn't been around the last time he'd been to the surface, terrorized and confused him. (Poor Ed thought a crosstown bus was "a red and yellow dragon".) Finally, Ed decides to return to his post fathoms below and stay there. The basement vault gag was also used in the cartoon The Mouse that Jack Built and an episode of The Lucy Show.
A separate sound gag involved a song Benny had written, "When You Say I Beg Your Pardon, Then I'll Come Back to You". Its inane lyrics and insipid melody guaranteed that it would never be published or recorded, but Benny continued to try to con, extort, or otherwise inveigle some of his musical guests (including The Smothers Brothers and Peter, Paul and Mary) to perform it. None ever made it all the way through.
In keeping with his "stingy" schtick, on one of his television specials he remarked that, to his way of looking at things, a "special" is when the price of coffee is marked down.
The explanation usually given for the "stuck on 39" running joke is that he had celebrated his birthday on-air when he turned 39, and decided to do the same the following year, because "there's nothing funny about 40". Upon his death, having celebrated his 39th birthday 41 times, some newspapers continued the joke with headlines such as "Jack Benny Dies – At 39?"
Another popular running gag concerned the social habits of Benny's on-air orchestra, who were consistently portrayed as a bunch of drunken ne'er-do-wells. Led first by Phil Harris and later by Bob Crosby, the orchestra, and in particular band member Frank Remley, were jokingly portrayed as often being too drunk to play properly, using an overturned bass drum to play cards on just minutes before a show, and so enamored of liquor that the sight of a glass of milk would make them sick. Remley was portrayed in various unflattering situations, such as being thrown into a garbage can by a road sweeper who had found him passed out in the street at 4 am, and on a wanted poster at the Beverly Hills police station.
One Christmas program had Crosby agonizing over what to get Remley:
Benny: "Well, why don't you get him a cordial; like a bottle of Drambuie?" Crosby: "That's a nice thought, Jack, but Drambuie's an after-dinner drink." Benny: "So?" Crosby: "So Remley never quite makes it 'til after dinner."
Crosby also got consistent laughs by frequently joking about his more famous brother Bing's vast wealth.
The Maxwell
Starting on the radio show, a running joke was that Benny drove a Maxwell automobile, a brand that went out of business in 1925. Benny's old car was so worn out that it would barely run, but the miserly Benny insisted he could get a few more miles out of it. When a sound effects man missed a cue for the automobile engine, Mel Blanc quickly improvised a vocal imitation of a sputtering car engine that was so funny it became a regular feature of the show. By 1943, Jack Benny's Maxwell had become such a well known aspect of popular culture that it was referenced in the Spike Jones record "The Sound Effects Man".
When the Jack Benny Program began appearing on television in 1950, a 1916 Maxwell Model 25 Tourer became one of the production's standard props. Benny's Maxwell later became a 1923 Tourer. In addition to its being on the program, Benny would often make public appearances in Maxwells. He appeared behind the wheel of one in the film It's a Mad, Mad, Mad, Mad World and drove a Maxwell onto the stage in one of his last television specials. Benny and his archaic auto were featured in a series of television and print ads for Texaco from the 1950s through the 1970s. A series of gags were built around the premise that Benny appreciated the value of "Sky Chief" brand gasoline in keeping his car running smoothly, but was too cheap to buy more than one gallon at a time.
Final years
After his broadcasting career ended, Benny performed live as a stand up comedian and returned to films in 1963 with a cameo appearance in It's a Mad, Mad, Mad, Mad World.
Benny made one of his final television appearances in the fall of 1972 on The Tonight Show Starring Johnny Carson when Carson celebrated his 10th anniversary. (An audio recording featuring highlights of Benny's appearance is featured on the album Here's Johnny: Magic Moments From The Tonight Show released in 1973.) During this appearance, he stated that he loved the violin so much, "if God came to me and said 'Jack, starting tomorrow I will make you one of the world's great violinists, but no more will you ever be able to tell a joke', I really believe that I would accept that." He also related something Isaac Stern once told him: "You know, Jack, when you walk out in front of a symphony orchestra in white tie and tails and your violin, you actually look like one of the world's great violinists. It's a damned shame you have to play!" Jokes aside, Benny was a serious, dedicated violinist who could play beside Stern and not embarrass himself. Of his violin playing, Benny told Carson (also featured in the audio recording) "You have to practice even to be lousy!"
Benny was preparing to star in the film version of Neil Simon's The Sunshine Boys when his health failed in 1974. In fact, he prevailed upon his longtime best friend,George Burns, to take his place on a nightclub tour while preparing for the film. Burns ultimately had to replace Benny in the film as well and went on to win anAcademy Award for his performance.
Death
In October 1974, Benny canceled a performance in Dallas after suffering a dizzy spell, coupled with numbness in his arms. Despite a battery of tests, Benny's ailment could not be determined. When he complained of stomach pains in early December, a first test showed nothing, but a subsequent one showed he had inoperable pancreatic cancer. Choosing to spend his final days at home, he was visited by close friends including George Burns, Bob Hope, Frank Sinatra, Johnny Carson and John Rowles. He died on December 26, 1974. George Burns, Benny's best friend for more than fifty years, attempted to deliver a eulogy. He broke down shortly after he began and was unable to continue. Bob Hope also delivered a eulogy in which he stated, "This is the only time Jack's timing was all wrong. He left us much too soon." Two days after his death, he was interred in a crypt at Hillside Memorial Park Cemetery in Culver City, California. Benny's will arranged for flowers, specifically a single long-stemmed red rose, to be delivered to his widow, Mary Livingstone, every day for the rest of her life. Livingstone died nine years later on June 30, 1983.
In trying to explain his successful life, Benny summed it up by stating "Everything good that happened to me happened by accident. I was not filled with ambition nor fired by a drive toward a clear-cut goal. I never knew exactly where I was going."
Upon his death, his family donated to UCLA his personal, professional, and business papers, as well as a collection of his television shows. The university established the Jack Benny Award in his honor in 1977 to recognize outstanding people in the field of comedy. Johnny Carson was the first award recipient. Benny also donated a Stradivarius violin purchased in 1957 to the Los Angeles Philharmonic Orchestra. Benny had commented, "If it isn't a $30,000 Strad, I'm out $120."
Honors
Jack Benny has one star each on the Hollywood Walk of Fame for TV, film, and radio. Benny was added into The Broadcasting and Cable Hall of Fame, and the National Radio Hall of Fame.
Posthumous tributes
When the price of a standard first-class U.S. postal stamp was increased to 39 cents in 2006, fans petitioned for a Jack Benny stamp to honor his stage persona's perpetual age. The U.S. Postal Service had issued a stamp depicting Jack Benny in 1991, as part of a booklet of stamps honoring comedians; however, the stamp was issued at the then-current rate of 29 cents.
Jack Benny Middle School in Waukegan, Illinois, is named after the famous comedian. Its motto matches his famous statement as "Home of the '39ers".
Please register for a free Genetic Matrix account to access more information about this and all other celebrity pages