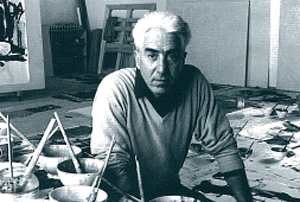 Afro Basaldella
Category : Painter
Type : GP
Profile : 2/5 - Hermit / Heretic
Definition : Single
Incarnation Cross : RAX Consciousness 1
Biography
Afro Basaldella (March 4, 1912 in Udine – July 24, 1976 in Zurich) was an Italian painter. He was generally known by the single name Afro.

Afro first showed his work when he was sixteen, alongside the paintings of his artist brothers, Dino and Mirko. Two years later he won a scholarship to study art in Rome.

By 1933 he was exhibiting at the Galleria del Milione in Milan. In 1935 he participated in the Rome Quadriennale art exhibition, and he showed his work several times at the Venice Biennale. Afro followed the School of Rome, creating murals and taking part in the neo-Cubism movement.

Afro travelled to New York in 1950 and began a twenty-year collaboration with the Catherine Viviano Gallery. The different cultural climate and the diversity of the American art scene of the period impressed him, and his work grew to reflect new influences.

Dore Ashton wrote about Afro in 1955 in Art Digest: "Like most Italians, Afro knows how to celebrate. The fanciful, ebullient side of his nature emerges in the high-keyed recent paintings - those in which he allowed himself the most freedom and spontaneity to date. In these, he celebrates the delights of senses".

Afro was shown in an exhibition called The New Decade: 22 European Painters and Sculptors, which toured the United States. His work was included at documenta 1 in Kassel, Germany. In the mid-1950s Afro's art became known worldwide, and he was celebrated in his home country with the honor of Best Italian Artist at the 1956 Venice Biennale.

He spent the following year teaching at Mills College in Oakland, California. During his time as artist-in-residence at the school he made a mural for the UNESCO headquarters in Paris. It was titled The Garden of Hope and was included amongst works by Appel, Arp, Calder, Matta, Miró, Picasso and Tamayo at UNESCO. Emily Genauer wrote about his mural and its preparatory sketches in New York Herald Tribune: "But one sees from the earlier sketches how important drawing really is to him. With line taut and probing despite its seeming capriciousness, he establishes not only the patterns and contours of details of the composition, but also its over-all rhythmic pattern and cohesiveness."

Afro continued to show his work internationally. He was invited to the second documenta, and showed at MIT and numerous European museums. He won first prize at the Carnegie Triennial in Pittsburgh and the Italian prize at the Solomon R. Guggenheim Museum in New York. The Guggenheim bought his 1957 painting Night Flight. In 1961, Guggenheim curator James Johnson Sweeney published a monograph on his work, where he wrote: "His color is sensuous, warm - never cold; fluid, not structural; free-edged, never sharply contoured. Light and color, shadow and shape achieve a suggested space effect through their ordering and flood it with the glories of his great predecessors: this festive spirit, this celebration of light and life - of life through light".

In the 1970s Afro began to suffer health problems, and he died in 1976. The following year, a monograph by Cesare Brandi was published. In 1978 the Galleria Nazionale d'Arte Moderna in Rome paid him homage in the form of a major retrospective. In 1992 a complete exhibition was held in Milan at Palazzo Reale. In November 1997 the Catalogue Raisonné of Afro was presented at the American Academy in Rome, and in 1998 at the Guggenheim Foundation in Venice.
Please register for a free Genetic Matrix account to access more information about this and all other celebrity pages