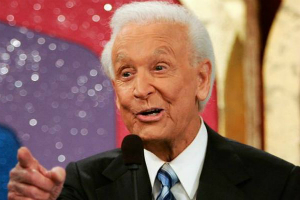 Bob Barker
Category : TV - Personality
Type : GE
Profile : 3/5 - Martyr / Heretic
Definition : Split - Large
Incarnation Cross : RAX Rulership 4
Biography
Robert William "Bob" Barker (born December 12, 1923) is a former American television game show host. He is best known for hosting CBS's The Price Is Right from 1972 to 2007, making it the longest-running daytime game show in North American television history, and for hosting Truth or Consequences from 1956 to 1975.
Born in Washington state to modest circumstances, Barker enlisted in the United States Navy on the outbreak of World War II. Barker worked part-time in radio while he attended college. In 1950, Barker moved to California in order to pursue a career in broadcasting. He was given his own radio show, The Bob Barker Show, which ran for the next six years out of Burbank. Barker began his game show career in 1956, hosting Truth or Consequences. From there, he hosted various game shows as well as the Miss Universe pageants. Eventually, he hosted The Price Is Right, beginning in 1972. When his wife Dorothy Jo died, Barker became an advocate for animal rights. Since then, Barker has been a long-time supporter of animal rights, and of animal-rights activism, including groups such as the United Activists for Animal Rights and the Sea Shepherd Conservation Society. In 2007, Barker retired from hosting The Price Is Right after celebrating his 50-year career on television.
Early life
Barker was born in Darrington, Washington, and spent most of his youth on the Rosebud Indian Reservation in South Dakota. The U.S. Indian Census Rolls, 1885–1940, list Barker as an official member of the Sioux tribe. His mother, Matilda ("Tillie") Valandra (née Matilda Kent Tarleton), was a school teacher; his father, Byron John Barker, was the foreman on the electrical high line through the state of Washington. Barker is 1/8 Sioux. While in Washington, his father fell from a tower and sustained an injury which resulted in his death in 1929. Barker has a half-brother, Kent Valandra, from Matilda's subsequent re-marriage. In 1931, the family moved to Springfield, Missouri, where Barker graduated from Central High School in 1941.
Barker attended Drury College (now Drury University) in Springfield, on a basketball scholarship. He was a member of the Epsilon Beta Chapter of Sigma Nu fraternity at Drury. On the outbreak of World War II, Barker served in the United States Navy as a fighter pilot. However, the war ended before he was assigned to a seagoing squadron. After the war, he returned to Drury to finish his education, graduating summa cum laude with a degree in economics.
Broadcasting Career
While attending college in Drury, Barker worked his first "media job", at KTTS-FM Radio, in Springfield. He left Springfield and worked at a radio station in Florida. In 1950, Barker moved to California in order to pursue a career in broadcasting. He was given his own radio show, The Bob Barker Show, which ran for the next six years out of Burbank. He was hosting an audience-participation radio show on KNX (AM) in Los Angeles when game show producer Ralph Edwards happened to be listening and liked Barker's voice and style.
Game show career
This section needs additional citations for verification. Please help improve this article by adding citations to reliable sources. Unsourced material may be challenged and removed. (September 2009)
Truth or Consequences (1956–1975)
Barker started hosting Truth or Consequences on December 31, 1956 and would continue with the program until 1975. The idea was to mix the original quiz element of game shows with wacky stunts. On the show, people had to answer a trivia question correctly (usually an off-the-wall question that no one would be able to answer correctly) before "Beulah the Buzzer" was sounded. If the contestant could not complete the "Truth" portion, there would be "Consequences", usually a zany and embarrassing stunt. If the contestant could answer the question, invariably, the question had a second part. In addition, during Barker's run as host, "Barker's Box" was played. Barker's Box was a box with four drawers in it. If a contestant was able to pick all three drawers with money inside before picking the empty drawer, he or she won a bonus prize.
In various broadcasts, the stunts on the program included a popular, but emotional, heart-rending surprise for a contestant, that being the reunion with a long-lost relative or with an enlisted son or daughter returning from military duty overseas, particularly Vietnam.
It was on Truth or Consequences that the salute became his trademark sign-off; he ended each episode with "Bob Barker saying goodbye, and hoping all your consequences are happy ones!"
End of the Rainbow (1957–1958)
On December 4, 1957, Barker began hosting a new Ralph Edwards creation, the short-lived End of the Rainbow for NBC. On this show (similar to Barker's Truth or Consequences and Edwards' This Is Your Life), he and co-host Art Baker went out to various places in America and surprised the less-fortunate who helped others when they could barely help themselves.
For example, the first episode featured a Minneapolis grocer who, in return for his community service, was given a complete makeover to his store plus new furniture and appliances for his home. In addition, his landlord (who was in on the surprise) announced that the current month's rent was free and that the grocer's rent would never increase.
The Family Game (1967)
In 1967, Barker hosted the short-lived game show The Family Game for Chuck Barris, where he would ask children contestants questions about their families' lives, and the parents had to guess how they answered, similar in fashion to The Newlywed Game.
Simon Says (1971)
In 1971, Barker was tapped to host a pilot for NBC entitled Simon Says, which required him to interact with a giant computer called "Simon" in Let's Make A Deal-style "trades". The pilot was produced by Wesley J. Cox of DUNDAS Productions, and its theme was "The Savers" (the theme used on The Joker's Wild, which has led some to believe that Cox or DUNDAS was an alias for Jack Barry or Dan Enright, since Joker used the theme in its original 1968 pilot). There is at least one (somewhat low-quality) clip of the pilot on the video sharing website YouTube.
That's My Line (1980–1981)
In 1980, Barker hosted a series called That's My Line for Goodson-Todman. The series was not a game show, but rather a program along the lines of Real People and That's Incredible! The show's second season in 1981 focused more on unusual stunts, and was cancelled in September.
The Price Is Right (1972–2007)
On September 4, 1972, Barker began hosting the CBS revival of The Price Is Right. In the 35 years of the CBS version, he has become far more associated with the series than first host Bill Cullen was with the 1956–1965 original. In September 1977, he hosted the last three seasons of the syndicated nighttime version, originally hosted by Dennis James.
On October 15, 1987, Barker did what other MCs almost never did: renounced hair dye and allowed his hair to turn gray. Fellow hosts Monty Hall, Alex Trebek, and Richard Dawson would do the same in the late 1980s.
Barker took over the role of executive producer for the show in 1988, following the death of the original executive producer, Frank Wayne. In this capacity, Barker created several pricing games, instituted a prohibition on foreign cars and animal-based products (see "Animal rights" below), and launched a prime-time series of specials known as The Price Is Right $1,000,000 Spectacular.
In 2006, The Price Is Right marked its 35th consecutive year on the air. It is the longest-running game show of all time in North America, and at the time was the last surviving show in the daytime game show genre, having survived (at the time) twelve years after its last competitor had been canceled. (CBS would later revive daytime game shows in 2009). Overall, in daytime programming (excluding Saturday and Sunday), The Price Is Right is ranked sixth among the longest-continuing daytime television programs (NBC's Today ranks the longest, followed by four daytime soap operas: Guiding Light, As the World Turns, General Hospital, and Days of our Lives), and moved into fifth in September 2009 after Guiding Light aired its final episode on CBS. It has won its time slot (11:00 a.m. Eastern) for the past 25 years with its closest competitor (currently ABC's The View) normally getting about half of TPIR's ratings.
On October 31, 2006, Barker made his announcement that he would retire from The Price Is Right in June 2007. However, Barker has revealed that FremantleMedia, the company that owns the show, had been looking for a successor in the last two to three years, and also that he had considered retirement for a while, but he had so much fun that he continued to do the show. He taped his final episode on June 6, 2007, with the show airing twice on June 15. The first airing was in the show's normal daytime slot and the second airing was in primetime as the lead-in to the Daytime Emmy Awards. Repeat episodes from Barker's final season continued to air until October 12, 2007, ending with a repeat of his final episode. On July 23 it was announced that comedian Drew Carey would take Barker's place as the new host for the show beginning on October 15, 2007.
During Barker's tenure as host, three pricing games were introduced that used his name: Barker's Bargain Bar, Barker's Markers and Trader Bob. Of the three, none are actively played on the show – Trader Bob was retired from the show in 1985, Barker's Marker$ was renamed Make Your Mark following Barker's retirement, and subsequently retired, and Barker's Bargain Bar has been retooled as the Bargain Game after a four-year hiatus between 2008 and 2012.
Barker made a guest appearance on the show for an episode that aired on April 16, 2009 to promote his new autobiography, Priceless Memories. He appeared in the Showcase round at the end of the show.
Personal life
Barker married his high-school sweetheart Dorothy Jo Gideon on January 12, 1945. They remained married for 36 years until her death on October 19, 1981 of lung cancer. They had no children, and Barker has not remarried. However, he was involved in a relationship with Price model Dian Parkinson from 1989 to 1991, which ended in legal action.
Animal rights
Barker became a vegetarian in 1979. That same year, he began promoting animal rights. He was named national spokesman for "Be Kind to Animals Week" in May 1985. On A&E's Biography program, he credited his wife, Dorothy Jo, with causing him to become more aware of animal rights and becoming a vegetarian, because she had done so. Bob remarked that Dorothy Jo was way ahead of her time as far as animal rights were concerned and that shortly after her death in October, 1981, he took up animal rights in order to keep doing something that she had done.
Barker began ending some episodes (later every episode) of The Price Is Right with the phrase: "Help control the pet population. Have your pets spayed or neutered." After he retired, Drew Carey continued his signature sign-off advocating neutering. Fellow game show hosts Jack Barry and Bert Convy eventually followed Barker's lead in promoting animal rights on the air.
Barker hosted the Miss USA/Universe Pageants from 1967 to 1987. In 1987, he requested the removal of fur prizes and stepped down as host when those in charge of the pageant refused.
Bob Barker's DJ&T Foundation, founded in 1994 and named after his wife and mother, has contributed millions of dollars for animal neutering programs and to fund animal rescue and park facilities all over the United States. He worked closely with Betty White as an advocate for animal rights. However in 2009, reports indicated that Barker threatened to not attend the 2009 Game Show Awards (but was seen in the audience), where he was to receive a lifetime achievement award, because White would be attending. The reason for the conflict, according to the report, was over the proper treatment of an elephant at the Los Angeles Zoo. White instead did not attend and pre-recorded her comments that she was scheduled to make about Mark Goodson.
In 2004, Barker donated $1 million to Columbia University School of Law to support the study of animal rights. The gift has funded an adjunct professorship in animal rights law at Columbia and helped fund a student clinic in environmental law.
Barker also supported United Activists for Animal Rights, and together with the group, publicly accused several media projects and the American Humane Association of animal mistreatment or the condoning of animal mistreatment, a tactic which resulted in a major lawsuit against him and the group, accusing him of spurious allegations.
In June 2009, Barker wrote Chief Michell Hicks of the Cherokee asking that their reservation's bear exhibit be closed. On July 28, 2009, he visited the reservation and saw one of the three zoos, calling the bears' living situation "inhumane". PETA set up the visit after Barker heard from Florida congressman Bill Young, whose wife had been "appalled" by what she saw. Annette Tarnowski, the tribe's attorney general, said a federal inspector had found nothing wrong in May 2009 at two of the zoos, and that the tribe had dealt with the few violations at the third. Hicks made no promises and threatened to ban PETA if they made more trouble.
In January 2010, Sea Shepherd Conservation Society announced that it had secretly purchased and outfitted a ship to interdict Japanese whaling operations in the Southern Ocean using $5,000,000 provided by Barker. The ship was then named the MY Bob Barker, and its existence was first revealed when it helped discover the location of the Japanese whaling fleet. In 2010, Barker began funding the cost of a helicopter, named the Nancy Burnet (after the president of United Activists for Animal Rights); the helicopter accompanies the society's fleet.
In March 2010, PETA announced that it received a $2.5 million donation from Barker to help establish a new office in Los Angeles. PETA officially opened the Bob Barker Building on Sunset Boulevard in 2012.
TV longevity records
Barker set a longevity record as holding a weekday TV job continuously for 51 years, which included his years on Truth or Consequences. Only sportscaster Vin Scully, who is four years younger than Barker, and farm broadcaster Orion Samuelson, who is ten years younger, have held a job longer than Barker in the American entertainment industry.
Barker has also had the second-longest run as the host of a single entertainment broadcast show (sports excluded), a few months short of Don McNeill, who spent 35½ years as host of Don McNeill's Breakfast Club.
Barker, who was 83½ years old at the time of his retirement, holds the record of being the oldest man ever to host a regularly scheduled television game show and the oldest man ever to host a weekday television program since the inception of American network television. Barker also hosted or appeared on a five-day-a-week television program longer than anyone else in the history of television.
Film and other TV appearances
In 1996, Barker played himself in the Adam Sandler comedy Happy Gilmore. In one scene, Barker beats up Gilmore after an altercation arising from their teaming up in a Pro-Am Golf Tournament. Barker reportedly took the role after learning that he would win the fight. In 2007, during a CBS prime-time special commemorating Barker's career, the entire, unedited fight scene from Happy Gilmore was played during the show, and afterward, Adam Sandler made a surprise appearance to thank Barker and read a poem in his honor.
In the late 1990s, Barker played the father of Mel Harris' character on a few episodes of the NBC sitcom Something So Right. He appeared in two animated television series as himself: in the Futurama episode "The Lesser of Two Evils" in 2000, followed by the Family Guy episodes "Screwed the Pooch" in 2001, "The Fat Guy Strangler" in 2005, and "Tales of a Third Grade Nothing" in 2008.
Barker was a semi-regular panelist on the game shows Tattletales (with wife Dorothy Jo) and Match Game. Barker sat in Richard Dawson's former place during the first week of Dawson's permanent absence from Match Game. Barker also played on The Price Is Right team against The Young and the Restless on Family Feud in the late 1980s and early 1990s.
Barker co-hosted CBS' coverage of the Rose Parade from Pasadena, California for several years during the 1970s and 1980s.
He created and hosted The Bob Barker Fun and Games Show from 1978–1986 which was a combination of stunt participation in the style of Truth or Consequences and pricing games such as The Price Is Right in which he traveled throughout the United States and Canada in various arenas and venues.
In the 1970s, he was the host of the annual/biennial Pillsbury Bake-Off (the bake-off occurred every two years starting in 1976). In 1978, he was the first host to have a male category champ.
He was a guest host on The Tonight Show in 1966, when he was a regular on NBC hosting Truth or Consequences.
He appeared on Bonanza, playing a character named Mort in the 1960 episode "Denver McKee".
He has appeared on various talk shows such as: Dinah!, Larry King Live, The Arsenio Hall Show, Crook & Chase, Donny & Marie, The Rosie O'Donnell Show, The Ellen DeGeneres Show, The Wayne Brady Show, the Late Show with David Letterman, and The Late Late Show with Craig Ferguson.
Barker also made cameo appearances on The Nanny, The Bold and the Beautiful in 2002, Yes, Dear, and How I Met Your Mother with announcer Rich Fields in 2007.
About one year after retirement, Barker appeared in a public service announcement promoting the transition to Digital Television in the United States. The advertisement was produced under the first proposed date of February 16, 2009 for the transition.
On September 7, 2009, Barker was a special guest host for WWE Raw (called "The Price is Raw") in Rosemont, Illinois.
Barker has reportedly agreed to a semi-regular position as a rotating guest co-host on The Huckabee Show, a daily TV talk show hosted by Mike Huckabee. Barker first appeared on the show July 29, 2010.
Barker appeared in a commercial for State Farm Insurance's "Magic Jingle" campaign, where he made "a new car" appear for a woman whose previous car was totaled by a giant concrete cylinder.
Awards and recognition
Barker has won 19 Emmy Awards in total. Fourteen were for Outstanding Game Show Host, more than any other performer. He has also won four for Executive Producer of The Price Is Right and received the Lifetime Achievement Award for Daytime Television in 1999.
On April 9, 1998, on the occasion of the ceremonial five thousandth episode of The Price Is Right, CBS dedicated the sound stage where the show has been produced since 1972 in honor of Barker.
In 2004, Barker was inducted into the Academy of Television Arts & Sciences Hall of Fame.
In 2007, Barker was inducted into the Hall of Famous Missourians, and a bronze bust depicting him is on permanent display in the rotunda of the Missouri State Capitol. Also in 2007, Time named Barker the greatest game show host of all time, claiming that he "never lost his utterly natural charm or self-effacing people skills".
On April 14, 2008, Barker was inducted to the NAB Broadcasting Hall of Fame.
On June 6, 2009, during GSN's 2009 Game Show Awards, Barker was presented the Lifetime Achievement Award by Tom Bergeron. However, prior to the taping of the awards, Barker and Betty White were involved in a feud between the two of them over a plan to relocate an elephant to a sanctuary in San Andreas. In response, Barker threatened that he would not show up at the ceremony if White was there. White did not appear at the ceremony, however taped a dedication to Mark Goodson.
On December 14, 2009, Barker won the 2009 WWE Slammy Award for Best Raw Guest Host.
Health
Barker has suffered some minor health problems. Around 1982, he had a herniated disc and sciatica. However, greater health problems began in 1991 after he complained of vision problems while exercising. After a visit to his doctor, he was sent to see a neurologist, who told Barker he had had a mild stroke. He soon recovered and went back to work.
On September 16, 1999, Barker was in Washington, D.C., to testify before Congress regarding HR 2929, the proposed legislation that would ban elephants from traveling shows (i.e., circuses). While preparing for the presentation, Barker experienced what he called "clumsiness" in his right hand. He was admitted to George Washington University Hospital and diagnosed with a partially blocked left carotid artery. Barker underwent carotid endarterectomy to remove the blockage. The procedure went well enough that he was able to return to work within the month.
Three years later, Barker had two additional health crises after taping the 30th season finale of The Price is Right. While lying in the sun on May 30, 2002, Barker experienced a stroke, and was hospitalized; six weeks later, on July 11, Barker underwent prostate surgery. Both hospitalizations occurred at George Washington University Hospital in Washington, D.C. Both surgeries were successful.
Barker has also had several mild bouts with skin cancer, a result of his frequent tanning. He consults a dermatologist regularly to make sure any cancers are caught and removed before they spread; they do not currently pose a threat to his life. During a televised interview, Barker told viewers, "I urge anyone who has spent some time in the sun, whether you're doing it now or not, go to a dermatologist once a year."
On September 17, 2010, Barker collapsed at an L.A. shooting range. He was rushed to Cedars-Sinai Medical Center, where he was treated for an adverse drug reaction and released.
Controversy
In 1994, former model Dian Parkinson filed a lawsuit against Barker alleging sexual harassment following a three-year affair while working on The Price Is Right. Parkinson, who alleged that she was extorted by threats of firing, later dropped her lawsuit, claiming the stress from the ordeal was damaging her health.
In 1995, model Holly Hallstrom exited Price and later filed suit against Barker for wrongful termination and malicious persecution claiming Barker had launched a media attack against her, allegedly stating that she was disruptive to the working atmosphere of Price. Barker dropped his case, while Hallstrom did not, finally ending in settlement in 2005.
Following their testimonies in Barker's failed lawsuit against Hallstrom, models Janice Pennington and Kathleen Bradley were fired, and later received out-of-court financial settlements. Director Paul Alter was also removed from the show. Production assistants Sherrill Paris and Sharon Friem, who were also dismissed at the same time, each sued Barker for wrongful termination, as well as sexual harassment and sex discrimination. Both women ultimately received financial settlements.
In October 2007 Deborah Curling, a CBS employee assigned to The Price Is Right, filed a lawsuit against CBS, Bob Barker and The Price Is Right producers, claiming that she was forced to quit her job after testifying against Barker in a wrongful-termination lawsuit brought by a previous show producer. Curling claimed that she was demoted to an "intolerable work environment" backstage which caused her to leave the job. Curling, who is black, also alleged that the show's producers (including Barker) created a hostile work environment in which black employees and contestants were discriminated against. A few months later, Barker was removed from the lawsuit for the time being, but in September 2009, the lawsuit was dismissed. Curling's attorney stated that he plans to appeal the dismissal of the lawsuit.
Autobiography
Bob Barker has written his autobiography, assisted by former L.A. Times Book Review editor Digby Diehl, titled Priceless Memories. It was released April 6, 2009. It features stories from his early life as well as stories and experiences in the 50 years of his television career. An audiobook is also available, read by Barker himself.
It was also then reported that Barker would appear on The Price is Right to promote his book. His initial appearance was scheduled for the March 2, 2009 taping. However, the taping was postponed until March 25, due to host Drew Carey's bout with pneumonia. The episode aired on April 16, during which Barker appeared during the Showcases to promote the book. Carey stated in an interview that the show stopped taping for over an hour as the crowd continued to give Barker a standing ovation, and to allow the audience to ask questions about what Barker was doing post-retirement.
Please register for a free Genetic Matrix account to access more information about this and all other celebrity pages