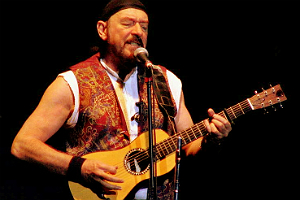 Ian Anderson
Category : Musician - Songwriter
Type : MGP
Profile : 4/6 - Opportunistic / Role Model
Definition : Single
Incarnation Cross : RAX The Sphinx 3
Biography
Ian Scott Anderson, MBE (born 10 August 1947) is a Scottish singer-songwriter and multi-instrumentalist, best known for his work as the lead vocalist, flautist and acoustic guitarist of British rock band Jethro Tull. Anderson plays several other musical instruments, including bass guitar, bouzouki, balalaika, saxophone, harmonica, and a variety of whistles.
Early life
Ian Anderson was born the youngest of three siblings. His father, James Anderson, ran the RSA Boiler Fluid Company in East Port, Dunfermline, Fife, Scotland. Anderson spent the first part of his childhood in Edinburgh, Scotland. He was influenced by his father's big band and jazz records and the emergence of rock music, though disenchanted with the "show biz" style of early American rock and roll stars like Elvis Presley.
His family moved to Blackpool, Lancashire, England, in 1959, where he gained a traditional education at Blackpool Grammar School. In a recent interview, Anderson stated that he was asked to leave Grammar School for refusing to submit to corporal punishment (still permitted at that time) for some serious infraction. He went on to study fine art at Blackpool College of Art from 1964 to 1966.
Career
Early career
This section of a biography of a living person does not include any references or sources. Please help by adding reliable sources. Contentious material about living people that is unsourced or poorly sourced must be removed immediately. (September 2012)
While a teenager, Anderson took a job as a sales assistant at Lewis's department store in Blackpool, then as a vendor on a newsstand. He later said it was reading copies of Melody Maker and the New Musical Express during his lunch breaks that gave him the inspiration to play in a band.
In 1963, he formed The Blades from among school friends: Barriemore Barlow (drums), John Evan (keyboards), Jeffrey Hammond (bass) and Michael Stephens (guitar). This was a soul and blues band, with Anderson on vocals and harmonica – he had yet to take up the flute.
In late 1967, Anderson was still holding down a day job, namely cleaning the Ritz Cinema in Luton, including the toilets, in the mornings, "which took me half the day" he said in a later interview. He took an old, chipped urinal from the cinema storeroom and had it for a time after leaving the job. It was not, however, the urinal which "was bolted to the side of John Evan's Hammond organ onstage" and figured in early–'70s Tull performances.
At this time Anderson abandoned his ambition to play electric guitar, allegedly because he felt he would never be "as good as Eric Clapton". As he himself tells it in the introduction to the video "Live at the Isle of Wight", he traded his electric guitar in for a flute which, after some weeks of practice, he found he could play fairly well in a rock and blues style. According to the sleeve notes for the first Tull album, This Was (1968), he had been playing the flute only a few months when the album was recorded. His guitar practice didn't go to waste either, as he continued to play acoustic guitar, using it as a melodic and rhythmic instrument. As his career progressed, he added soprano saxophone, mandolin, keyboards and other instruments to his arsenal.
His tendency to stand on one leg while playing the flute came about by accident, as he had been inclined to stand on one leg while playing the harmonica, holding the microphone stand for balance. During a long stint at the Marquee Club, a journalist described him, wrongly, as standing on one leg to play the flute. He decided to live up to the reputation, albeit with some difficulty. His early attempts are visible in The Rolling Stones Rock and Roll Circus (1968) film appearance of Jethro Tull.
Later career
Anderson has recorded a small number of critically acclaimed projects under his own name, and frequently makes guest appearances in other artists' work.
Anderson has recorded several songs, on which he plays all the instruments as well as carrying out all the engineering and production (such as 1988's "Another Christmas Song").
In the 1990s he began working with simple bamboo flutes. He uses techniques such as over-blowing and hole-shading to produce note-slurring and other expressive techniques on this otherwise simple instrument. In the 1990s and 2000s, Anderson's songs often capture 'snapshots' of his daily life ("Old Black Cat", "Rocks on the Road").
In 2003 Anderson recorded a composition called "Griminelli's Lament" in honour of his friend, the Italian flautist Andrea Griminelli.
Recognition
In 1973 Anderson appeared, along with several other artists, on the cover of Time Magazine, for an article about new directions in early 1970s music.
In recognition of his lifelong contribution to popular music, Anderson received two honours in 2006: the Ivor Novello Award for International Achievement and an honorary Doctorate of Literature at Heriot-Watt University, on 11 July 2006.
Anderson was appointed Member of the Order of the British Empire (MBE) in the 2008 New Year Honours.
He was awarded an Honorary Doctorate (Doctor of Letters) from Abertay University in July 2011.
At the 2013 Progressive Music Awards, Anderson was presented with the "Prog God" award by fellow musician Rick Wakeman.
Musical collaborations and other work
Anderson appears as a guest on the song "All Along You Knew" from The Big Prize, the second album by Canadian rock band Honeymoon Suite. This followed Jethro Tull's 1984 tour, on which Honeymoon Suite was one of the opening acts. Also in 1984, Ian Anderson, along with Martin Barre, Dave Pegg and Peter-John Vettese recorded album A Classic Case with the London Symphony Orchestra, performing a selection of music from Jethro Tull. He was also a DJ on Planet Rock, presenting his own two-hour show Under the Influence. He also appeared on stage with Joe Bonamassa playing "A New Day Yesterday" at the Hammersmith Apollo in May 2010.
Anderson performs as a special guest on two Uriah Heep live albums: Acoustically Driven (2001) and Electrically Driven (2001), on both performing the same two songs of Uriah Heep repertoire: "Circus" and "Blind Eye".
Anderson plays flute on the track "Portmeirion" on Fairport Convention's 2001 album XXXV. Anderson has performed with Fairport Convention at their annual Cropredy Festival on several occasions since the mid-1980s, when their bass player Dave Pegg was also a member of Jethro Tull.
Anderson produced Steeleye Span's 1974 album Now We Are Six, as well as appearing on and producing Steeleye Span member Maddy Prior's first solo album Woman in the Wings (1978), for which Jethro Tull made most instrumental contributions.
In April 2011, Anderson performed a flute duet with Astronaut Cady Coleman, during her mission aboard the International Space Station, in honor of the 50th anniversary of the first manned spaceflight by Yuri Gagarin.
In December 2011, Anderson performed with Iron Maiden singer Bruce Dickinson at a Canterbury Cathedral benefit show.
A sequel to Thick as a Brick (1972), entitled Thick as a Brick 2, was released on 3 April 2012. It is billed as being performed by Jethro Tull's Ian Anderson instead of being a Tull album proper. Anderson is currently on tour performing both albums in their entirety. A trailer for the newer TAAB album is posted on YouTube.
Anderson played the flute on the track "Cannonball" by The Darkness on their 2012 album, Hot Cakes.
Family and personal life
From 1970 to 1974, Anderson was married to Jennie Franks, a photographer who is credited with some of the lyrics to the first couple of verses of the song "Aqualung".
Anderson married Shona Learoyd in 1976, described by Rolling Stone magazine as a "beautiful convent-educated daughter of a wealthy wool manufacturer". She had studied ballet for 10 years, though Anderson met her when she was working as a press officer at Jethro Tull's then record-label Chrysalis Records. She later became involved with the band's on-stage special effects.
The couple have lived in a 16th-century redbrick farmhouse on the 500-acre (2.0 km2) Pophleys Estate in Radnage, England, in Kilmarie House on their Strathaird Estate on the Isle of Skye in Scotland, as well as a short time in Montreux, Switzerland. They currently live in Wiltshire, England and have a house again in Switzerland, near Montreux. They have two children: James Duncan Anderson, also a musician; and Gael, who works in the film industry and is married to actor Andrew Lincoln.
Anderson is a survivor of deep vein thrombosis, and has done several public service announcements to raise awareness of the disease.
Among his interests Anderson lists protecting wild cats, especially those that have been rescued from harsh captivity; cameras, chiefly Leicas; Indian cuisine – he has written a beginner's guide, thus far published only on the Internet.
Anderson describes himself as being "somewhere between Deist and Pantheist" religiously, according to his foreword to the pamphlet for his 2006 St. Brides charity concerts for the homeless.
Other business activities
Anderson has owned several salmon farms in the UK. His Strathaird concern, based on his estate on the Isle of Skye was worth £10.7 million in the late 1990s, when parts of it began to be sold off. He currently owns a group of companies, which reported a gross profit of £1.8 million in 2004, when the Sunday Herald newspaper reported:
He and his wife Shona, the sole shareholders and directors, shared a £500,000 dividend and emoluments, excluding pension contributions, of £850,954. A modest pre-tax loss of £5,806 was booked for the year but the balance sheet shows shareholders' funds stand at £3.2m. Income included a payment of £209,517 following one of the rock group's regular cheques on its flow of royalties.
Please register for a free Genetic Matrix account to access more information about this and all other celebrity pages