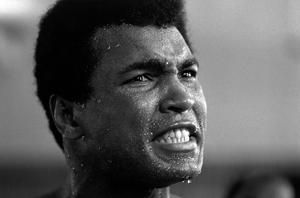 Muhammad Ali
Category : Boxer
Type : MGE
Profile : 1/4 - Investigating / Opportunist
Definition : Triple Split
Incarnation Cross : RAX Laws 4
Biography
Muhammad Ali (born Cassius Marcellus Clay, Jr.; January 17, 1942) is an American former professional boxer, generally considered among the greatest heavyweights in the sport's history. A controversial and even polarizing figure during his early career, Ali is today widely regarded not only for the skills he displayed in the ring but for the values he exemplified outside of it: religious freedom, racial justice and the triumph of principle over expedience.He is one of the most recognized sports figures of the past 100 years, crowned "Sportsman of the Century" by Sports Illustrated and "Sports Personality of the Century" by the BBC.
Born Cassius Clay, at the age of 22 he won the world heavyweight championship in 1964 from Sonny Liston in a stunning upset. Shortly after that bout, Ali joined the Nation of Islam and changed his name. He subsequently converted to Sunni Islam in 1975.
In 1967, three years after winning the heavyweight title, Ali refused to be conscripted into the U.S. military, citing his religious beliefs and opposition to the Vietnam War. He was eventually arrested and found guilty on draft evasion charges and stripped of his boxing title. He did not fight again for nearly four years—losing a time of peak performance in an athlete's career. Ali's appeal worked its way up to the U.S. Supreme Court, where in 1971 his conviction was overturned.
Ali would go on to become the first and only three-time lineal World Heavyweight Champion.
Nicknamed "The Greatest", Ali was involved in several historic boxing matches.Notable among these were the first Liston fight, three with rival Joe Frazier, and one with George Foreman, where he regained titles he had been stripped of seven years earlier.
Ali revolutionized the sport of boxing by sheer power and magnetism of his personality.At a time when most fighters let their managers do the talking, Ali thrived in — and indeed craved — the spotlight, where he was sometimes provocative, frequently outlandish and almost always entertaining.He controlled most press conferences and interviews, and spoke freely about issues unrelated to boxing.He transformed the role and image of the African American athlete in America by his embrace of racial pride and his willingness to antagonize the white establishment in doing so.Ali likely was the first celebrity-athlete in the modern sense of the term;in the words of writer Joyce Carol Oates, he was one of the few athletes in any sport to completely "define the terms of his public reputation."
Early life and amateur career
Cassius Marcellus Clay, Jr., was born on January 17, 1942, in Louisville, Kentucky.Unlike many boxers, he was raised in a supportive, African American middle-class family. The eldest of two boys, he was named after his father, Cassius Marcellus Clay, Sr., who himself was named after the 19th century abolitionist and politician of the same name. His father painted billboards and signs,and his mother, Odessa O'Grady Clay, was a household domestic. Although Cassius Sr. was a Methodist, he allowed Odessa to bring up both Cassius and his younger brother Rudolph "Rudy" Clay (later renamed Rahman Ali) as Baptists.He is a descendant of pre-Civil War era American slaves in the American South, and is predominantly of African-American descent, with Irish and English ancestry.
He was first directed toward boxing by Louisville police officer and boxing coach Joe E. Martin,who encountered the 12-year-old fuming over a thief taking his bicycle. He told the officer he was going to "whup" the thief. The officer told him he better learn how to box first.For the last four years of Clay's amateur career he was trained by boxing cutman Chuck Bodak.
Clay won six Kentucky Golden Gloves titles, two national Golden Gloves titles, an Amateur Athletic Union National Title, and the Light Heavyweight gold medal in the 1960 Summer Olympics in Rome.Clay's amateur record was 100 wins with five losses. Shortly after his return home from Rome following the Olympics, Ali would claim in his 1975 autobiography that he threw his medal into the Ohio River after he and a friend of his were being refused service at a "whites-only" restaurant, and fighting with a white gang. The story has since been heavily debated and several of Ali's friends from photographer Howard Bingham to Budini Brown denied it. Brown later told Sports Illustrated writer Mark Kram, "Honkies sure bought into that one!" Thomas Hauser's biography of Ali confirmed that Ali was refused service at the diner but that Ali lost his medal a year after he won it. Ali later received a replacement medal at a basketball intermission during the 1996 Olympics in Atlanta, where he lit the torch to start the games.
Boxing career
Early career
Clay made his professional debut on October 29, 1960, winning a six-round decision over Tunney Hunsaker. From then until the end of 1963, Clay amassed a record of 19–0 with 15 wins by knockout. He defeated boxers including Tony Esperti, Jim Robinson, Donnie Fleeman, Alonzo Johnson, George Logan, Willi Besmanoff, Lamar Clark, Doug Jones and Henry Cooper. Clay also beat his former trainer and veteran boxer Archie Moore in a 1962 match
These early fights were not without trials. Clay was knocked down both by Sonny Banks and Cooper. In the Cooper fight, Clay was floored by a vicious left hook at the end of round four and was saved by the bell. The fight with Doug Jones on March 13, 1963 was Clay's toughest fight during this stretch. The number two and three heavyweight contenders respectively, Clay and Jones fought on Jones' home turf at New York's Madison Square Garden. Jones staggered Clay the first round, and the unanimous decision for Clay was greeted by boos and a rain of debris thrown onto the ring (watching on closed-circuit TV, heavyweight champ Sonny Liston quipped that if he fought Clay he might get locked up for murder). The fight was later named "Fight of the Year".
In each of these fights, Clay vocally belittled his opponents and vaunted his abilities. Jones was "an ugly little man;" Cooper was a "bum." He was embarrassed to get in the ring with Alex Miteff. Madison Square Garden was "too small for me."This audacious behavior, unlike that of any fighter in recent memory, made him controversial and disliked by most writers, many former champions and much of the general public.
After Clay left Moore's camp in 1960, partially due to Clay refusing to do chores such as dishwashing and sweeping, he hired Angelo Dundee, whom he had met in February 1957 during Ali's amateur career,to be his trainer. Around this time, Clay sought longtime idol Sugar Ray Robinson to be his manager, but was rebuffed.
Heavyweight champion
Muhammad Ali versus Sonny Liston
By late 1963 Clay had become the top contender for Sonny Liston's title. The fight was set for February 25, 1964 in Miami. Liston was an intimidating personality, a dominating fighter with a criminal past and ties to the mob. Based on Clay's uninspired performance against Jones and Cooper in his previous two fights, and Liston's destruction of former heavyweight champion Floyd Patterson in two first round knock outs, Clay was a 7–1 underdog. Despite this, Clay taunted Liston during the pre-fight buildup, dubbing him "the big ugly bear." "Liston even smells like a bear," Clay said. "After I beat him I'm going to donate him to the zoo." He declared that he would "float like a butterfly and sting like a bee," and, summarizing his strategy for avoiding Liston's assaults, said, "Your hands can't hit what your eyes can't see." Clay turned the pre-fight weigh-in into a circus, shouting at Liston that "someone is going to die at ringside tonight." Nothing like this had ever occurred in the history of boxing. Clay's pulse rate was around 120, more than double his norm of 54.Most of those in attendance, apparently including Liston, thought Clay's behavior stemmed from extreme fear; some commentators wondered if he would even show up for the bout.
The outcome of the fight was one of the biggest upsets in boxing history. At the opening bell, Liston rushed at Clay, seemingly angry and looking for a quick knockout. But Clay's superior speed and mobility enabled him to elude Liston, making the champion miss wildly and look awkward. At the end of the first round Clay opened up his attack and hit Liston repeatedly with sharp jabs—to the amazement of the crowd. Liston fought better in round two, but at the beginning of the third round Clay hit Liston with a combination that buckled his knees and opened a cut under his left eye, the first time Liston had ever been cut. Clay rested in round four, but as he came to his corner at the end of the round, he began experiencing blinding pain in his eyes and asked his trainer Angelo Dundee to cut off his gloves. Dundee refused. It has been speculated that the problem was due to ointment used to seal Liston's cuts, perhaps deliberately applied by his corner to his gloves.(Though not confirmed, Bert Sugar claimed that at least two of Liston's opponents also complained about their eyes 'burning'".)
Despite Liston's attempts to knock out a blinded Clay, Clay was able to survive the fifth round until sweat and tears rinsed the substance from his eyes. In the sixth Clay dominated, hitting Liston virtually at will. Liston did not answer the bell for the seventh round, and Clay was declared the winner by TKO. Liston stated that the reason he quit was an injured shoulder. Following the win, a triumphant Clay rushed to the edge of the ring and, pointing to the ringside press, shouted "eat your words!" Then, during the now-infamous in-ring interview following the match, Clay shouted "I shook up the world!" "I talk to God every day." "I must be the greatest!"
When Clay won, he became the youngest boxer (22 years old) to take the title from a reigning heavyweight champion, though Floyd Patterson was the youngest to win the heavyweight championship at 21, during an elimination bout following Rocky Marciano's retirement. In 1986, 20 year-old Mike Tyson later broke both records when he defeated Trevor Berbick to win the heavyweight title.
Clay, now having changed his name to Muhammad Ali following his conversion to Islam and affiliation with the Nation of Islam, met Liston for a rematch in Lewiston, Maine in May of the following year. The fight proved to be as controversial as the first was shocking. Midway through the first round, Liston was knocked down by a punch later dubbed by the press as the "phantom punch" because no one saw it. Ali refused to retreat to a neutral corner, and referee Jersey Joe Walcott did not begin the count. Liston rose after he had been down about 20 seconds, and the fight momentarily continued. But suddenly Walcott reversed himself and stopped the match, declaring Ali the winner by knockout. The entire fight lasted less than two minutes.
Rumors circulated almost immediately after the fight - and continue to this day - that Liston dropped to the ground purposely. Various reasons include threats on his life from the Nation of Islam, that he had bet against himself and that he "took a dive" to pay off debts. Slow motion replays show that Liston was jarred by a chopping right from Ali, although it is uncertain whether the blow was a genuine knock-out punch.
Ali's second title defense was against Floyd Patterson, former heavyweight champion who had lost twice to Liston in first round knockouts. Patterson had made what Ali considered denigrating remarks about his religion; Ali dubbed Patterson a "white man's champion" and taunted him with the name "Rabbit." At times during the fight, Ali appeared to toy with Patterson, refusing, for example, to throw a single punch in the first round and easily avoiding Patterson's lunging "kangaroo punch." Some felt Ali deliberately prolonged the fight to inflict maximum punishment. Ali won a 12 round TKO. Patterson later said that he strained his sacroiliac, a statement supported by video of the fight. The clowning and taunting of Patterson was criticized by many in the sports media.
Ali and then-WBA heavyweight champion boxer Ernie Terrell had agreed to meet for a bout in Chicago on March 29, 1966 (the WBA, one of two boxing associations, had stripped Ali of his title following his joining the Nation of Islam). But in February Ali was reclassified by the Louisville draft board as 1-A from 1-Y, and he indicated that he would refuse to serve, commenting to the press, "I got nothin against them Vietcong." Amidst the media and public outcry over Ali's stance, the Illinois Athletic Commission refused to host the fight, citing technicalities .
Instead, Ali traveled to Canada and Europe and won championship bouts against George Chuvalo, Henry Cooper, Brian London and Karl Mildenberger.
Ali returned to the United States to fight Cleveland Williams in the Houston Astrodome. According to Sports Illustrated, the bout drew a then-indoor world record of 35,460. Williams had once been considered among the hardest punchers in the heavyweight division, but In 1964 he had been shot at point-blank range by a Texas policeman, resulting in the loss of one kidney and 10 feet (3.0 m) of his small intestine. Ali dominated Williams, winning a third round TKO in what some consider the finest boxing exhibition of his career.
Ali and Terrell finally met in Houston on February 6, 1967. Terrell was considered Ali's toughest opponent since Liston - unbeaten in five years and having defeated many of the boxers Ali had faced. Terrell was big, strong and had a three inch reach advantage over Ali. During the lead up to the bout, Terrell repeatedly called Ali "Clay," much to Ali's annoyance (Ali called Cassius Clay his "slave name"). The two almost came to blows over the point in a pre-fight interview with Howard Cosell. Ali seemed intent on humiliating Terrell. "I want to torture him," he said. "A clean knockout is too good for him.".The fight was close until the seventh round when Ali bloodied Terrell and almost knocked him out. In the eighth round, Ali taunted Terrell, hitting him with sharp jabs and shouting between punches, "What's my name, Uncle Tom... what's my name?" Ali was unable to knock out Terrell, winning a unanimous 15 round decision. Terrell claimed that early in the fight Ali deliberately thumbed him - forcing Terrell to fight with one eye - and then, in a clinch, rubbed the wounded eye against the ropes. Because of Ali's apparent intent to prolong to fight to inflict maximum punishment, critics described the bout as "one of the ugliest boxing fights". Tex Maule later wrote: "It was a wonderful demonstration of boxing skill and a barbarous display of cruelty." Ali denied he intended to harm Terrell on purpose nor did he feel he was cruel to him during the bout. But for Ali's critics, the fight provided still more evidence of his arrogance.
After his title defense against Zora Folley a month later, Ali's title was stripped following his refusal to be drafted to Army service.His boxing license was suspended and later he was sentenced to five years in prison and a $10,000 fine for draft evasion.
Exile and comeback
Fight of the Century and Ali-Frazier II
Ali refused to be inducted into the armed forces, stating publicly that, "no Vietcong ever called me nigger." He was systematically denied a boxing license in every state and stripped of his passport. As a result, he did not fight from March, 1967 to October, 1970—from ages 25 to almost 29—as his case worked its way through the appeal process. In 1971, the US Supreme Court overturned his conviction in a unanimous 8-0 ruling (Thurgood Marshall abstained from the case).
During this time of inactivity, as opposition to the Vietnam War began to grow and Ali's stance gained sympathy, he spoke at colleges across the nation, criticizing the Vietnam War and advocating African American pride and racial justice.
On August 12, 1970, with his case still in appeal, Ali was granted a license to box by the City of Atlanta Athletic Commission in Atlanta thanks to State Senator Leroy R. Johnson.Ali's first return bout was against Jerry Quarry on October 26, resulting in a win after three rounds after Quarry was cut. Following this, the New York State Boxing Commission reinstated Ali's license and Ali fought Oscar Bonavena at Madison Square Garden in December 1970, a uninspired performance that ended in a dramatic TKO of Bonavena in the 15th round. The win left Ali as a top contender against heavyweight champion Joe Frazier.
Ali and Frazier's first fight, held at the Garden on March 8, 1971, was nicknamed the "Fight of the Century", due to the tremendous excitement surrounding a bout between two undefeated fighters, each with a legitimate claim as heavyweight champions. Veteran boxing writer John Condon called it "the greatest event I've ever worked on in my life." The bout was broadcast to 35 foreign countries; promoters granted 760 press passes.
Adding to the atmosphere were the considerable pre-fight theatrics. Ali portrayed Frazier as a "dumb tool of the white establishment." "Frazier is too ugly to be champ," Ali said. "Frazier is too dumb to be champ." Ali also frequently called Frazier an Uncle Tom. Dave Wolf, who worked in Frazier's camp, recalled that, "Ali was saying, 'the only people rooting for Joe Frazier are white people in suits, Alabama sheriffs and members of the Ku Klux Klan. I'm fighting for the little man in the ghetto.' Joe was sitting there smashing his fist into the palm of his hand, saying, 'What the fuck does he know about the ghetto?'"
The fight lived up to its billing. In a preview of their two other fights, a crouching, bobbing and weaving Frazier constantly pressured Ali, getting hit regularly by Ali jabs and combinations, but relentlessly attacking and scoring repeatedly, especially to Ali's body. The fight was even in the early rounds, but Ali was taking more punishment than ever in his career. On several occasions in the early rounds he played to the crowd and shook his head "no" after he was hit. In the later rounds—in what was the first appearance of the "rope-a-dope strategy"—Ali leaned against the ropes and absorbed punishment from Frazier, hoping to tire him. In the 11th round, Frazier connected with a left hook that wobbled Ali, but because it appeared that Ali might be clowning as he staggered backwards across the ring, Frazier hesitated to press his advantage, fearing an Ali counter-attack. In the final round, Frazier knocked Ali down with a vicious left hook, which referee Arthur Mercante said was as hard as a man can be hit. Ali was back on his feet in three seconds Nevertheless, Ali lost by unanimous decision, his first professional defeat.
Ali's characterizations of Frazier during the lead-up to the fight cemented a personal animosity toward Ali by Frazier that lasted until Frazier's death.Frazier and his camp always considered Ali's words cruel and unfair, far beyond what was necessary to sell tickets. Shortly after the bout, in the studios of ABC's Wide World of Sports during a nationally televised interview with the two boxers, Frazier rose from his chair and wrestled Ali to the floor after Ali called him ignorant.
After the loss, Ali fought Quarry, a second bout with Floyd Patterson and Bob Foster in 1972, winning a total of six fights that year. In 1973, Ali suffered the second loss of his career at the hands of Ken Norton, who broke Ali's jaw during the fight. After initially seeking retirement, Ali won a controversial decision against Norton in their second bout, leading to a rematch at Madison Square Garden on January 28, 1974 with Joe Frazier—who had recently lost his title to George Foreman.
Ali was strong in the early rounds of the fight, and staggered Frazier in the second round (referee Tony Perez mistakenly thought he heard the bell ending the round and stepped between the two fighters as Ali was pressing his attack, giving Frazier time to recover). However, Frazier came on in the middle rounds, snapping Ali's head in round seven and driving him to the ropes at the end of round eight. The last four rounds saw round-to-round shifts in momentum between the two fighters. Throughout most of the bout, however, Ali was able circle away from Frazier's dangerous left hook and to tie Frazier up when he was cornered—the latter a tactic that Frazier's camp complained of bitterly. Judges awarded Ali a unanimous decision.
Heavyweight champion (second tenure)
The Rumble in the Jungle and Thrilla in Manila
The defeat of Frazier set the stage for a title fight against heavyweight champion George Foreman in Kinshasa, Zaire, on October 30, 1974—a bout nicknamed "The Rumble in the Jungle". Foreman was considered one of the hardest punchers in heavyweight history. In assessing the fight, analysts pointed out that Joe Frazier and Ken Norton—who had given Ali four tough battles and won two of them—had been both devastated by Foreman in second round knockouts. Ali was 32 years old, and had clearly lost speed and reflexes since his twenties. Contrary to his later persona, Foreman was at the time a brooding and intimidating presence. Almost no one associated with the sport, not even Ali's long-time supporter Howard Cosell, gave the former champion a chance of winning.
As usual, Ali was confident and colorful before the fight. He told interviewer David Frost, "if you think the world was surprised when Nixon resigned, wait 'til I whup Foreman's behind!" He told the press, "I've done something new for this fight. I done wrestled with an alligator, I done tussled with a whale; handcuffed lightning, thrown thunder in jail; only last week, I murdered a rock, injured a stone, hospitalized a brick; I'm so mean I make medicine sick."Ali was wildly popular in Zaire, with crowds chanting "Ali, bomaye" ("Ali, kill him") wherever he went.
Ali opened the fight moving and scoring with right crosses to Foreman's head. Then, beginning in the second round—and to the consternation of his corner—Ali retreated to the ropes and invited Foreman to hit him while covering up, clinching and counter-punching—all while verbally taunting Foreman ("is that all you got, George? They told me you could hit."). The move, which would later become known as the "Rope-A-Dope," so violated conventional boxing wisdom—letting one of the hardest hitters in boxing strike at will—that at ringside writer George Plimpton thought the fight had to be fixed.Foreman, increasingly angered, threw punches that were deflected and didn't land squarely. Midway through the fight, as Foreman began tiring, Ali countered more frequently and effectively with punches and flurries, which electrified the pro-Ali crowd. In the eighth, Ali dropped an exhausted Foreman with a combination at center ring; Foreman failed to make the count. Against the odds, and amidst pandemonium in the ring, Ali had regained the title by knockout.
In reflecting on the fight, George Foreman later said, "I'll admit it. Muhammad outthought me and outfought me."
Ali's next opponents included Chuck Wepner, Ron Lyle, and Joe Bugner. Wepner, a journeyman known as "The Bayonne Bleeder," stunned Ali with a knockdown in the ninth round; Ali would later say he tripped on Wepner's foot.
Ali then agreed to a third match with Joe Frazier in Manila. The bout, titled "The Thrilla in Manila", was held on October 1, 1975in temperatures approaching 100 °F (38 °C). In the first rounds, Ali was aggressive, moving and exchanging blows with Frazier. However, Ali soon appeared to tire and adopted the 'rope-a-dope" strategy, frequently resorting to clinches. During this part of the bout Ali did some effective counter-punching, but for the most part absorbed punishment from a relentlessly attacking Frazier. In the twelfth round, Frazier began to tire, and Ali scored several sharp blows that closed Frazier's left eye and opened a cut over his right eye. With Frazier's vision now diminished, Ali dominated the 13th and 14th rounds, at times conducting what boxing historian Mike Silver called "target practice" on Frazier's head. Still, at the end of the 14th round, Frazier was still standing and Ali appeared exhausted. The fight was stopped when Frazier's trainer, Eddie Futch, refused to allow Frazier to answer the bell for the 15th and final round, despite Frazier's protests. Frazier's eyes were both swollen shut. Ali, in his corner, winner by TKO, slumped on his stool, clearly spent.
An ailing Ali said afterwards that the fight "was the closest thing to dying that I know" and, when later asked if he had viewed the fight on videotape, reportedly said, "why would I want to go back and see Hell?" After the fight he cited Frazier as "the greatest fighter of all times next to me."
Decline
Following the bout, Ali fought Jean-Pierre Coopman, Jimmy Young and Richard Dunn, with the latter being the final bout in which Ali won by knockout. Later in 1976, Ali participated in an exhibition bout in Tokyo against Japanese professional wrestler and martial artist Antonio Inoki.Though the fight was a publicity stunt, Ali suffered leg bruises, two blood clots and an infection in his legs due to Inoki's kicks.The fight was ultimately declared a draw.Ali fought Ken Norton for the third time at Yankee Stadium in September 1976, where Ali won by a heavily contested decision, which was loudly booed by the audience. Ali reacted to the fallout of this by announcing a brief retirement to practice his faith in Islam, having converted to Sunni Islam after falling out with the Nation of Islam the previous year.
After winning against Alfredo Evangelista in May 1977, Ali struggled in his next fight against Earnie Shavers that September, who pummeled Ali a few times with punches to the head. Ali won the fight by another unanimous decision, but the bout caused Ali's longtime doctor Ferdie Pacheco to quit after he was rebuffed for telling Ali he should retire. Pacheco was quoted as saying, "the New York State Athletic Commission gave me a report that showed Ali's kidneys were falling apart. I wrote to Angelo Dundee, Ali's trainer, his wife and Ali himself. I got nothing back in response. That's when I decided enough is enough."
In February 1978, Ali faced Leon Spinks at the Superdome in New Orleans. At the time, Spinks had only seven professional fights to his credit, and had recently fought a draw with journeyman Scott LeDoux. Ali sparred less than two dozen rounds in preparation for the fight, and was seriously out of shape by the opening bell. He lost the title by unanimous decision. A rematch followed shortly thereafter in New Orleans, which broke attendance records. Ali won a unanimous decision in an uninspiring fight, making him the first heavyweight champion to win the belt three times.
Following this win, on July 27, 1979, Ali announced his retirement from boxing. His retirement was short-lived, however; Ali announced his comeback to face Larry Holmes for the WBA belt in an attempt to win the heavyweight championship an unprecedented fourth time. The fight was largely motivated by Ali's need for money. Boxing writer Richie Giachetti said, "Larry didn't want to fight Ali. He knew Ali had nothing left; he knew it would be a horror."
It was around this time that Ali started struggling with vocal stutters and trembling hands.Ali's rapid decline caused concern and Ali checked himself into the Mayo Clinic for checkup, later declaring him fit to fight.
The fight took place on October 2, 1980 in Las Vegas with Holmes easily dominating Ali, who was weakened from thyroid medication he had taken to lose weight. Giachetti called the fight "awful... the worst sports event I ever had to cover." Actor Sylvester Stallone at ringside said it was like watching an autopsy on a man who is still alive.Ali's trainer Angelo Dundee finally stopped the fight in the eleventh round, the only fight Ali lost by knockout. The Holmes fight is said to have contributed to Ali's Parkinson's syndrome.Despite pleas to definitively retire, Ali fought one last time on December 21, 1981 in Nassau against Trevor Berbick, losing a ten-round decision.
Later years
Ali was diagnosed with Parkinson's syndrome in 1984, a disease that is common to head trauma from activities such as boxing.Ali still remained active during this time, however, later participating as a guest referee in the inaugural WrestleMania event.
Ali's other high profile events during this time included being selected by the California Bicentennial Foundation for the U.S. Constitution to personify the vitality of the U.S. Constitution and Bill of Rights around 1987. Ali rode on a float at the following year's Tournament of Roses Parade, launching the U.S. Constitution's 200th birthday commemoration. He published an oral history, Muhammad Ali: His Life and Times by Thomas Hauser, in 1991. That same year Ali traveled to Iraq during the Gulf War and met with Saddam Hussein in an attempt to negotiate the release of American hostages.In 1996, he had the honor of lighting the flame at the 1996 Summer Olympics in Atlanta, Georgia. Ali's bout with Parkinson's led to a gradual decline in Ali's health though he was still active into the early years of the millennium, even promoting his own biopic, Ali, in 2001. Ali also contributed an on-camera segment to the America: A Tribute to Heroes benefit concert. On November 17, 2002, Muhammad Ali went to Afghanistan as "U.N. Messenger of Peace".He was in Kabul for a three-day goodwill mission as a special guest of the UN.
In 2009, Ali visited Ennis, the ancestral site of his great-grandfather before he emigrated to the U.S. in the 1860s, before eventually settling in Kentucky.Ali later received the honour of freedom at a civic reception in Ennis. He also became a freeman at Ennis, Co Clare, Ireland. On July 27, 2012, Ali was a titular bearer of the Olympic Flag during the opening ceremonies of the 2012 Summer Olympics in London. He was helped to his feet by his wife Lonnie to stand before the flag due to his Parkinson's rendering him unable to carry it into the stadium.
On February 3, 2013, in a Washington Times article, the boxer's brother, Rahman Ali, said Muhammad can no longer speak and could be dead within days.Muhammad Ali's daughter, May May Ali, responded to rumors of her father being near death stating that she had talked to him on the phone the morning of February 3 and he was fine.
Personal life
Marriages and children
Ali has been married four times and has seven daughters and two sons. Ali met his first wife, cocktail waitress Sonji Roi, approximately one month before they married on August 14, 1964.Roi's objections to certain Muslim customs in regard to dress for women contributed to the breakup of their marriage. They divorced on January 10, 1966.
On August 17, 1967, Ali married Belinda Boyd. After the wedding, she, like Ali, converted to Islam and more recently to Sufism,changed her name to Khalilah Ali, though she was still called Belinda by old friends and family. They had four children: Maryum (b. 1968), twins Jamillah and Rasheda (b. 1970), and Muhammad Ali, Jr. (b. 1972).Maryum has a career as an author and rapper.
In 1975, Ali began an affair with Veronica Porsche, an actress and model. By the summer of 1977, Ali's second marriage was over and he had married Veronica.At the time of their marriage, they had a baby girl, Hana, and Veronica was pregnant with their second child. Their second daughter, Laila, was born in December 1977. By 1986, Ali and Veronica were divorced. Laila later became a boxer in 1999,despite her father's earlier comments against female boxing in 1978: "Women are not made to be hit in the breast, and face like that... the body's not made to be punched right here [patting his chest]. Get hit in the breast... hard... and all that."
On November 19, 1986, Ali married Yolanda ("Lonnie") Williams. They had been friends since 1964 in Louisville. They have one son, Asaad Amin, whom they adopted when Amin was five months old.Ali has two other daughters, Miya and Khaliah, from extramarital relationships.
Ali currently lives in Scottsdale, Arizona with Lonnie. In January 2007 it was reported that they had put their home in Berrien Springs, Michigan, up for sale and had purchased a home in eastern Jefferson County, Kentucky for $1,875,000.Lonnie converted to Islam from Catholicism in her late 20s.
The Nation of Islam and religious beliefs
Ali said that he first heard of the Nation of Islam when he was fighting in the Golden Gloves tournament in Chicago in 1959, and attended his first NOI meeting in 1961. He continued to attend meetings, although keeping his involvement hidden from the public. In 1962, Clay met Malcolm X, who soon became his spiritual and political mentor, and by the time of the first Liston fight NOI members—including Malcolm X—were visible in his entourage. This led to a story in The Miami Herald just before fight disclosing that Clay had joined the Nation, which nearly caused the bout to be cancelled.
In fact, Clay was initially refused entry to the Nation of Islam (often called the Black Muslims at the time) due to his boxing career.However, after he won the championship from Liston in 1964, the Nation of Islam was more receptive and agreed to recruit him as a member.Shortly afterwards, Elijah Muhammad recorded a statement that Clay would be renamed Muhammad (one who is worthy of praise) Ali (fourth rightly guided caliph).
Only a few journalists (most notably Howard Cosell) accepted the new name at that time. Ali later announced that "Cassius Clay is my slave name".Ali's friendship with Malcolm X soon ended as Malcolm split with the NOI a couple of weeks after Ali joined, and Ali remained with the Nation.Ali later said that turning his back on Malcolm was one of the mistakes he regretted most in his life.
Aligning himself with the Nation of Islam, its leader Elijah Muhammad and a pseudo-history that labeled the white race as the perpetrator of genocide against African Americans made Ali a target of public condemnation. The NOI was widely viewed by whites and even some African Americans as a "hate religion" with a tendency toward violence, and Ali had few qualms about using his influential voice to speak NOI doctrine. For example, Ali once stated, in relation to integration: "We who follow the teachings of Elijah Muhammad don't want to be forced to integrate. Integration is wrong. We don't want to live with the white man; that's all."And in relation to inter-racial marriage: "No intelligent black man or black woman in his or her right black mind wants white boys and white girls coming to their homes to marry their black sons and daughters."Indeed, Ali's religious beliefs at the time included the notion that the white man was "the devil" and that white people were not "righteous."
Writer Jerry Izenberg once noted that, "the Nation became Ali's family and Elijah Muhammad became his father. But there is an irony to the fact that while the Nation branded white people as devils, Ali had more white colleagues than most African American people did at that time in America, and continued to have them throughout his career."
Ali converted from the Nation of Islam sect to mainstream Sunni Islam in 1975. In a 2004 autobiography, written with daughter Hana Yasmeen Ali, Muhammad Ali attributes his conversion to the shift toward Islam made by Warith Deen Muhammad after he gained control of the Nation of Islam upon the death of Elijah Muhammad in 1975. Later in 2005 he embraced spiritual practices of Sufism.
Vietnam War and resistance to the draft
In 1964, Ali failed the U.S. Armed Forces qualifying test because his writing and spelling skills were sub-par. However, in early 1966, the tests were revised and Ali was reclassified as 1A.This classification meant he was now eligible for the draft and induction into the U.S. Army during a time when the United States was involved in the Vietnam War. When notified of this status, he declared that he would refuse to serve in the United States Army and publicly considered himself a conscientious objector. Ali stated: "War is against the teachings of the Holy Qur'an. I'm not trying to dodge the draft. We are not supposed to take part in no wars unless declared by Allah or The Messenger. We don't take part in Christian wars or wars of any unbelievers." He famously said in 1966: "I ain't got no quarrel with them Viet Congs..."
Widespread protests against the Vietnam War had not yet begun, but with that one phrase, Ali articulated the reason to oppose the war for a generation of young Americans, and his words served as a touchstone for the racial and antiwar upheavals that would rock the 1960s. Ali's example inspired Martin Luther King, Jr. – who had been reluctant to alienate the Johnson Administration and its support of the civil rights agenda – to voice his own opposition to the war for the first time.
Rare for a heavyweight boxing champion in those days, Ali spoke at Howard University, where he gave his popular "Black Is Best" speech to 4,000 cheering students and community intellectuals after he was invited to speak by sociology professor Nathan Hare on behalf of the Black Power Committee, a student protest group.
Appearing shortly thereafter for his scheduled induction into the U.S. Armed Forces on April 28, 1967 in Houston, he refused three times to step forward at the call of his name. An officer warned him he was committing a felony punishable by five years in prison and a fine of $10,000. Once more, Ali refused to budge when his name was called. As a result, he was arrested and on the same day the New York State Athletic Commission suspended his boxing license and stripped him of his title. Other boxing commissions followed suit. Ali would not be able to obtain a license to box in any state for over three years.
At the trial on June 20, 1967, after only 21 minutes of deliberation, the jury found Ali guilty.After a Court of Appeals upheld the conviction, the case went to the U.S. Supreme Court. During this time, the public began turning against the war and support for Ali began to grow. Ali supported himself by speaking at colleges and universities across the country, where opposition to the war was especially strong. On June 28, 1971, the Supreme Court reversed his conviction for refusing induction by unanimous decision in Clay v. United States.The decision was not based on, nor did it address, the merits of Clay's/Ali's claims per se; rather, the government's failure to specify which claims were rejected and which were sustained, constituted the grounds upon which the Court reversed the conviction.
NSA monitoring of Ali's communications
In a secret operation code-named "Minaret," the National Security Agency (NSA) monitored the communications of leading Americans, including Ali, Senators Frank Church and Howard Baker, Dr. Martin Luther King, prominent U.S. journalists, who criticized the U.S. war in Vietnam.A review by NSA of the NSA's Minaret program concluded that Minaret was "disreputable if not outright illegal."
Quotes about Vietnam war
"Man, I ain't got no quarrel with them Vietcong."
"No, I am not going 10,000 miles to help murder, kill, and burn other people to simply help continue the domination of white slavemasters over dark people the world over. This is the day and age when such evil injustice must come to an end. "
"Why should they ask me to put on a uniform and go ten thousand miles from home and drop bombs and bullets on brown people in Vietnam while so-called Negro people in Louisville are treated like dogs and denied simple human rights?"
Boxing style
Muhammad Ali's boxing gloves are preserved in the Smithsonian Institution National Museum of American History
Ali had a highly unorthodox boxing style for a heavyweight, epitomized by his catchphrase "float like a butterfly, sting like a bee." Never an overpowering puncher, Ali relied early in his career on his superior hand speed, superb reflexes and constant movement, dancing and circling opponents for most of the fight, holding his hands low and lashing out with a quick, cutting left jab that he threw from a number of angles. His footwork was so strong that it was extremely difficult for opponents to cut down the ring and corner Ali against the ropes.
One of Ali's greatest tricks was to make opponents over commit by pulling straight backward from punches. Disciplined, world class boxers chased Ali and threw themselves off balance attempting to hit him because he seemed to be an open target, only missing and leaving themselves exposed to Ali's counter punches, usually a chopping right.Slow motion replays show that this was precisely the way Sonny Liston was hit and apparently knocked out by Ali in their second fight.Ali often flaunted his movement and dancing with the "Ali Shuffle," a sort of center ring jig.Ali's early style was so unusual that he was initially discounted because he reminded boxing writers of a lightweight, and it was assumed he would be vulnerable to big hitters like Sonny Liston.
Ali probably had the fastest hand and foot speed ever seen in a big fighter. Using a synchronizer, Jimmy Jacobs, who co-managed Mike Tyson, measured young Ali's punching speed versus Sugar Ray Robinson, a welter/middleweight, often considered the best pound-for-pound fighter in history. Ali was 25% faster than Robinson, even though Ali was 45-50 pounds heavier.
"No matter what his opponents heard about him, they didn't realize how fast he was until they got in the ring with him," Jacobs said.
The effect of Ali's punches was cumulative. "Ali would rub you out," said Floyd Patterson. "He would hit you 14,000 times and he wouldn't knock you out, he rubbed you out."
Charlie Powell, who fought Ali early in Ali's career and was knocked out in the third round, said: "When he first hit me I said to myself, 'I can take two of these to get one in myself.' But in a little while I found myself getting dizzier and dizzier every time he hit me. He throws punches so easily that you don't realize how much they hurt you until it's too late."
Commenting on fighting Ali in his prime, George Chuvalo said: "He was just so damn fast. When he was young, he moved his legs and hands at the same time. He threw his punches when he was in motion. He'd be out of punching range, and as he moved into range he'd already begun to throw the punch. So if you waited until he got into range to punch back, he beat you every time."
Floyd Patterson said, "It's very hard to hit a moving target, and (Ali) moved all the time, with such grace, three minutes of every round for 15 rounds. He never stopped. It was extraordinary."
Darrell Foster, who trained Will Smith for the movie Ali, said: "Ali's signature punches were the left jab and the overhand right. But there were at least six different ways Ali used to jab. One was a jab that Ali called the 'snake lick,' like cobra striking that comes from the floor almost, really low down. Then there was Ali's rapid-fire jab - three to five jabs in succession - rapidly fired at his opponents' eyes to create a blur in his face so he wouldn't be able to see the right-hand coming behind it."
In the opinion of many, Ali became a different fighter after the three and one-half year layoff. Ferdie Pacheco, Ali's corner physician, noted that he had lost his ability to move and dance as before.This forced Ali to become more stationary and exchange punches more frequently, exposing him to more punishment while indirectly revealing his tremendous ability to take a punch. This physical change led in part to the "rope-a-dope" strategy, where Ali would lie back on the ropes, cover up to protect himself and conserve energy, and tempt opponents to punch themselves out. Ali often taunted opponents in the process and lashed back with sudden, unexpected combinations. The strategy was dramatically successful in the George Foreman fight, but less so in the first Joe Frazier bout when it was introduced.
Of his later career, Arthur Mercante said: "Ali knew all the tricks. He was the best fighter I ever saw in terms of clinching. Not only did he use it to rest, but he was big and strong and knew how to lean on opponents and push and shove and pull to tire them out. Ali was so smart. Most guys are just in there fighting, but Ali had a sense of everything that was happening, almost as though he was sitting at ringside analyzing the fight while he fought it."
"Talking trash"
Ali regularly taunted and baited his opponents—including Liston, Frazier and Foreman—before the fight and often during the bout itself. Ali's pre-fight theatrics were almost always highly entertaining, although his words were sometimes cutting and unfair, and were largely designed to promote the fight. But his antics were often based on an unerring sense of a particular psychological trigger or vulnerability in his opponent that would provoke a reaction and cause the opponent to lose focus. Frazier was "too dumb to be champion." He would whip Liston "like his Daddy did." Terrell was an "Uncle Tom." Patterson was a "rabbit." Ali was a master of provocation, and he had a clear understanding that what one did to an opponent outside the ring could be even more crucial than what one did to him in the ring.In speaking of how Ali stoked Liston's anger and overconfidence before their first fight, one writer commented that "the most brilliant fight strategy in boxing history was devised by a teenager who had graduated 376 in a class of 391."
Ali typically portrayed himself as the "people's champion" and his opponent as a tool of the (white) establishment (despite the fact that his entourage often had more white faces than his opponents). During the early part of Ali's career, he built a reputation for predicting rounds in which he would finish opponents, often vowing to crawl across the ring or to leave the country if he lost the bout.Ali admitted he adopted the latter practice from "Gorgeous" George Wagner, a popular professional wrestling champion in the Los Angeles area who drew thousands of fans to his matches as "the man you love to hate,".
ESPN columnist Ralph Wiley called Ali "The King of Trash Talk."The Manchester Guardian recently lamented the decline of the "golden age of trash talking" in boxing which, it said, was exemplified by Muhammad Ali.The Bleacher Report called Clay's description of Sonny Liston "smelling like a bear" and his vow to "donate him to a zoo" after he beat him the greatest trash talk line in sports history.
Legacy
As Mrs. Lonnie Ali looks on, President George W. Bush embraces Muhammad Ali after presenting him with the Presidential Medal of Freedom on November 9, 2005, during ceremonies at the White House.
Muhammad Ali defeated every top heavyweight in his era, which has been called the golden age of heavyweight boxing. Ali was named "Fighter of the Year" by Ring Magazine more times than any other fighter, and was involved in more Ring Magazine "Fight of the Year" bouts than any other fighter. He is an inductee into the International Boxing Hall of Fame and holds wins over seven other Hall of Fame inductees. He is one of only three boxers to be named "Sportsman of the Year" by Sports Illustrated.
In 1978, three years before Ali's permanent retirement, the Board of Aldermen in his hometown of Louisville, Kentucky, voted 6–5 to rename Walnut Street to Muhammad Ali Boulevard. This was controversial at the time, as within a week 12 of the 70 street signs were stolen. Earlier that year, a committee of the Jefferson County Public Schools considered renaming Central High School in his honor, but the motion failed to pass. At any rate, in time, Muhammad Ali Boulevard—and Ali himself—came to be well accepted in his hometown.In 1993, the Associated Press reported that Ali was tied with Babe Ruth as the most recognized athlete, out of over 800 dead or alive athletes, in America. The study found that over 97% of Americans over 12 years of age identified both Ali and Ruth.
He was the recipient of the 1997 Arthur Ashe Courage Award. Two years later, in 1999, the BBC produced a special version of its annual BBC Sports Personality of the Year Award ceremony, and Ali was voted their Sports Personality of the Century,receiving more votes than the other four contenders combined. On September 13, 1999, Ali was named "Kentucky Athlete of the Century" by the Kentucky Athletic Hall of Fame in ceremonies at the Galt House East.On January 8, 2005, Muhammad Ali was presented with the Presidential Citizens Medal by President George W. Bush. Later that November, he received the Presidential Medal of Freedom at a White House ceremony.and the "Otto Hahn Peace Medal in Gold" of the UN Association of Germany (DGVN) in Berlin for his work with the US civil rights movement and the United Nations (December 17, 2005).
On November 19, 2005 (Ali's 19th wedding anniversary), the $60 million non-profit Muhammad Ali Center opened in downtown Louisville. In addition to displaying his boxing memorabilia, the center focuses on core themes of peace, social responsibility, respect, and personal growth. A youth club in Ali's hometown and a species of rose (Rosa ali) have been named after him. On June 5, 2007, he received an honorary doctorate of humanities at Princeton University's 260th graduation ceremony.
Ranking in heavyweight history
Ali is generally considered to be one of the greatest heavyweights of all time by boxing commentators and historians. Ring Magazine, a prominent boxing magazine, named him number 1 in a 1998 ranking of greatest heavyweights from all eras.
Ali was named the second greatest fighter in boxing history by ESPN.com behind only welterweight and middleweight great Sugar Ray Robinson.In December 2007, ESPN listed Ali second in its choice of the greatest heavyweights of all time, behind Joe Louis.
The Associated Press voted Ali the No. 1 heavyweight of the 20th century in 1999.
In the media and popular culture
As a world champion boxer and social activist, Ali has been the subject of numerous books, films and other creative works. In 1963, he released an album of spoken word on Columbia Records titled I am the Greatest! He has appeared on the cover of Sports Illustrated on 37 different occasions, second only to Michael Jordan.
He appeared in the documentary film Black Rodeo (1972) riding both a horse and a bull. His autobiography The Greatest: My Own Story, written with Richard Durham, was published in 1975.In 1977 the book was adapted into a film called The Greatest, in which Ali played himself and Ernest Borgnine played Angelo Dundee.
When We Were Kings, a 1996 documentary about the Rumble in the Jungle, won an Academy Award,and the 2001 biopic Ali garnered an Oscar nomination for Will Smith's portrayal of the lead role.The latter film was directed by Michael Mann, with mixed reviews, the positives given to Smith's portrayal of Ali. Prior to making the film, Smith rejected the role until Ali requested that he accepted it. Smith said the first thing Ali told him was: "Man you're almost pretty enough to play me."
Ali had a cameo role in the 1962 film version of Requiem for a Heavyweight, and during his exile, he starred in the short-lived Broadway musical, Buck White (1969).
The film Freedom Road, made in 1978, features Muhammad Ali in a rare acting role as Gideon Jackson, an ex-slave in 1870s Virginia who gets elected to the U.S. Senate in Washington D.C. and battles other former slaves and white sharecroppers to keep the land they have tended all their lives.
On the set of Freedom Road Ali met Canadian singer/songwriter Michel, and subsequently helped create Michel's album entitled The First Flight of the Gizzelda Dragon.
For contributions to the entertainment industry, Ali was honored with a star on the Hollywood Walk of Fame at 6801 Hollywood Boulevard.Ali recorded the song "Stand by Me" in 1964.
The Muhammad Ali Effect is a term used in psychology that was named after him when he stated, "I only said I was the greatest, not the smartest" in his autobiography The Greatest: My Own Story.According to this effect, when people are asked to rate their intelligence and moral behavior in comparison to others, people will rate themselves as more moral, but not more intelligent than others.
The Trials of Muhammad Ali, a documentary directed by Bill Siegel which focuses on Ali's refusal to serve during the Vietnam War, opened in Manhattan on August 23, 2013.
Please register for a free Genetic Matrix account to access more information about this and all other celebrity pages