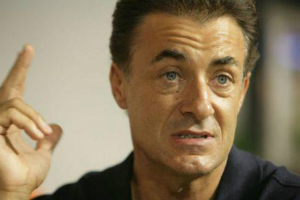 Jean Alesi
Category : Racing Driver
Type : PE
Profile : 5/1 - Heretical / Investigator
Definition : Split - Small (12,35)
Incarnation Cross : LAX Confrontation 1
Biography
Jean Alesi (born Giovanni Alesi; 11 June 1964) is a French racing driver of Italian origin. His Formula One career included spells at Tyrrell, Benetton, Sauber, Prost, Jordan and most notably Ferrari where he proved very popular among the tifosi. In 2006 Alesi was awarded Chevalier de la Legion d'honneur.
Early career
Alesi was born to Sicilian parents in Avignon, Vaucluse. Starting his career with a passion for rallying rather than racing, he graduated to single seaters through the French Renault 5 championship. In the late 1980s he was very much a coming man in motor racing, winning the 1987 French Formula 3 title before moving up to International Formula 3000 in 1988. In 1989, his second season in International F3000, he won the championship. Both crowns were after duels with his rival Érik Comas. In 1989 Alesi tied on points for the F3000 title with Comas but won the titled based on the fact Alesi had three wins to Comas' two.
Formula One
Alesi debuted in the 1989 French Grand Prix at Paul Ricard in a Tyrrell-Ford, replacing Michele Alboreto and finishing a brilliant fourth. He drove most of the rest of the season for Tyrrell while continuing his successful Formula 3000 campaign, (occasionally giving the car up in favour of Johnny Herbert when Formula 3000 clashed), scoring points again at the Italian and Spanish Grands Prix.
1990 was his first full year in Grand Prix racing, with the underfunded Tyrrell team. At the first event, the United States Grand Prix at Phoenix, he was a sensation, leading for 25 laps in front of Ayrton Senna with a car powered by a customer Ford V8 considered as vastly inferior to the V10 Honda in Senna's McLaren, and also re-passing Senna after the Brazilian had first overtaken for the lead. Second place in the Monaco Grand Prix followed the second place gained in Phoenix, and by mid-season, top teams were clamouring for his services in 1991. A very confused situation erupted, with Tyrrell, Williams, and Ferrari all claiming to have signed the driver within a very short period.
Ferrari were championship contenders at the time, and there he would be driving with fellow countryman Alain Prost, at that time the most successful driver in Formula One history. Alesi signed with Ferrari, making the choice that not only appeared to maximize his chances for winning the championship and for learning from an experienced and successful teammate, but that fulfilled his childhood dream of driving for the Italian team.
Ferrari, however, experienced a disastrous downturn in form in 1991, while the Williams team experienced a resurgence which would lead them to win five constructor's titles between 1992 and 1997, thus becoming the most successful team of the 1990s. Alesi's choice of Ferrari over Williams seemed the most logical at the time, but turned out to be very unfortunate. Having a dismal 1991 season, Alesi's team mate Prost was sacked after the Japanese Grand Prix when he publicly described the car as a "truck" and took a year long sabbatical from racing.
Alesi was partnered by Ivan Capelli the following year, before being joined by Austrian Gerhard Berger in 1993 who was returning to Maranello after three seasons with McLaren. Alesi injured his back after a testing accident at Mugello circuit in Italy after the first race of the 1994 season (Brazil) and was replaced in the Pacific Grand Prix and the infamous San Marino Grand Prix (round 3) by Nicola Larini. In five years at the Italian marque Alesi gained little, except the passionate devotion of the tifosi, who loved his aggressive style. That style, and his use of the number 27 on his car, led many to associate him with the late Gilles Villeneuve, a beloved and still very popular Ferrari driver from 1977–1982 who lost his life in his #27 Ferrari 126C2 while qualifying for the 1982 Belgian Grand Prix at Zolder. Alesi and Berger won only one race each during this period at Ferrari. Following Alesi's first and only GP win in the 1995 Canadian Grand Prix (on his 31st birthday), his Ferrari 412T ran out of fuel as he waved to fans on the backstraight and he was given a lift back to the pits by the then reigning World Champion Michael Schumacher.
When Benetton's Michael Schumacher joined Ferrari in 1996, Alesi and teammate Gerhard Berger swapped places with him. Though Benetton was the defending constructors' champions, they were about to experience a lull in form like Ferrari in 1991. Schumacher went on to rejuvenate Ferrari, while Alesi and Berger spent two seasons at a declining Benetton riddled with bad luck and internal politics. While Berger had a reasonable run at Benetton, winning the 1997 German Grand Prix (his last of 10 F1 wins) after having come two laps from victory at the same race the previous year when his engine blew while he was leading within sight of the flag, Alesi's Benetton career proved more turbulent, not helped by an embarrassing retirement in the season-opening Australian Grand Prix in 1997 when he ignored several radio messages from the pit mechanics to come in for his pit stop, and continued for five laps until running out of fuel. His form became increasingly erratic that season, including incidents at the French Grand Prix when he needlessly pushed David Coulthard off the track, and the Austrian Grand Prix, where his attempt to outbrake Eddie Irvine from nearly eight lengths behind caused a spectacular collision that saw Alesi placed under investigation for dangerous driving after the race. A pole position and eventual second place at the Italian Grand Prix were not enough to salvage his drive at Benetton, and the team released Alesi at the end of the 1997 season.
Alesi moved on, initially to Sauber and later Prost, the latter being owned by his former Ferrari teammate (and four time World Drivers' Champion) Alain Prost after Prost had bought the Ligier team in early 1997 and renamed it. With Prost, Alesi was consistent, finishing every race, occasionally in points scoring positions, his best finish being at Canada. A fallout after the British Grand Prix, however saw Alesi walk out after the German Grand Prix, where he scored a point. The reason was because of the German driver Heinz-Harald Frentzen was suddenly sacked by Jordan after the Britain and he needed a drive, he was interested in joining the Prost team. Alesi finally decided to leave Prost after Germany in order give way to Frentzen. Then, Alesi joined Jordan and eventually swapped teams.
Alesi ended his open-wheel career in 2001 with Jordan, bookending his career nicely: Alesi had driven for Jordan in Formula 3000 when he won the championship in 1989.
Post-Formula One career
DTM 2002–2006
After Formula One, Alesi was a popular and successful driver in the DTM (German Touring Car Championship), where he placed fifth in the 2002 championship for Mercedes with one victory. He repeated this in 2003 but this time scoring two victories. In 2004 he finished seventh in the championship scoring no victories. In 2005 he won the opening race and went on to take seventh place in the standings once more. He retired from the DTM after finishing the 2006 season in 9th place.
2002 – 5th in the championship, 1 victory,
2003 – 5th, 2 victories,
2004 – 7th,
2005 – 7th, 1 victory,
2006 – 9th
Direxiv
Alesi was an active spokesman for the Direxiv team in their bid for entry to the 2008 Formula 1 series. It was planned as a McLaren B Team with backing and engines from Mercedes. However, the proposal was beaten to the final grid place by Prodrive.
Speedcar Series 2008–2009
Alesi joined a number of other ex-Formula One drivers (Christian Danner, Johnny Herbert, Stefan Johansson, Ukyo Katayama, JJ Lehto, Gianni Morbidelli, Jacques Villeneuve and Alex Yoong) in the inaugural season of the Far & Middle Eastern Speedcar Series. He won two races and finished 4th in the championship. He finished fifth in the second and last season of Speedcar Series after taking two wins in 2009.
2008 - 4th, 2 victories
2009 - 5th, 2 victories
Le Mans Series 2010–
On 13 October 2009, Alesi tested an AF Corse Ferrari F430 GT2 at Maranello, on the same day that Felipe Massa drove an F1 car for the first time after his accident in Hungary earlier in the year. After the test, which lasted just 65 laps, Alesi was enthusiastic and Amato Ferrari talked about Alesi's possible involvement in the 2010 programme.
Early in 2010 it was announced that Alesi would be the team-mate of another ex-F1 Ferrari driver, Giancarlo Fisichella, in the Le Mans Series GT2 class in Ferrari's AF Corse team. In the first two races Alesi and his team-mates Fisichella and Finn Toni Vilander finished on the podium. Alesi, Fisichella and Vilander raced in the Le Mans 24 h race for AF Corse and finished 4th in their class. In the third race of the season in Algarve the trio finished in second position and at the Hungaroring they finished in fourth place. They finished second in the championship.
Lotus 2011–
In January 2011, along with the launch of their new car, Lotus Renault GP announced that they had hired Alesi as an ambassador for the team and test driver for the T125 single-seater project. In September, Alesi announced that he will attempt to qualify for the 2012 Indianapolis 500, in a car powered by a Lotus-badged engine.
On Series Seventeen, Episode 5 of BBC TV show Top Gear, Alesi helped current host Jeremy Clarkson to test drive one of the T125 single seaters.
Indianapolis 500
In April 2012, Alesi announced his intent to race in the 2012 Indianapolis 500 with a Lotus engine. Deals with former IZOD Indycar Series team Newman/Haas Racing fell through, and HVM Racing owner Keith Wiggins said that his team didn't have the funding to run Alesi in the 500. However, Firestone Indy Lights team Fan Force United agreed to field Alesi in the 500 where he qualified 33rd. Unfortunately, his Lotus powered car, along with that of fellow Lotus driver Simona de Silvestro, was so severely underpowered as to be unable to maintain sufficient pace in the race, and both were forced to park their cars after less than a dozen completed laps.
On 18 December 2012, Alesi unofficially announced his intention to quit racing when, in an interview with L'Equipe, he conceded that for next year he had given up on finding the sponsorship required for a second attempt.
In 2013 Alesi became an ambassador for Pirelli.
Helmet
His helmet is white with black and red lines going down on the front side of the helmet with his name written, being an homage to Elio de Angelis, in addition to a deep blue top section(sometimes shaped after a raindrop which contains smaller, light blue "raindrops". In 1999 his helmet changed from white to silver (owing to one of Sauber's sponsors being Red Bull).
Personal life
Alesi is a wine connoisseur and has a vineyard near his hometown of Avignon, where he resides with his wife, Japanese model, actress and pop singer Kumiko Goto, and their four children.
Please register for a free Genetic Matrix account to access more information about this and all other celebrity pages